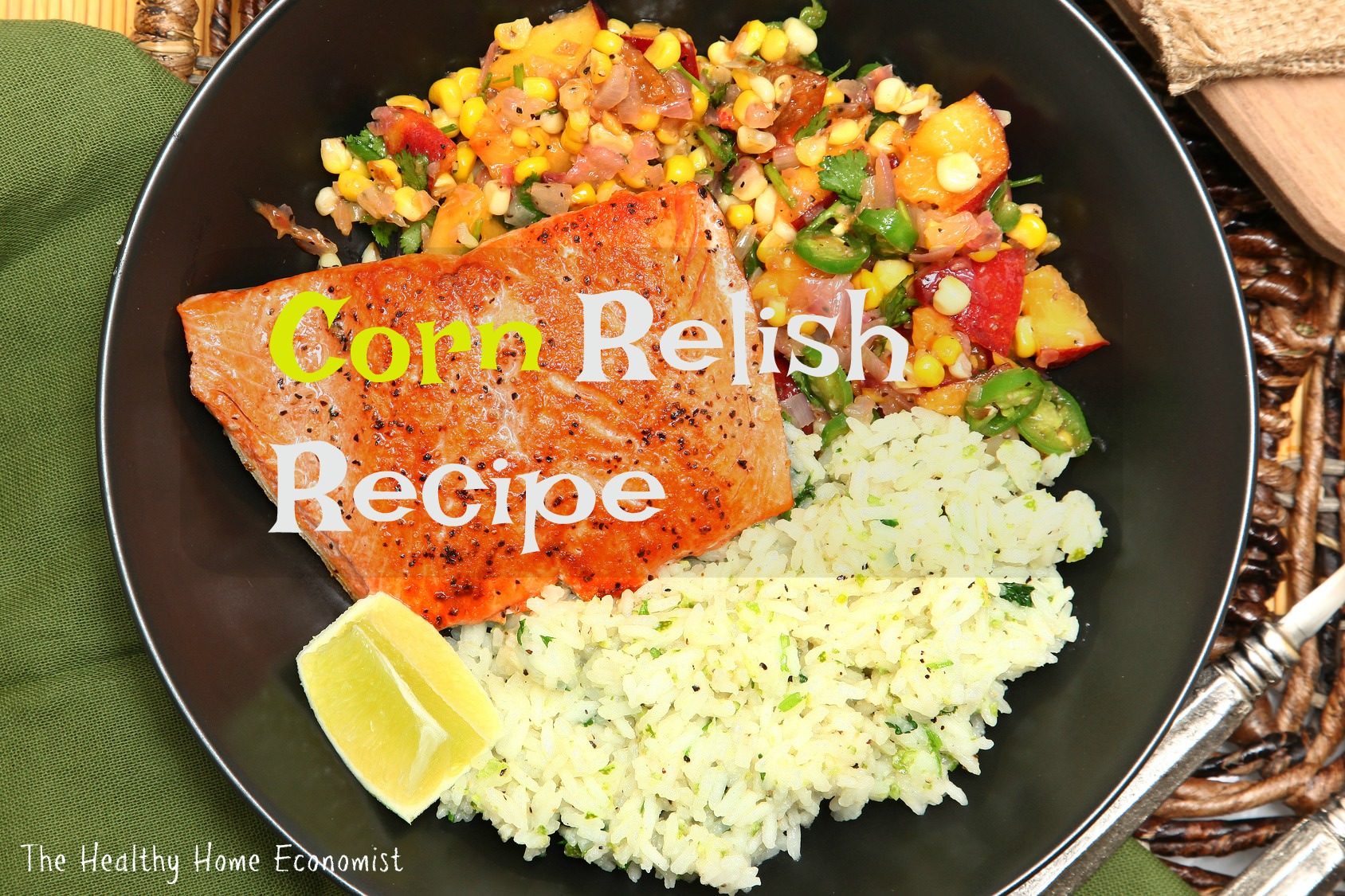 If you love relish as a condiment, you must try homemade corn relish.  Not only is the mix of flavors incredibly tantalizing, but the slight crunch and texture of the corn adds tactile delight to the culinary experience as well.
This time of year, corn relish is a fabulous condiment to serve with those grassfed burgers sizzling on the grill.
This particular recipe for homemade corn relish adds the bonus of fermentation to the mix which makes this healthy condiment easy to digest and full of probiotics and enzymes with an extra boost of nutrition.
If you are low carbing it, homemade corn relish on your bunless burger provides a touch of starch that adds satisfaction to the meal that sometimes seems missing when you skip the bread.
Homemade Corn Relish
This recipe for corn relish uses the Nourishing Traditions method of lacto-fermentation. Be sure to source nonGMO corn as genetically modified "fresh" corn is now being sold in supermarkets!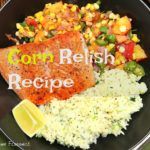 Corn Relish Recipe
Traditional recipe for corn relish that is lightly fermented to add probiotics, enzymes and a boost of nutrition to an already delicious condiment.
Ingredients
4-5

corn cobs

preferably organic

1/2

jalapeno pepper

preferably organic

1

tomato

small, preferably organic

1

onion

small, preferably organic

2

Tbl

fresh cilantro leaves

1/4

tsp

red pepper flakes

1

Tbl

sea salt

4

Tbl

liquid whey
Instructions
Seed and chop jalapeno pepper (wear gloves). Chop onion, tomato and cilantro. Cut fresh corn off the cobs.

Place vegetables, corn, and remaining ingredients in a large bowl and pound lightly with a meat hammer or wooden pounder to release juices.


Transfer ingredients to a wide mouth, one quart mason jar and press down once again with a meat hammer or pounder to allow juices to cover. Keep relish at least 1 inch below the top of the jar.


Homemade corn relish will last a month or more in the refrigerator.
Recipe Notes
Substitute red pepper or banana pepper if you wish a slightly less hot relish.
2 tsp dried cilantro may be substituted for fresh cilantro in a pinch.
Do not substitute powdered whey for the liquid whey. If no liquid whey is on hand, you may use one more tablespoon of sea salt instead.
More Ways to Enjoy Corn
If you love corn and would like other healthy ideas for enjoying it, try these recipes for making stovetop popcorn, heirloom popcorn, and corn flakes cereal.
Limewater soaked corn is particularly nutritious and was practiced traditionally to make vitamin B3 in the corn more bioavailable.
More Fermented Condiment Recipes
Sarah, The Healthy Home Economist