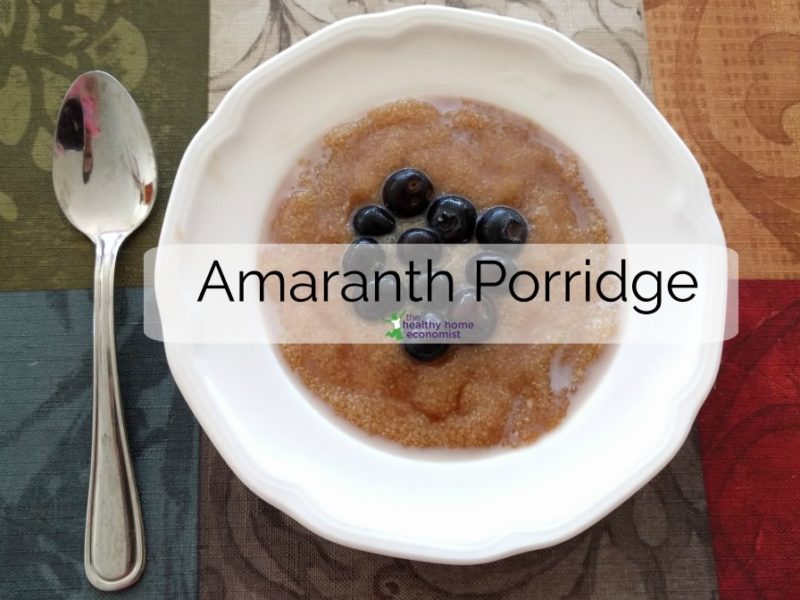 Amaranth is an ancient gluten-free seed (pseudo-grain) that is growing immensely in popularity. The trouble is most folks who want to eat it have no idea how to prepare it.
The seeds are too tiny for most grain grinders, which leaves the whole grain itself as the most practical way to get started using it in the kitchen.
Until you have the funds for a specialty appliance that can grind tiny amaranth seeds into flour (I don't recommend store-bought flour as it is usually nutritionless and even rancid), amaranth porridge is the most practical way to go.
Amaranth for Breakfast
Because the seeds are so small, amaranth makes a delicious, creamy porridge very similar in consistency to soaked millet, buckwheat, or teff porridge. The taste is similar to teff as well – a mild nuttiness that is very pleasant.
The key is that amaranth should be soaked first as the seeds are high in anti-nutrients like tannins and saponins. The process is very similar to overnight oats. However, amaranth is more of a seed than a true grain. So, I use a soaking medium of filtered water and a small amount of sea salt instead of whey, lemon juice, or apple cider vinegar.
Then, thorough cooking on the stove renders it fully digestible. Most notably, the excellent protein profile will be more fully metabolized when careful preparation methods are followed. Dress it up in a bowl with your favorite healthy fat, whole sweetener or fruit, and other toppings.
Here's how I make and enjoy it in my home.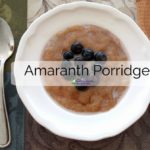 Traditional Amaranth Porridge Recipe
Classical recipe for amaranth porridge best enjoyed for breakfast hot in a bowl with your choice of healthy fat, whole sweetener and nuts or fruit topping.
Instructions
Place amaranth seeds in a small pot and mix in half (1.5 cups) the filtered water and 1/2 tsp sea salt. Cover and leave on the counter for a minimum of 5 hours or overnight.

Drain off the soaking water and rinse the seeds well.

Place the seeds back into a clean small pot and pour in the remaining 1.5 cups of water. Bring to a boil uncovered, stir well, cover and reduce heat to a simmer for 10 minutes.

Remove from heat, uncover and stir amaranth porridge to enhance smoothness.

Serve in bowls with your favorite healthy fat, whole sweetener and other toppings. I enjoy a half tablespoon of butter, whole grassfed raw milk, and a drizzle of date syrup.
Nutrition Facts
Traditional Amaranth Porridge Recipe
Amount Per Serving (47 g)
Calories 180
Calories from Fat 27
% Daily Value*
Fat 3g5%
Sodium 10mg0%
Potassium 170mg5%
Carbohydrates 31g10%
Protein 7g14%
* Percent Daily Values are based on a 2000 calorie diet.