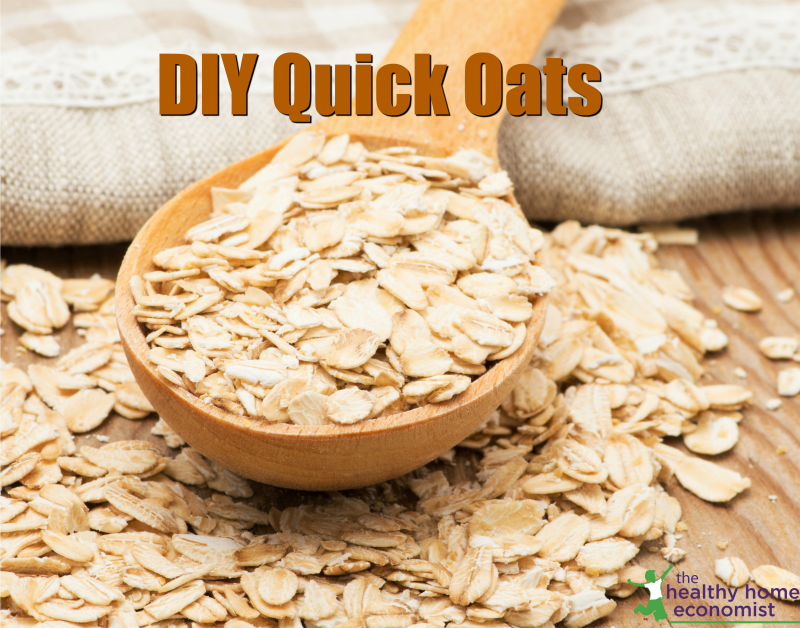 With time in the kitchen at a premium for many of us, quick or "instant" oats are a favorite to reduce cooking time for a fast and nutritious bowl of breakfast porridge. Despite this convenience, it is best to avoid commercial quick oats. They are "instant" for a rather unappetizing reason.
Food manufacturers pre-cook, dry, and cut oat groats slightly thinner when making quick oats vs regular rolled oats.
This means they go stale more quickly. In addition, the delicate polyunsaturated fats in the oats (15% of the total calories) go rancid faster when the protective, fibrous material of the oats are processed more heavily and into smaller pieces.
Thus, store bought instant oats are not as nutritious and can potentially introduce toxicity to your system when you eat them.
When it comes to rolled oats, however, you can definitely enjoy the benefits of quick cooking without the downside of all that processing!
All you have to do is pulse a cup of rolled oats in a food processor before you put the pot on the stove to cook.  I like to use sprouted oats because then I don't need to soak them overnight.
Alternatively, you can use homemade quick oats to make a pot of soaked overnight porridge as well.
Note that this method also works to make quick cooking Scottish style or Irish steel cut oats, but only if you have a fairly heavy duty food processor.
Try this easy DIY instant oats recipe below and see what you think!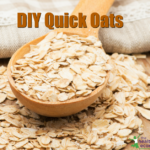 Homemade Instant Oats
One minute recipe for making your own quick oats for a healthier and fresher tasting bowl of oatmeal.
Instructions
Pour rolled oats into a small food processor.

Close lid and pulse until the rolled oats are the consistency of finer cut instant oats.
Recipe Video
Recipe Notes
Use sprouted rolled oats or steel cut oats if you prefer!
Nutrition Facts
Homemade Instant Oats
Amount Per Serving (0.5 cup)
Calories 150
Calories from Fat 23
% Daily Value*
Fat 2.5g4%
Potassium 140mg4%
Carbohydrates 27g9%
Protein 5g10%
Iron 1.7mg9%
* Percent Daily Values are based on a 2000 calorie diet.