Recipe for Switchel, a quick-to-make fermented beverage that is traditionally cultured with water, honey, vinegar, and ginger. It quenches thirst during hot weather like nothing else.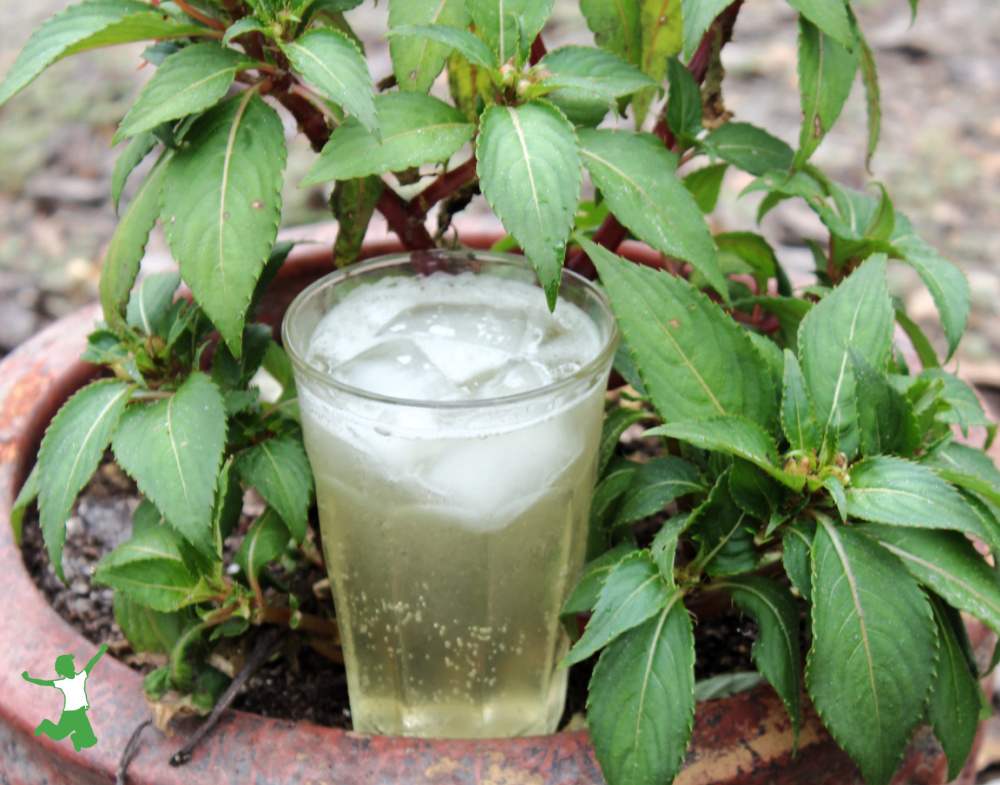 Switchel, also called Haymakers Punch, is a refreshing drink that originated in the Caribbean. It is a tasty, slightly effervescent, sweetened beverage made of water mixed with vinegar.
Sweetened with raw honey, molasses, stevia, brown sugar, or maple syrup depending on the locality, it is also typically flavored with ginger.
My favorite recipe below uses raw honey as the healthiest, most probiotic, and enzyme-rich version.
Switchel History
Switchel made its way from the islands to the American colonies becoming a popular summertime drink by the late 1600s.
Gradually over the next 200 years, "switchy" became the traditional drink of choice to serve to thirsty farmers harvesting hay. This is how it came to be called Haymakers Punch, another popular name.
It is the perfect beverage to make if you are out of kombucha or Jun tea and need a beneficial probiotic beverage that can be made quickly.
By comparison, homemade kombucha and Jun tea both take about a week.
Switchel can be compared to ginger beer or homemade ginger ale, which uses lemon or lime juice and a starter culture. Switchel uses (raw) vinegar instead of juice and requires no starter making it super simple for first-time home brewers.
You most likely have all the ingredients you need to whip up a batch of Switchel right now in your pantry!
You won't believe how thirst-quenching switchel is! No wonder it was the preferred beverage for centuries of those working hard in the summertime heat on a farm.
"Switchy" for Digestion
A tablespoon of apple cider vinegar (ACV) in a glass of water is an old-time reflux remedy for those suffering from GERD. It works better than antacids, which have the downside of increased risk for heart attacks and possibly cancer as well over the long-term. (1)(2)
If you've been using the ACV plus water trick to manage GERD symptoms, you simply must try Switchel! Drinking this traditional cultured beverage provides all the benefits of ACV and water but tastes a whole lot better!
In fact, Haymaker's Punch is so tasty that almost everyone will love it whether they suffer from acid reflux or not.
Just note that while this beverage works well as an acid reflux remedy, ultimately you have to get to the source of the problem.
This article on making your own natural reflux remedy includes a detailed discussion of this issue.
ACV Brands to Use
Be sure that the apple cider vinegar you use to make switchel is authentic. This means it must be raw, undiluted, unfiltered, proper acidity, and with the mother. Packaging in glass only is critical as well.
After literally scouring the market, I recommend ONLY these ACV brands if you choose to buy rather than make your own ACV. Hint: Braggs is NOT one of them.
ACV is like kombucha. It is acidic and has the potential to leach toxins from a plastic container. To make sure you don't get a dose of hormone-disrupting chemicals with your glass of switchel, stick to ACV packaged in glass only!
Preparation Tips
This recipe below makes about a half gallon.
You can blend, chill and enjoy it within minutes! Serve over ice or at room temperature as you prefer.
Switchel is a great stand-in when you need a fast-to-prepare fermented beverage.
By comparison, homemade root beer, probiotic lemonade, ginger ale, and orangina take a couple of days to culture plus another 48 hours or so to carbonate if you wish to go the bottling route.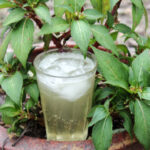 How to Make Switchel
Traditional recipe for Switchel, a quick-to-make fermented beverage cultured with honey, ACV and water that quenches thirst like nothing else.
Instructions
Place all ingredients together in a large bowl and mix very well. You can add ice and drink the switchel immediately at this point if you like.

Optional step: If you prefer a more carbonated beverage, then take this additional step: slowly pour mixture into large glass bottles with wire and ball stoppers (I like these) and fasten the lids. Alternatively, you can mix up the switchel with cold, sparkling mineral water (I prefer this brand) and get the bubbly right away without bottling.

If you are fermenting in bottles instead of drinking immediately, leave the sealed bottles on the counter for at least 2-3 days (up to a week or two is fine also if your kitchen is very cool) to add carbonation and then refrigerate. Open in the sink slowly and only when the beverage is very cold to prevent explosions or the switchel foaming out of the bottle and making a mess.

If you used fresh ginger, sieve the switchel as you pour it from the bottle into your glass.

Sip and enjoy either alone or with ice. Refrigerate unused portions in glass containers only.

Nutrition Facts
How to Make Switchel
Amount Per Serving (8 ounces)
Calories 67
% Daily Value*
Carbohydrates 17g6%
* Percent Daily Values are based on a 2000 calorie diet.
Buying Haymaker's Punch?
Unfortunately, the vendor I used to recommend for Haymaker's Punch who used ACV, maple syrup, and ginger appears to no longer be in business. 🙁
The closest thing to homemade that you can buy is the line of apple cider vinegar drinks from Braggs. However, I no longer recommend Braggs since the company was acquired. The product is now considerably cheapened, and it may even be toxic at this point.
It appears that at the present time, making your own Switchel is the best and perhaps only way to go.