Table of Contents

[Hide]

[Show]
A simple recipe for honey lemonade that is lightly fermented for a beneficial probiotic effect that adds to the tantalizing sweet-sour flavor.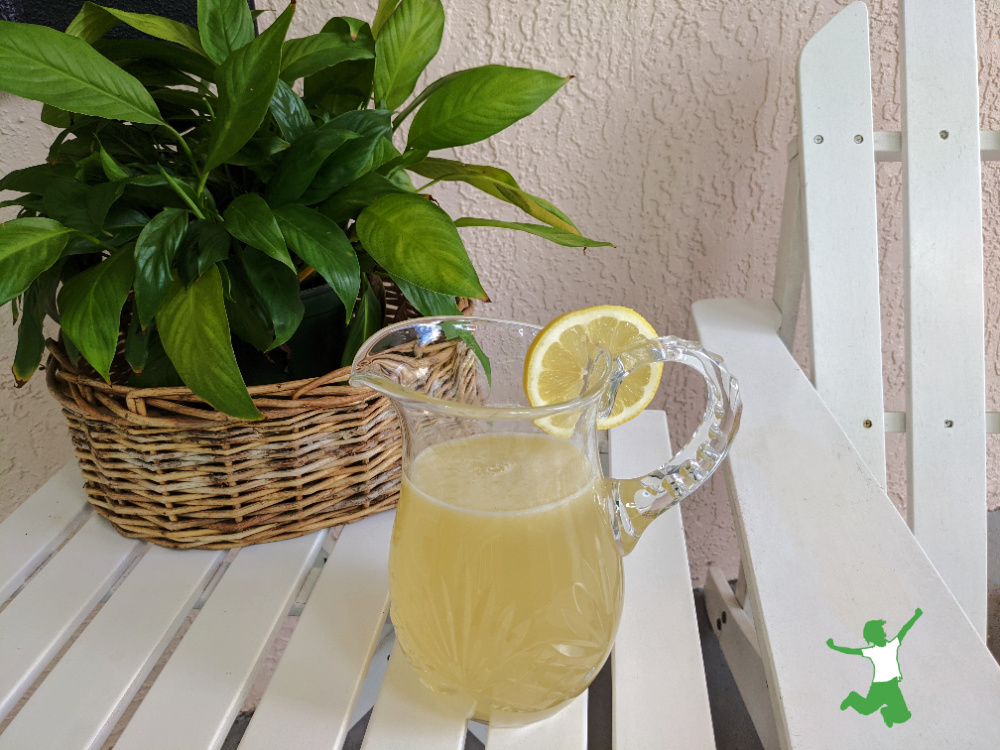 I've been making fermented Hindu lemonade for many years.
Recently, however, I've adjusted the recipe to sweeten with raw honey instead of unrefined cane sugar (sucanat).
There are two benefits to making lemonade with honey.
First, the beverage becomes legal for those on a gut healing diet like "Full GAPS" or SCD.
Secondly, you can reduce the amount of fermentation medium (in this case, raw whey) because raw honey adds a probiotic element that facilitates fermentation.
During the hot summer, a lightly fermented beverage is so welcome to sip for a mid-afternoon pick-me-up. It really is energizing!
This honey lemonade is lovely during meals as well. The probiotics and enzymatic effect facilitate the digestion of cooked foods.
Which Honey to Use?
I recommend orange blossom as the tastiest type of honey for this particular beverage.
However, if you don't have it available locally, any mild-tasting raw honey (such as wildflower) will work well.
While raw manuka honey is highly therapeutic as a natural antibiotic, I don't recommend it for this beverage as the flavor is quite strong.
I also suggest using liquid raw honey only. This guide on how to source honey locally may prove helpful.
While homemade creamed honey is tasty, it does not dissolve as well in water.
Fermentation Options
If you do not tolerate raw whey, leave it out and increase the lemon juice to 1.5 cups.
In addition, leave the honey lemonade on the counter for only one day instead of two.
This substitution will only slightly ferment the beverage…less so compared with using the whey.
Comparison with Organic Store Lemonade
To further illustrate why you should make your own lemonade, I did a quick comparison between this honey lemonade recipe below and organic store lemonade made with simple ingredients (filtered water, organic sugar, organic lemon juice concentrate, organic lemon flavor).
Commercial versions contain roughly 23 grams of carbs (as refined sugar) per 8-ounce glass.
By comparison, this homemade honey lemonade only has about 17 grams of carbs (as unrefined sugar) per cup. This is roughly 26% less.
What's more, the mineral-rich sweetener is raw as well as fermented, meaning that the blood sugar effects are lessened considerably.
Organic store lemonade also has no probiotic or enzymatic benefits by comparison!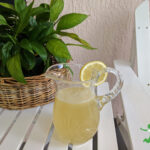 Cultured Honey Lemonade
Simple recipe for honey lemonade that is lightly fermented for beneficial probiotic effect that adds to the tantalizing sweet-sour flavor.
Instructions
Mix all ingredients together in a 1-gallon bowl or jug until well blended. Take care to ensure the raw honey is completely dissolved. Using room temperature water makes this process easier.

Cover and leave on the counter for 2 days. Stir once or twice during this time.

Refrigerate in glass jars or bottles until well chilled.

Serve with or without ice (without ice is easier on digestion!)

Honey lemonade will stay fresh in the refrigerator for approximately one month.
Nutrition Facts
Cultured Honey Lemonade
Amount Per Serving (8 ounces)
Calories 68
% Daily Value*
Carbohydrates 17g6%
* Percent Daily Values are based on a 2000 calorie diet.