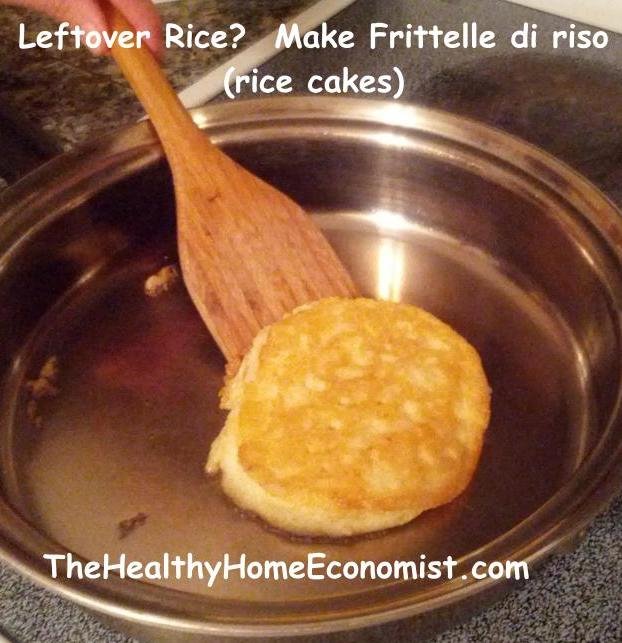 We very much enjoy pancakes or waffles on the weekend in our home. Sometimes, though, it is really nice to break routine and mix things up a bit and try a new variation just for the fun of it! This recipe for rice cakes, or Frittelle di riso, is a great alternative to pancakes and waffles particularly if you have some leftover rice in the refrigerator from dinner the night before.
It is also the healthy alternative to store bought versions, which are almost universally considered a healthfood. Like most fads, however, nothing could be further from the truth.
Why Commercial Rice Cakes Are Not Healthy
Commercial rice cakes are extruded in the same manner as boxed breakfast cereal. The process of extruding a grain in a factory is so violent and high in temperature and pressure that the fragile proteins in the grains are completely denatured. This renders them toxic and allergenic from the ordeal.
Ironically, the higher the protein source that is extruded, the more toxic the result. Whole grain brown rice made into bags of snackie cakes falls into that category. Unfortunately, the fact that these foods only have a few ingredients listed on the label is very misleading. While it is great that there are only whole ingredients used, the factory processing is where the huge problem arises.
Why not ditch this popular processed food that so many erroneously believe to be healthy and make your own nutritious version instead?
Viva Frittelle di riso!
Rice Cakes (Frittelle di riso) Recipe
This healthy rice cakes recipe is simple and can be made with leftover rice from dinner the night before. Your family will never know!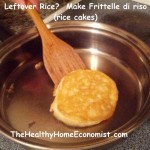 Traditional Rice Cakes
Easy recipe for rice cakes using leftover rice from a previous meal. Makes 9-12 hockey puck size rice cakes.
Instructions
Soak white, brown basmati, or wild rice in water plus lemon juice overnight. Or, use leftover rice from dinner the night before and skip the overnight soaking altogether and proceed to step #3.

In the morning, add butter, salt. Cook the rice until tender, remove from heat and let partially cool down.

Mix in egg yolks and flour with the cooked rice. When blended, mix in the vanilla and sweetener of choice. Mix well and refrigerate for 1 hour.

Whip the eggs whites in a separate bowl until stiff with a pinch of sea salt and gently fold into the rice batter.

Fry the rice cakes in ghee or expeller pressed coconut oil in a skillet until lightly browned on both sides.

Serve with plenty of butter, Grade B maple syrup or coconut nectar if served for breakfast. These are also delicious as a side dish to the main meal with no sweetener at all.
Recipe Notes
Brown rice or the most nutritious wild rice may be substituted for the white rice either cooked or uncooked.
Date sugar, coconut sugar, or maple syrup may be substituted for the yacon syrup.
Do not use honey, as cooked honey is not healthy.
Sprouted einkorn flour may be substituted for the sprouted gluten free flour.
Sarah, The Healthy Home Economist
More Information and Recipes!
Why white rice is better than brown
Perfect yellow rice (Arroz Amarillo)