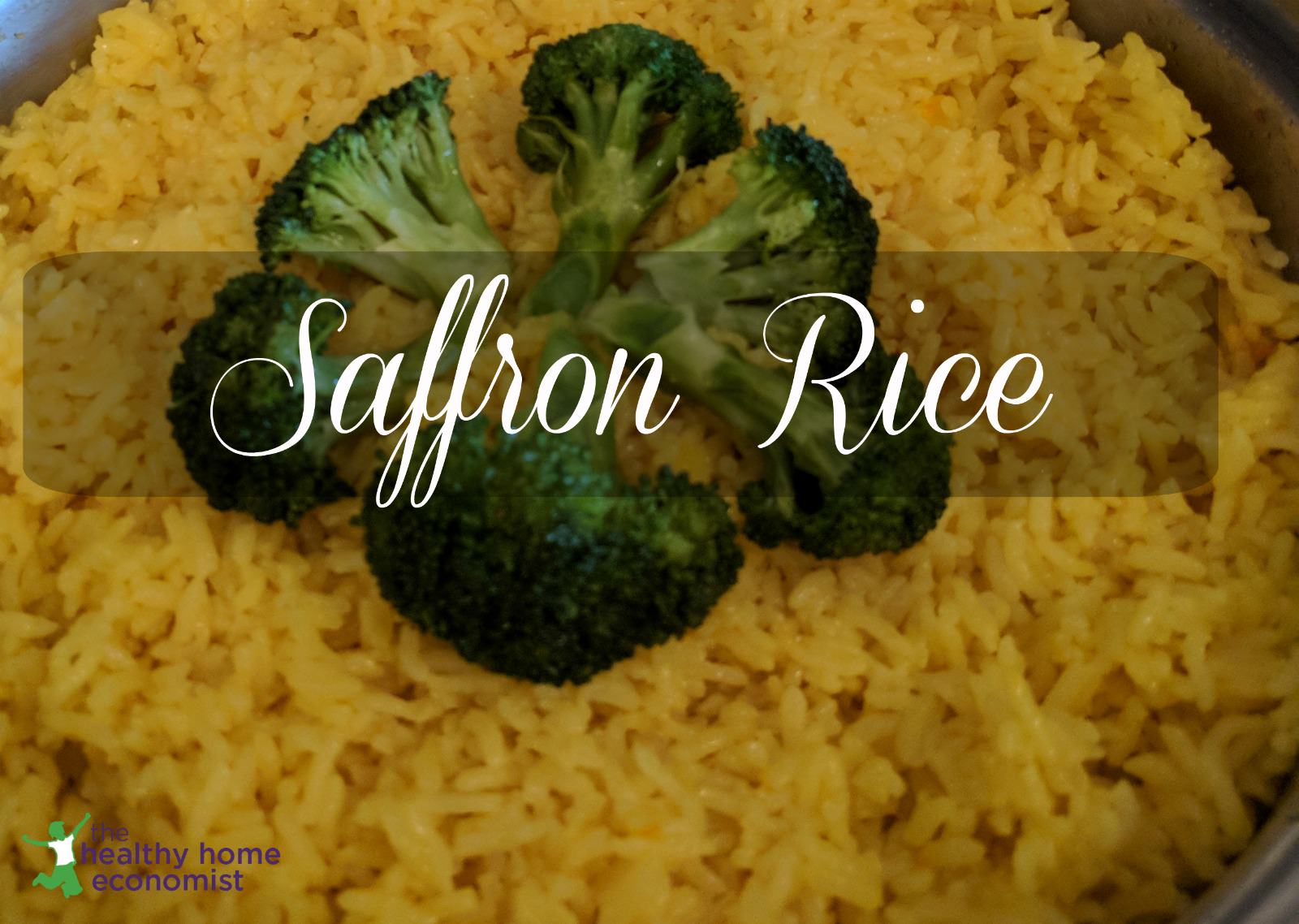 If you want to find out how to make saffron rice, it isn't too difficult. Numerous recipes are at your fingertips if you do an online search, and they are all basically the same.
This recipe for saffron rice is different because it is made with traditionally prepared rice, which adds several unique and very important benefits. 
First, you will be getting a lot more nutrition with every bite. Secondly, because the rice is thoroughly rinsed and soaked first, you will be a whole lot safer eating it. Third, as a bonus, you will get full faster and eat less because the dish is much more digestible. Easily absorbed food translates as a more rapid "I'm full" signal from the stomach to the brain.
Homemade Saffron Rice
Why bother rinsing and soaking rice? Why not just bring the chicken broth or water to a boil like conventional saffron recipes suggest and cook it up in about 30 minutes?
Rinsing the rice is important because the best tasting saffron rice is made with basmati white rice. Other types of rice just don't turn out as well. When using any type of white rice for a dish, the potential for asbestos residue is very real, as talc is commonly used in the polishing process. Thus, a thorough rinsing (repeated if you want to be especially careful) is very important before cooking. This prevents unintentional cancer causing talc and/or asbestos exposure.
Once rinsed, the rice should then be soaked for about 8 hours or overnight. I tend to put my rinsed rice on to soak right after breakfast, then it is ready to cook when I start dinner later in the afternoon.
The soaking process does two things. It results in more digestible rice by deactivating anti-nutrients like phytic acid. Perhaps most importantly, it also significantly reduces any heavy metal toxins like arsenic in the rice by up to 80%. Arsenic contamination in rice and any foods made with it is a huge problem these days. Buying organic rice is not necessarily any safer, by the way!
Rinsed and Soaked Saffron Rice is Safer to Eat
Sadly, our polluted world is such that choosing to skip the soaking process for rice before cooking is a downright dangerous practice. It's not just about improving digestibility anymore – it's about preventing harm too!
With that, let me share my recipe for soaked saffron rice. It takes a bit of planning to rinse and soak the rice before cooking. However, you will be rewarded with a safer dish that is more nutritious, digestible, and fills you up better with a smaller portion. It even cooks more quickly than conventional saffron rice recipes so ultimately, you will get dinner on the table faster!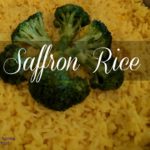 Saffron Rice Recipe (traditional method)
Traditional method for preparing saffron rice which results in a more nutritious dish that is safer to consume and fills you up faster with smaller portions.
Instructions
Place rice in a large, stainless steel strainer and rinse thoroughly with filtered water.

Place rinsed rice in a medium sized pot and add 6 cups filtered water. Cover and leave on the counter for about 8 hours or overnight.

Strain out soaking water completely and re-rinse the rice using the process in step 1 above.

Place 2 generous pinches of saffron threads in a mortar and pestle and pound lightly a few times. Add 2 Tbl hot water and let stand for 5-10 minutes to release flavor.

Place thoroughly drained rice in a large frypan. Add chicken broth, saffron threads with hot soaking water, butter and salt.

Bring to a boil and stir once or twice. Turn heat down to low, cover and simmer for 15 minutes.

Remove from heat. Crack the lid and let stand for 5 minutes. Fluff saffron rice with a fork and serve.

Refrigerate leftovers after completely cool. Saffron rice may be reheated and consumed for up to 5 days.
Other Rice Recipes to Try!
If you love this recipe, please try my favorite Spanish yellow rice recipe too.
These are also yummy!
Sarah, The Healthy Home Economist