A simple and authentic recipe for making yellow rice at home that is perfect every time with more nutrition compared with ready-mix store brands containing many additives.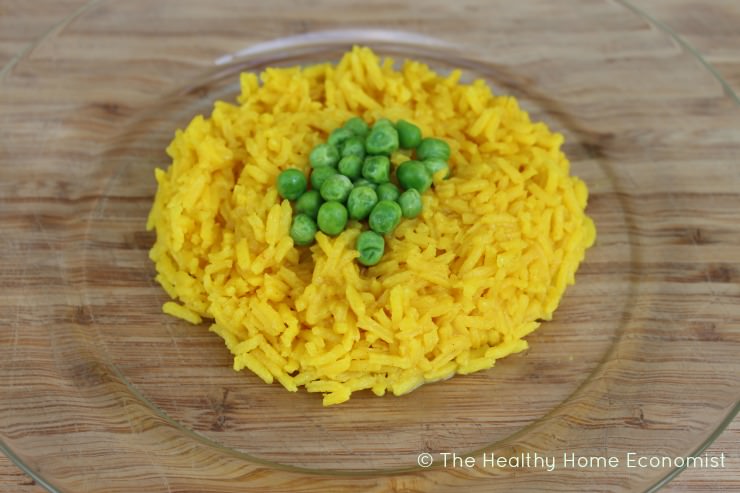 Authentic and very delicious yellow rice cooked in broth instead of water is a great way to increase the nutrition of this simple dish to perfection!
Just to give you some idea, people on the GAPS Diet (book) who are healing their gut to reverse autoimmune disease incorporate a small cup of homemade broth with every single meal. This is how important this traditional food is to health and healing.
The aromatic spices added to the yellow rice blend very well with the broth. If you are (oops) short on chicken broth for whatever reason, you can use this recipe for homemade vegetable bouillon cubes instead in a pinch.
In my experience, the flavor of the yellow rice is more acceptable to children than plain rice cooked in chicken broth.
Avoid Yellow Rice Mix from the Store
When I was growing up, yellow rice was one of my favorite foods. Unfortunately, those nasty yellow rice boxes or packages from the store were the choice for preparation.
These are without exception loaded with additives, chemicals, and worst of all, lots and lots of MSG!
No surprise that I am extremely sensitive to MSG as an adult having eaten so much of it as a kid. I avoid it like the plague (yes, it's in just about everything processed) else I would be living on headache medicine.
By the way, the same goes for yellow rice served in restaurants unless they are completely authentic and do everything from scratch.
Most at the very least use canned chicken broth and probably a powdered flavor packet too, both loaded with neurotoxic MSG.
Scary Ingredients
Look at the long list of ingredients of Goya, one of the most popular yellow rice brands on the market. Artificial additives, synthetic vitamins and inorganic minerals (think gnawing on a bone to get your calcium – not effective!) are in bold and genetically modified (GMO) ingredients are in bold and underlined.
Wow, this stuff is so loaded with MSG that it is a definite recipe for a migraine if you ask me! Not only that, Goya is so cheap with its products that artificial yellow dye is used to color the rice instead of turmeric or saffron. Shareholder profits are obviously more important than people's health to this company!
Long Grain Parboiled Rice Enriched with Iron (Ferric Orthophosphate), Niacin, Thiamine (Thiamine Mononitrate) and Folic Acid, Chicken Bouillon (Salt, Monosodium Glutamate (MSG), Sugar, Maltodextrin, Chicken Flavor [Hydrolyzed Soy Protein, Salt, Chicken Fat, Yeast Extract, Natural Flavor, Silicon Dioxide, Chicken Powder, Disodium Inosinate, Disodium Guanylate], Hydrolyzed Soy Protein, Hydrogenated Soybean Oil, Granulated Onion, Yeast Extract, Chicken Fat [Rendered Chicken Fat, Nonfat Dry Milk Solids, BHA, Propyl Gallate, Citric Acid], Granulated Garlic, Silica, Chicken [Cooked Chicken, BHA, Propyl Gallate, Citric Acid], Ground Celery, Parsley Flakes), Dehydrated Minced Onion, Salt, Dehydrated Red Bell Pepper, Dehydrated Green Bell Peppers, Garlic Granulated, Ground Coriander, FD&C Yellow No. 5, Silicon Dioxide (To Prevent Caking), Annatto Powder.
Obviously, I never use these yellow rice packages from the store. They are anything but healthy!
It is very easy to prepare yellow rice with no additives or MSG! By using homemade broth, the dish offers truly authentic flavor with the additional benefit of easy digestion.
Turmeric in Homemade Yellow Rice
In addition, this recipe uses turmeric, one of the most beneficial herbs on the planet. Turmeric is a spice widely used in traditional Indian cooking that has been used holistically for centuries.
Dr. Kelly Brogan MD uses turmeric widely in her holistic practice. She writes,
This wonder-spice is a mainstay of my anti-inflammatory work with patients in my practice where I use liposomal preparations of curcumin, the natural phenols responsible for turmeric's yellow color, when I suspect their symptoms stem from a challenged immune system.
In research, the curcumin in turmeric was shown to be effective against Helicobacter pylori common in gastroduodenal ulcers regardless of the genetic makeup of the strain.
The administration of curcumin also resolved any gastric damage caused by the infection.
If you love yellow rice like my family does, you can derive maximum flavor and benefit by using homemade chicken broth as the base.
Water works too, but the yellow rice just isn't as flavorful. If you use water, be sure to use plenty traditional herbs and spices like turmeric to add the flavor.
As mentioned above, another way to make yellow rice is using the spice saffron. If you would like to try Indian style saffron rice, the linked recipe uses the traditional method.
Healthy Arroz Amarillo
Ideally, when using brown or wild rice for this recipe, you should soak it first to make it more digestible. White rice is best especially if you have digestive issues. This video on soaking rice illustrates the procedure. We do not eat white basmati rice very frequently in our home (we never eat brown rice), so I sometimes do not soak it first.
If you prefer, you can use sprouted rice instead. This article on soaking vs sprouting outlines the differences in health benefits between the two methods.
Tip: If you end up with burnt rice because it cooked with the heat too high, don't throw it out! Quickly take the pot to the sink and run cold water over the bottom which stops the cooking process. Transfer the rice mixture to a clean pan leaving out any burned rice stuck to the bottom of the first pan. Place a slice of bread on top of the rice before you cover the pot again and finish cooking. The bread will absorb any burnt smell that remains.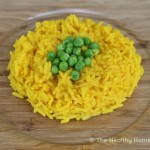 Yellow Rice Recipe (Arroz Amarillo)
Delicious yellow rice made with turmeric and other aromatic spices that is the perfect complement to any meal.
Instructions
In a medium pot, heat the turmeric, cumin, coriander and cinnamon over low heat for about one minute to release the fragrance.

Add the bone broth and/or water, sea salt, and butter and bring to a boil.

Add the rice and stir well.

Cover and reduce heat to a bare simmer.

Cook with the cover on without stirring until the water is absorbed and the rice is tender, about 15 minutes.

Remove the pot from the heat and let sit with the cover on for 5-10 minutes.


Fluff with a fork, add thawed peas and serve.
Nutrition Facts
Yellow Rice Recipe (Arroz Amarillo)
Amount Per Serving (0.5 cup)
Calories 138
Calories from Fat 20
% Daily Value*
Fat 2.2g3%
Cholesterol 6mg2%
Sodium 100mg4%
Potassium 66mg2%
Carbohydrates 25g8%
Protein 5g10%
Vitamin A 50IU1%
Vitamin C 1.2mg1%
Iron 0.3mg2%
* Percent Daily Values are based on a 2000 calorie diet.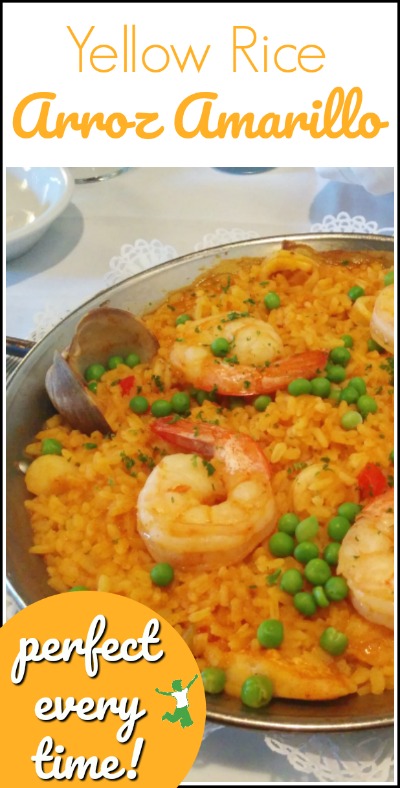 More Information
Rice Cakes (Frittelle di Riso)
Homemade Rice Krispies Cereal
Chicken Broth No MSG Labels are a Lie
Lots of Headaches? MSG is a Likely Cause