How to make powdered sugar from unrefined sweeteners to preserve the minerals and nutrition as a healthy alternative to highly refined confectioner's sugar from the store.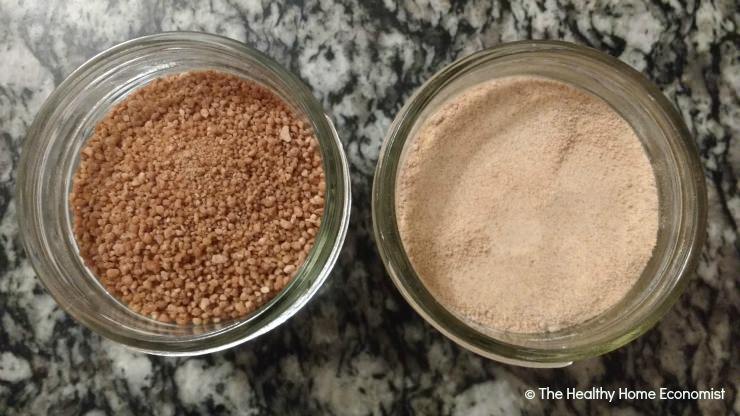 Many people, even those who may prefer to cook from scratch, have no idea how easy it is to make homemade powdered sugar. This important ingredient in so many dessert recipes. Unfortunately, most choose heavily commercialized, refined white powdered sugar. On top of being highly processed, store-bought powdered sugar is more likely than not of genetically modified (GMO) origin. This is especially true if you live in North America.
Paying the premium price for organic powdered sugar to avoid the GMOs is smart. However, the resulting product is still a highly refined sweetener with no redeeming nutritional value. It also has a sky-high glycemic index, which guarantees an enormous blood sugar spike. Moodiness and fatigue generally follow.
Whenever you need to make frosting for that birthday cake or icing for the cinna-buns, don't ever consider buying powdered sugar from the store again. If you own a blender, you are good to go!
A healthy, mineral-rich granulated sugar of your choice can be easily milled into powdered sugar in seconds!
I typically use evaporated cane sugar to make my homemade powdered sugar using my Mom's stainless steel retro blender made in the 1950s. I've used palm (coconut) sugar and maple sugar to make powdered versions with great success too.
The only drawback to DIY powdered sugar using a whole sweetener is that it has a very rich flavor that can compete with the overall flavor of the dessert you are going to make. For example, vanilla frosting made with powdered sucanat has a decided molasses tinge to it.
Commercial powdered sugar just tastes, well, sweet, with no flavor because all the minerals have been stripped away. If you want to make powdered sugar that doesn't have any flavor, I would suggest using plain granulated cane sugar. Don't buy plain granulated sugar (without the word "cane" clearly specified) as it most probably contains GMO beet sugar or is a GMO beet sugar/cane sugar blend. At the very least, you will save money as homemade powdered sugar is much cheaper than anything you can buy, organic or not.
Homemade Powdered Sugar
This simple recipe for healthy powdered sugar will likely surprise you. In a few seconds, you can use a wholesome sweetener and still achieve the light, feathery texture of refined commercial versions. Note that the better your blender or food processor, the more finely the powdered sugar will turn out.
Note that you can also make homemade sweetened condensed milk. This is another common dessert sweetener that almost everyone buys commercially.
This powdered sugar recipe is great to use in all your favorite icing and frosting recipes!
Two of my personal favorites are a delectable butter frosting recipe that I use for devil's food cake.
The brief video clip included in the recipe shows me making homemade powdered sugar start to finish using sucanat in my retro blender.
It only takes seconds!
My guess is that after seeing this you won't be buying commercial powdered sugar ever again!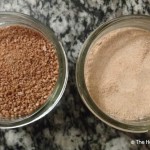 Healthy Powdered Sugar Recipe
An easy way to make powdered sugar at home in seconds using a wholesome sweetener.
Instructions
Pour granulated sugar into a blender or other food processor.

Add a tablespoon of optional arrowroot or nonGMO corn starch to prevent clumping if you intend to make a large batch and store in the pantry.

Turn on the blender to high speed for about 30 seconds. You may need to switch it off, open the lid, stir, and repeat if all the sugar did not get powderized during that time.

Pour the powdered sugar into a small bowl. Sift it first before using to make it extra lightweight.
Recipe Video
Recipe Notes
Coconut sugar or another granulated sugar of choice may be substituted for the sucanat (evaporated cane sugar).
NonGMO corn starch may be substituted for the arrowroot powder.
Nutrition Facts
Healthy Powdered Sugar Recipe
Amount Per Serving (1 tsp)
Calories 16
% Daily Value*
Carbohydrates 4g1%
* Percent Daily Values are based on a 2000 calorie diet.