How to soak steel-cut or Irish oats for a highly digestible and nutritious oatmeal porridge. The nutrition compares favorably to roll oats and will keep you feeling full all the way to lunch!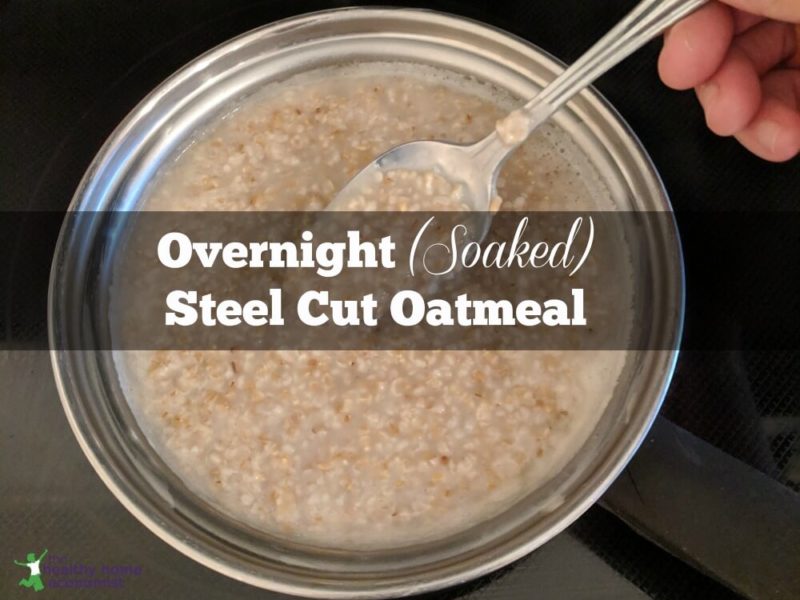 Overnight oats is becoming quite a thing these days as people begin to reawaken to the wisdom of traditional diets and ancestral food preparation.
Most people use rolled oats for this process, which involves an eight hour or overnight soak prior to a thorough cooking.
What if you prefer the nuttier texture of steel cut oats, also known as pinhead or Irish oats?
Are Steel Cut Oats Healthier than Rolled Oats?
Some of you may be familiar with the breakfast chain First Watch.
If so, you may have noticed a menu change that now features steel cut oatmeal instead of porridge made from rolled oats.
Interestingly, the price increased significantly too!
I asked the manager of a First Watch in Rockville, Maryland about this last spring. He told me that public perception that steel-cut oats are healthier than rolled oats is what motivated corporate to make the switch. It also apparently justified the price increase.
Is this really true?
Unfortunately no!
While steel cut oats appear to have more fiber and other nutrients due to the nutty texture, they are basically the same nutritionally as rolled oats.
Steel-Cut Oats Nutritional Information
Let's examine the nutritional information for steel cut oats.
A quarter cup of steel cut oats contains the following (regular, not quick cooking).
170 calories
3 grams of fat
29 grams of carbohydrates
7 grams of protein
5 grams fiber
2% daily value of calcium
10% daily value of iron
Irish vs Rolled Oats
Let's compare the nutritional information above for Irish oats to a quarter cup of rolled oats (regular, not quick cooking).
190 calories
3.5 grams of fat
32 grams of carbohydrates
7 grams of protein
5 grams fiber
2% daily value of calcium
15% daily value of iron
As you can see, the nutritional difference between rolled and Irish oats is negligible. The most notable disparity is a slight increase in calories and carbohydrates per quarter cup for rolled oats. But, this can be explained by the flatter texture of rolled oats, which allows a bit more to pack into a quarter cup.
How to Make Soaked Steel Cut Oats
Ultimately, your choice to enjoy steel cut oats over rolled oats should be based strictly on personal preference!
There is no truth to the commonly held belief that steel cut Irish oats are more nutritious than rolled oats.
This includes oat groats too.
If Irish oats are your thing, then how to prepare traditionally for maximum digestibility and nutrient absorption?
Soaked steel cut oats are an excellent way to go! Below is an easy recipe for how to prepare them either in a slow cooker or on the stovetop.
Sprouted?

If you prefer to avoid the slight inconvenience of soaking Irish oats prior to cooking, I would suggest buying sprouted steel cut oats instead (this brand is excellent).
Sprouted oats don't require soaking to achieve similar levels of digestibility. This is a slightly more expensive option per serving, however.
Slow Cooker Steel Cut Oats
Alternatively, you can soak and cook your steel cut oats in one step if you own a Vita-Clay slow cooker.
You will need to add one more cup of water using the Vita-Clay than the stovetop recipe below. Simply mix in all the water, lemon juice and oats in at one time, cover, and set to slow cook the following morning about 30 minutes before you arise (use the porridge setting for the large cooker and stew setting for the smaller model).
Another bonus is that this slow cooker is made from safe materials. It is a better choice over the long-term than stainless steel pots for cooking acidic foods like tomatoes, bone broth, and soaking oats.
If you eat soaked oatmeal frequently, this type of slow cooker is worth considering.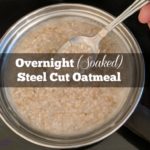 Soaked Steel Cut Oats Recipe (stovetop)
Recipe for soaked steel cut oats which makes for a highly digestible and nutritious oatmeal porridge that will keep you feeling full all the way to lunch!

Instructions
Place steel cut Irish oats into a medium sized pan. Mix with two cups filtered water and the lemon juice.


Cover and leave on the counter for 8 hours or overnight.


In the morning, add another cup of filtered water plus the sea salt to the pot and bring to a boil.


Reduce heat to low, cover and cook for 12 minutes (creamy). Stir every few minutes.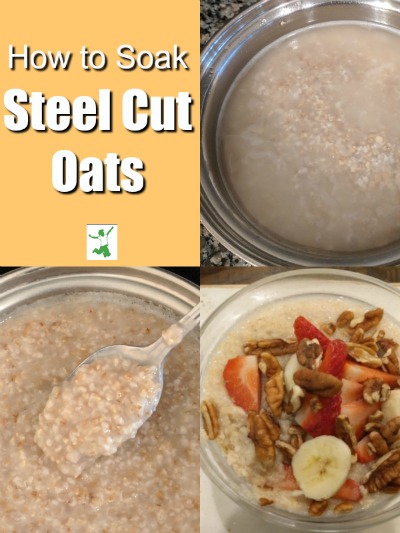 Steel Cut Oats Caution
It is important to know that even though oats are commonly labeled "gluten free" and technically are a gluten free grain, they trigger problems for many gluten sensitive individuals.
The reason is that oats contain the protein avenin, a gluten-like protein that triggers symptoms for approximately one in five celiacs.
Current gluten sensitivity tests only measure for gliadin in wheat, hordein in barley, and secalin in rye. Avenin requires a different test and is increasingly classified along with other gluten proteins.