Keto style pizza crust made with almond flour (with nut-free substitution) that is simple and delicious. Recipe makes 2 – 8″ low-carb, grain-free pizza crusts.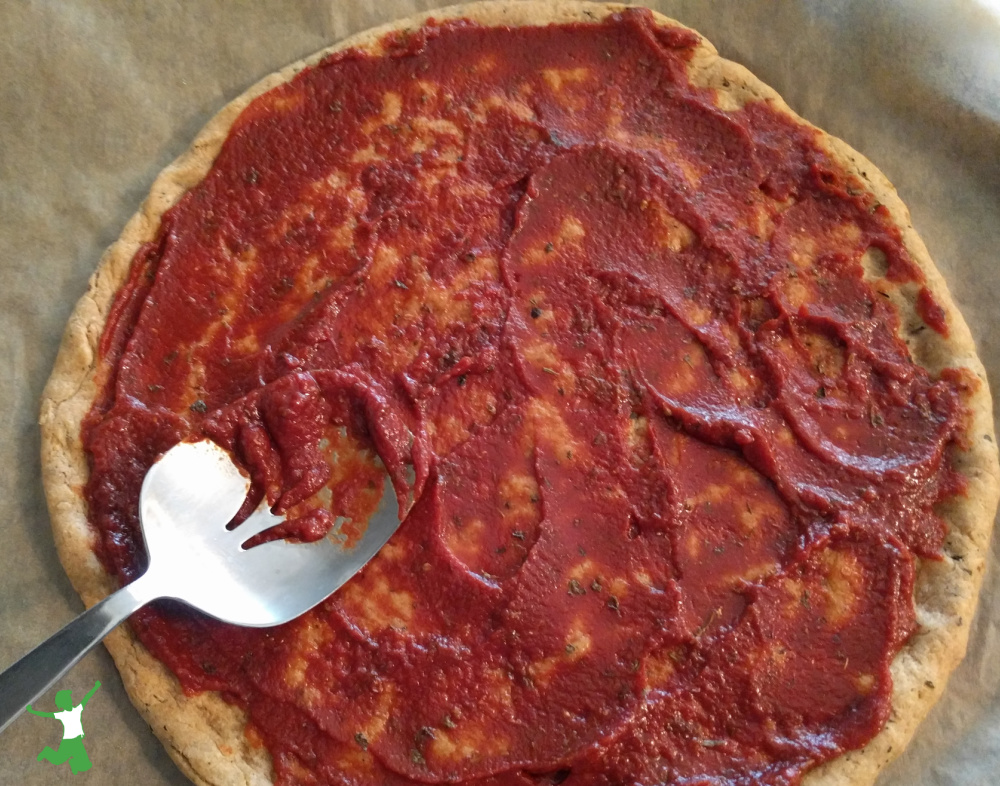 Those of you who love to bake with almond flour as much as I do will want to try this low-carb pizza crust recipe. I really hope you enjoy it as much as our family!
The first time I made it, I noticed that no one seemed to miss wheat-based pizza crust in the slightest. This coming from an entire family of huge pizza lovers.
You may be surprised to experience that this almond flour pizza is so very filling. I can only eat one-quarter of a pizza at one time (2 slices).
If you make the crust with freshly ground flour (learn how to make almond flour at the link), it is even more filling than when you make it with store-bought blanched or natural versions. The reason is that homemade is more nutritious, which signals the brain that you are full faster.
The biggest bonus is that it tastes positively gourmet from mixing the parmesan cheese and herbs into the crust!
Preparation Suggestions
If you are sensitive to oxalates or otherwise avoiding nuts, the best low-oxalate flour substitute that is also keto is sunflower seed flour.
It will give you the closest taste and consistency to almond flour, in my opinion, having tried a variety of different alternatives.
The most digestible way to prepare seeds is by soaking or sprouting them prior to milling them into flour. I don't recommend a grain grinder, as seeds are a bit too oily for these appliances, but a simple coffee grinder works great!
For toppings, I recommend this one-minute, no cook pizza sauce recipe.
More Healthy Pizza Crust Recipes
If you would like to try some other pizza crust variations, try this coconut flour pizza crust recipe or perhaps a sprouted einkorn flour pizza crust.
If you are avoiding wheat, try this homemade gluten-free pizza crust instead.
This recipe for breakfast pizza is fun to try too on the mornings when eggs and bacon seem run of the mill.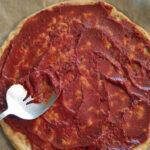 Low Carb (Keto) Flour Pizza Crust
Low-carb, keto style pizza crust made with almond flour (with flour substitutions as needed) that is simple to make and delicious. Makes 2 – 8" pizza crusts.
Instructions
Beat eggs slightly with Parmesan cheese and coconut oil. Add herbs and flour and mix until well blended dough.

Form 2 small pizzas on a large, greased pizza pan. Grease your hands lightly so that the dough doesn't stick and press it out until you have 2 thin pizza crusts about 8" across.

Bake at 425 °F/218 °C for 10 minutes or until crusts are slightly browned on the edges. Note: this grain free, almond flour pizza crust does not expand while baking.

Remove from oven. Cool slightly. Add homemade pizza sauce, toppings, and cheese and bake for another 10 minutes or until cheese well melted.
Recipe Notes
Feel free to substitute fresh basil and oregano for the dried. If using fresh herbs, use 1.5 teaspoons each.
The best nut-free substitute for almond flour is sunflower seed flour.
Nutrition Facts
Low Carb (Keto) Flour Pizza Crust
Amount Per Serving (2 slices)
Calories 386
Calories from Fat 270
% Daily Value*
Fat 30g46%
Cholesterol 100mg33%
Sodium 150mg6%
Carbohydrates 9g3%
Protein 20g40%
Vitamin A 250IU5%
Vitamin C 0.8mg1%
Calcium 180mg18%
Iron 2mg11%
* Percent Daily Values are based on a 2000 calorie diet.