Table of Contents

[Hide]

[Show]
This recipe for breakfast pizza is fast and easy to spice up the boring bacon and eggs routine. Options for plain, sprouted or grain-free keto crust.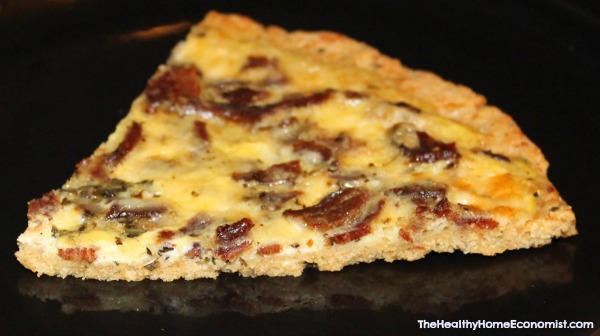 For many folks, the words breakfast pizza may bring to mind a slice or two of cold pizza left in a cardboard delivery box, precariously perched on a living room end table or sofa from a late-night party the previous evening.
While this kind of breakfast pizza may be rather popular with college students, it is not the type a Real Foodie would be blogging about!
I'll admit that the term "breakfast pizza" has never been a particularly appetizing description of desirable morning fare to me – that is until I sampled the egg and bacon pizza at Wolfgang Pucks in the Chicago O'Hare International Airport recently.
I was traveling with two of my children and we had a couple of hours to kill, so we walked around the airport in search of some decent food after arriving from an early morning flight.
Fortunately, Chicago O'Hare has some of the best airport food anywhere (along with the worst at the obligatory Food Court) with a sushi bar available to please even the most particular of palates.
My kids and I settled on Wolfgang Pucks primarily because we could see that the food was being cooked fresh right in front of the customers (always a good sign) and that real eggs were being used instead of powdered eggs from a Sysco foodservice bag or worse, a carton of liquid egg whites (gross!).
We ordered the egg and bacon breakfast pizza and paired it with some freshly squeezed fruit juice from a smoothie joint nearby and the three of us enjoyed a little feast.
We all agreed that the pizza was absolutely delicious, and I thought that this would be a great dish to make at home as a creative variation to the standard bacon and eggs breakfast that my family enjoys on a regular basis.
Eggs and Bacon Breakfast Pizza

The good news about making breakfast pizza yourself is that you get to choose the type of crust you want whether it be made of soaked nut flour, wheat flour, gluten free flour, or coconut flour.
Once the crust is made, the toppings are incredibly simple and fast to prepare. You can even make the crust ahead of time and freeze/thaw the morning you need it for the ultimate quickie breakfast pizza possible.
Healthy Crust Options
Sprouted flour pizza crust – Made with whatever sprouted flour you desire. I typically make mine with einkorn, the healthiest and only nonhybridized wheat on the planet.  Makes 2 — 13 inch crusts. Cut the recipe in half to make the breakfast pizza recipe below.
Grain free almond flour pizza crust – Made with almond flour from soaked/dehydrated, really raw almonds. Makes 2 – 8″  thin crust pizzas.  Cut recipe by 1/4 to make breakfast pizza recipe below.
Gluten free pizza crust – Delicious blend of gluten free, whole grain flours. Your family will never know it's not wheat!
Coconut flour pizza crust – Made with coconut flour, eggs and yogurt, this recipes makes 2 – 8 inch thin crust pizzas. Cut recipe by 1/4 to make breakfast pizza recipe below.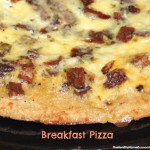 Breakfast Pizza Recipe
This recipe for breakfast pizza is fast and easy to spice up the boring bacon and eggs routine. Options for plain, sprouted or grain free crusts.
Ingredients
1

cup

cheese

shredded, preferably grassfed

1

12 inch

pizza crust

see choices above

8

slices

bacon

cooked and crumbled, preferably pastured

2

large

eggs

preferably pastured or free range

1/2

cup

whole milk

preferably grassfed

2

tomatoes

sliced, preferably heirloom

1/2

tsp

pepper

1/4

cup

basil

chopped

1/4

tsp

sea salt
Instructions
Prepare and roll out pizza crust of choice on a large pizza pan. Bake the pizza crust as directed and remove from oven.

Sprinkle half of the cheese over the baked and still warm pizza crust. Add the crumbled bacon or sausage, optional sliced tomatoes and ground pepper.

Whisk eggs, milk, and basil together and slowly pour in the center of the pizza crust. It will gradually spread to the edges.

Sprinkle on the remaining cheese.

Bake at 425 F/ 218 C for 15-20 minutes or until eggs are set.
Recipe Notes
The equivalent in sausage may be substituted for the bacon.
If using dried basil instead of freshly chopped, use only 1 tablespoon.