Table of Contents

[Hide]

[Show]
Recipe for breakfast pizza that spices up the bacon and eggs routine. Options for gluten-free, grain-free, and sprouted crusts.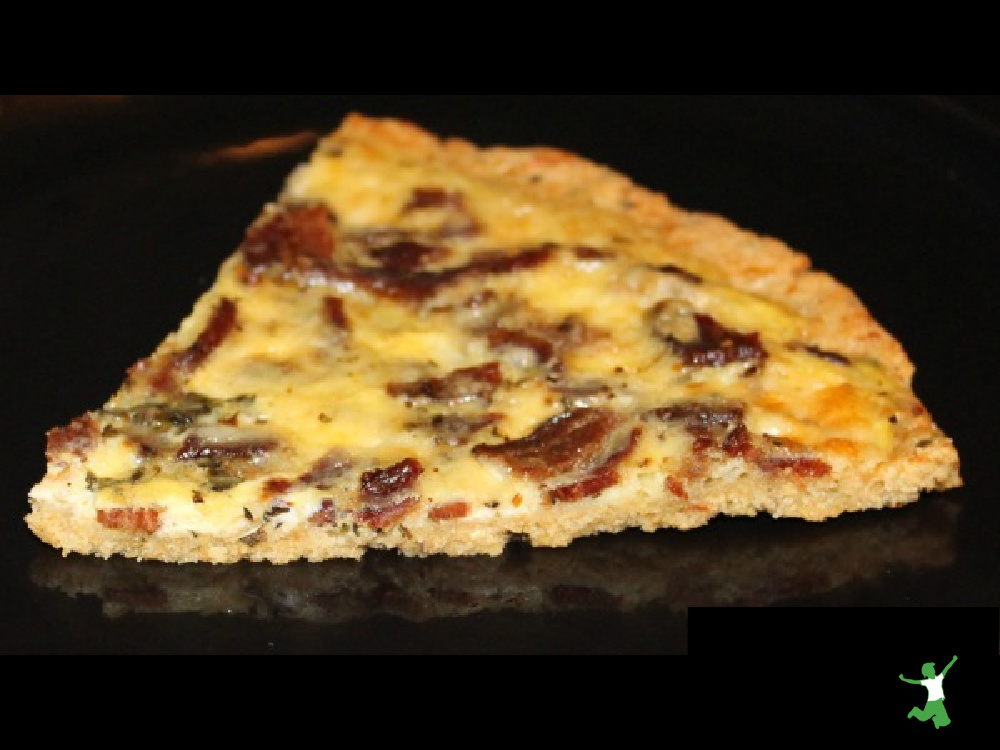 For many folks, the words breakfast pizza may bring to mind a slice or two of cold pizza left in a cardboard delivery box, precariously perched on a living room end table or sofa from a late-night party the previous evening.
While this kind of breakfast pizza may be rather popular with college students, it is not the type a Real Foodie would be blogging about!
I'll admit that the term "breakfast pizza" has never been a particularly appetizing description to me of desirable morning fare.
However, I was fortunate to sample a from-scratch, chef's creation while in Chicago recently and was hooked!
I was traveling with two of my children, and we all agreed it was terrific.
The chef used real eggs instead of the typical rancid-cholesterol powdered eggs from a nasty Sysco food service bag or worse, a carton of liquid egg whites (gross!).
The recipe below is my rendition of the egg and bacon breakfast pizza we enjoyed. It is lovely with a glass of fresh-pressed fruit juice or grassfed raw milk.
Remember to always shred the cheese yourself in the food processor after cutting what you need from a cheese block!
I buy these large 5-lb blocks from a third-generation family-owned company … it is so much less expensive.
Sliced and shredded cheese is processed with aluminum salts — even organic!
Healthy Crust Options
The good news about making breakfast pizza yourself is that you get to choose the type of crust you want whether it be made of soaked nut flour, wheat flour, gluten-free flour, or coconut flour.
Once you have the crust ready, the toppings are incredibly simple and fast to prepare.
I suggest making the crust ahead of time and freeze/thaw the morning you need it for the ultimate quickie breakfast pizza possible.
Sprouted flour pizza crust: Made with whatever sprouted flour you desire. I typically make mine with einkorn, the healthiest and only nonhybridized wheat on the planet. Makes 2 — 13 inch crusts. Cut the recipe in half to make the breakfast pizza recipe below.
This is the crust used in the "Nutrition Facts" in the recipe below.
Grain-free almond flour pizza crust: Made with almond flour from soaked/dehydrated, really raw almonds. Makes 2 – 8″ thin crust pizzas. Cut recipe by 1/4 to make the breakfast pizza recipe below.
Gluten-free pizza crust: Delicious blend of gluten-free, whole grain flours. Your family will never know it's not wheat!
Coconut flour pizza crust: Made with coconut flour, eggs and yogurt, this recipe makes 2 – 8 inch thin crust pizzas. Cut recipe by 1/4 to make the breakfast pizza recipe below.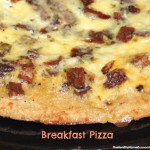 Breakfast Pizza Recipe
This recipe for breakfast pizza is fast and easy to spice up the boring bacon and eggs routine. Options for plain, sprouted or grain free crusts.
Instructions
Slice cheese from a cheese block and shred in the food processor. Set aside.

Prepare and roll out pizza crust of choice on a large pizza pan (this is the pan I use). Bake the pizza crust as directed and remove from oven.

Sprinkle half of the shredded cheese over the baked and still warm pizza crust. Add the crumbled bacon or sausage, optional sliced tomatoes and ground pepper.

Whisk eggs, milk, and basil together and slowly pour in the center of the pizza crust. It will gradually spread to the edges.

Sprinkle on the remaining cheese.

Bake at 425 °F/ 218 °C for 15-20 minutes or until eggs are set.
Recipe Notes
The equivalent in sausage may be substituted for the bacon.
If using dried basil instead of freshly chopped, use only 1 tablespoon.
Nutrition Facts
Breakfast Pizza Recipe
Amount Per Serving (1 slice)
Calories 244
Calories from Fat 108
% Daily Value*
Fat 12g18%
Cholesterol 79mg26%
Sodium 314mg13%
Carbohydrates 23g8%
Protein 11g22%
Vitamin A 177IU4%
Calcium 200mg20%
* Percent Daily Values are based on a 2000 calorie diet.