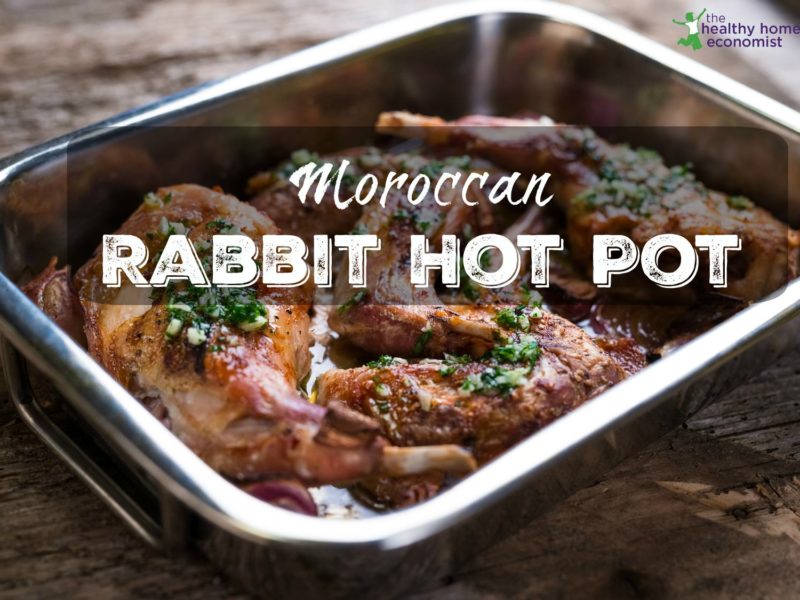 I tasted my first rabbit hot pot recipe at a Moroccan restaurant in Los Angeles when I was 19 and on a cross country trip with my brother helping him with a West to East Coast move.
Moroccan restaurants are a real cultural experience because you sit on the floor on cushions and eat with your hands. The rabbit hot pot was delicious but for some unknown reason, I've not eaten it since.
Moroccan Hot Pot
It's not surprising then that this rabbit recipe for Moroccan Hot Pot in Arabella Forge's fantastic book Frugavore caught my eye.  In Australia, where Arabella lives, rabbits are considered a nuisance – a non-native species that damages the natural environment and represent a major threat to flora and fauna alike.
Killing rabbits in Australia is considered a public service, and Arabella writes in Frugavore that "you can often spot young kids selling rabbits for next to nothing by the side of the road in rural areas."
I recently noticed that my local butcher carries rabbit, so I really must learn to cook it using Arabella's excellent rabbit hot pot recipe. If any of you are experts at cooking rabbit, please share your thoughts and tips in the comments section!
To check out another recipe from Frugavore (you really need to check out this book!), this recipe for sweet potato hummus is amazing!
By the way, this recipe is best using rabbit bone broth, but if you don't have it on hand, any type of traditionally made bone broth will do.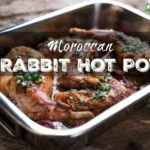 Moroccan Rabbit Hot Pot Recipe
Delicious Moroccan recipe for rabbit hot pot that will have your family wanting to eat this nutritious, frugal meat more often.
Instructions
Ask your butcher to cut the rabbit into joints at the shoulder and hip.

Combine the peppercorns, garlic, salt, cinnamon, ginger and olive oil.

Rub the mixture over the meat, cover and refrigerate for 6-24 hours.

Preheat the oven to 350F/177C.

In a frying pan over medium heat, fry the rabbit for a minute or so on each side until it seals. Put the meat, tomatoes, lemon rind, sherry, stock, thyme, and onion in a heavy pot with a tight fitting lid. Ideally, the ingredients should take up 3/4 of the space in the pot. Check that there is enough liquid to just cover the meat. Put the hot pot in the oven and cook for 30 minutes or until the meat is soft.

Do not overcook hot pot as rabbit becomes dry and leathery if cooked too long.

Remove the hot pot from the oven and season the stew to taste. To thicken the sauce, remove the meat from the pot and simmer the pot on the stovetop uncovered for 5-10 minutes. Finely chop the coriander or parsley and stir into the sauce. Serve each piece of meat with a generous helping of sauce. *

Refrigerate any hot pot leftovers.
Recipe Notes
2 cans diced tomatoes can be substituted for the fresh tomatoes.