Easy and delicious protein cookie recipe made with four whole ingredients and maple syrup as the natural sweetener.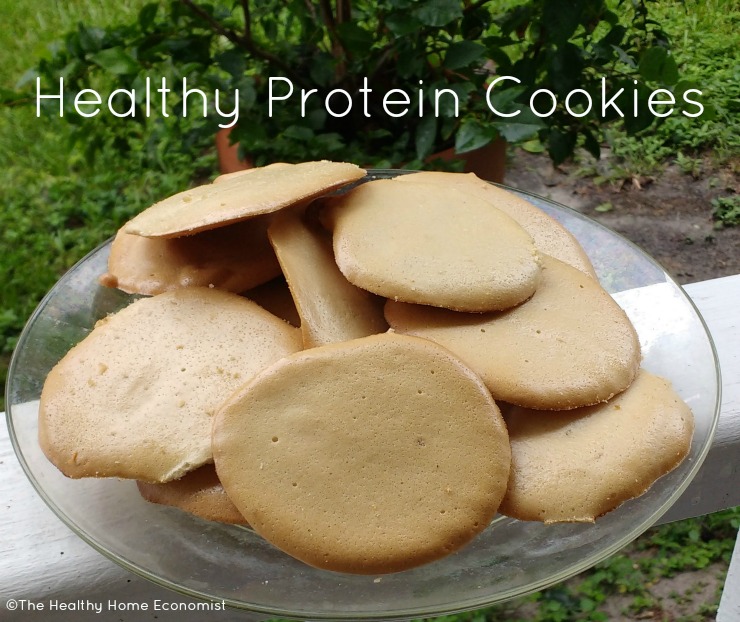 This recipe and video lesson feature how to make homemade protein cookies that your family is sure to love.
This particular protein cookie recipe is really vanilla or cocoa macaroons without the shredded coconut added. Although I enjoy the flavor of coconut, I don't prefer the texture in a cookie (and neither does the rest of my family). So, I leave it out when making my version of this classic dessert.
Please feel free to add some coconut if you enjoy it when you make them at home, however. It certainly would be a healthy addition.
The crunch and flavor of these protein cookies are wonderful. They make a fabulous snack. I also like to pack them in lunchboxes.
Healthy Protein Cookies 
Homemade protein cookies are the perfect answer to all those unhealthy protein powders, bars, cookies, and other highly processed, high protein foods (full of MSG, by the way … they all have some form of protein isolate in them which is an alias for this additive) at the health food store.
The video included with the recipe shows you how I make approximately two dozen medium-large protein cookies from 8 leftover egg whites. The photo above shows the size to give you some idea.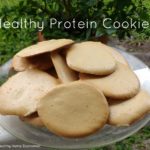 Homemade Protein Cookies Recipe
This recipe for delicious, healthy protein cookies uses only real food ingredients and no processed protein isolate containing toxins and MSG.
Total Time
3
hours
35
minutes
Instructions
Whip eggs whites with sea salt until stiff using a handheld blender.  

Blend in arrowroot, optional cocoa, vanilla and maple syrup.

Spoon small ladles of the foamy batter onto cookie sheets lined with unbleached parchment paper.

Bake at 300 F/149 C for 30 minutes. To completely dry out the cookies to perfect crispiness, reduce oven temp to 200 F/ 90 C and toast for another 3-4 hours.
Recipe Video
Recipe Notes
Do not use liquid egg whites or Egg Beaters for this recipe. These are highly processed and unhealthy.
Nutrition Facts
Homemade Protein Cookies Recipe
Amount Per Serving (1 cookie)
Calories 24
% Daily Value*
Carbohydrates 4g1%
Protein 2g4%
* Percent Daily Values are based on a 2000 calorie diet.