This warm, flavorful artichoke dip recipe is made with nutrient-loaded mayonnaise rich in healthy fats that you can buy or make at home. Only 4 ingredients!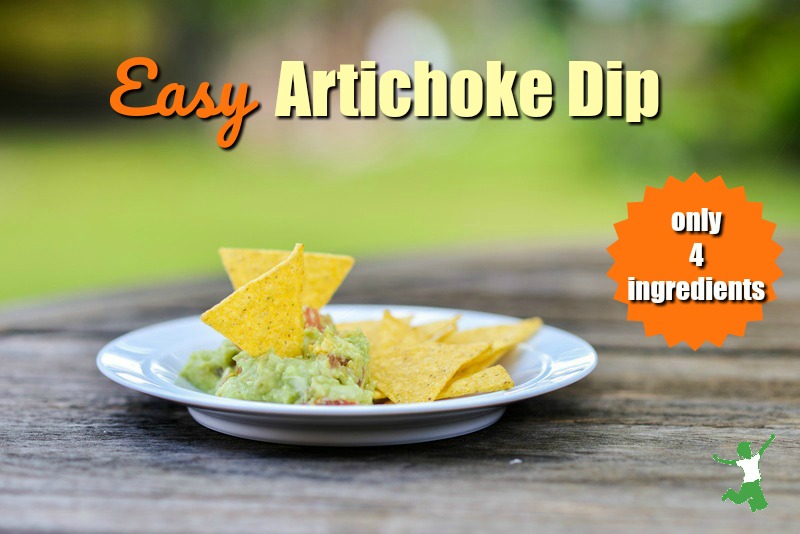 My friend Paula Jager CSCS likes to host holiday parties at her Crossfit gym. It's always a cozy affair attended by a few dozen friends and family. The buffet of food is entirely primal, which means that no grains were incorporated into any of the dishes. To these types of events, I like to bring a large pan of artichoke dip to share.
Many crossfitters follow a primal or even a paleo (no grains, starches, or dairy) approach to eating. It has achieved quite a degree of popularity in recent years as evidenced by the strong primal contingent represented at the annual Wise Traditions Conference.
I myself do eat traditionally prepared grains, but frequently eat meals with no grains whatsoever. In fact, most of my meals are entirely grain-free come to think about it!
As a result, I am very comfortable at Primal/Paleo parties and find the food to be, in a word – terrific! Paula supplies the meats and beverages and everyone else who attends brings a shareable covered dish.
Below is the recipe for my party-sized artichoke dip. It proved to be popular and I came home with very little leftovers (much to my husband's disappointment!).
Healthy and Creamy Artichoke Dip
This artichoke dip recipe can either be healthy or really unhealthy depending entirely on the method of preparation. If you use canned artichokes (loaded with BPA) and store mayo (even from the healthfood store), this dish would be turn out rather toxic as cooking any omega-6 vegetable oil is a big no-no as it turns them rancid.
Rancid vegetable oils are very hard to digest and will give some folks a headache. Eat too many of these baddies and brown spots and uneven patches of skin pigmentation may even begin to appear. Note that the dish would still be very tasty, just really hard on the digestion.
If you take the time to make your own mayo with avocado oil and source artichokes in glass jars, however, this dish is healthy as well as incredibly tasty. It is best to make your own healthy avocado oil mayo, which I recommend over any other oil for making this particular condiment.
But, if you must buy, this is my preferred brand. Avocado oil is not only mild tasting, but is heat stable, and as such, can be used for cooked dishes like this artichoke dip without turning rancid.
If you aren't able to make or buy decent mayo or need the dish to be egg-free, you can substitute creme fraiche or another type of cultured cream instead.
Here is the method I used to transform this conventionally unhealthy dish into one that you can proudly take to any party. It will please both foodies and fast food junkies alike.
If artichokes aren't your thing, check out this recipe for cheesy onion dip instead!
I recommend this easy recipe for sourdough tortilla chips for healthy dipping!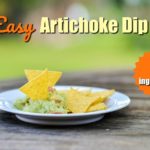 Homemade Artichoke Dip Recipe
This warm, flavorful artichoke dip recipe is made with healthy mayo that you can buy or make yourself which can be baked in the oven without turning rancid boosting your energy but not your backside.
Instructions
Bake at 350 °F/ 177 °C until bubbly and browned on top, about 20-30 minutes.

Serve with cut pieces of organic celery, carrot sticks, healthy chips or sourdough crackers. This recipe for no grain pizza crust (made with almond meal flour) makes excellent crackers too!
Recipe Notes
You may substitute 1-2 teaspoons garlic powder for the cloves in a pinch.
If you choose to make the mayo yourself instead of buy it, make sure it is made with mild tasting avocado oil. Avocado oil is primarily an omega-9 fat like olive oil. Omega-9 (monounsaturated) fats can be heated without becoming rancid. This dish will be cooked and heating mayo made with sunflower oil or another omega-6 vegetable oil will create free radicals which are health damaging although the dish would still deceptively taste great.