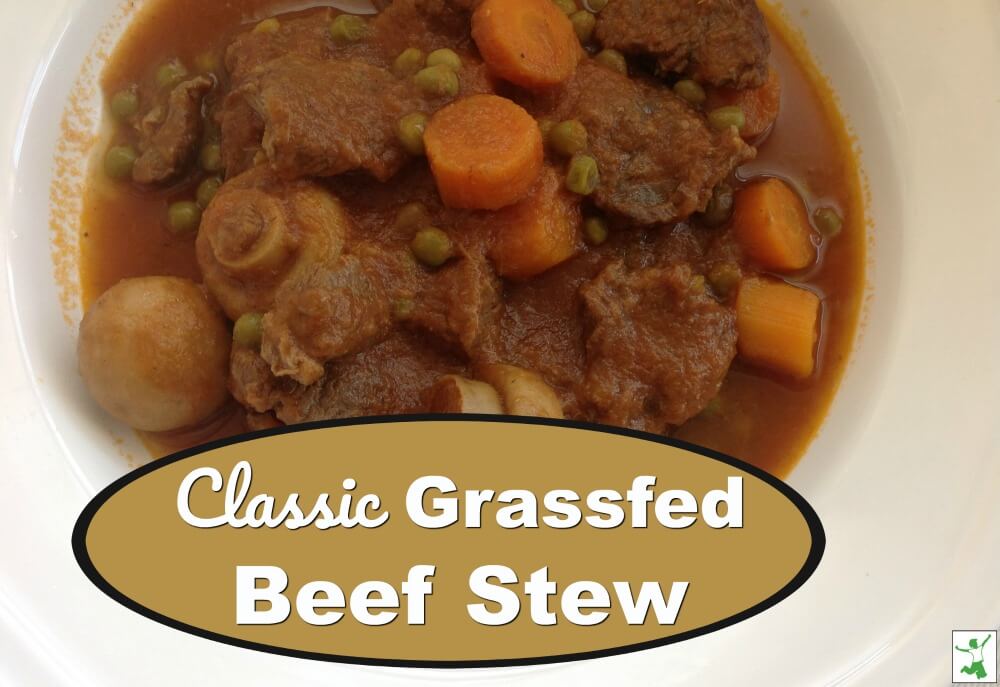 Beef stew is certainly one of the most popular comfort foods within American and Irish cuisine.
When you take the time to carefully source ingredients such as grass-fed beef and rendered tallow for sautéing the vegetables, then it becomes a truly traditional dish that is tasty, satisfying, and healthy.
My Favorite Beef Stew Hack
When I was a poor graduate student barely scraping by, a can of Dinty Moore beef stew warmed up and served over a bowl of rice was one of my go-to cheap dinners (that along with ramen noodles — YIKES).
I always wondered why I got a headache the next day. Years later, I finally figured out that it was due to all the MSG in that canned stuff!
Today, I make beef stew from scratch, which eliminates the headache issues.
I still love to serve it over rice, which is my favorite hack for this traditional dish. I recommend white rice over brown.
Even with the hull removed, white rice is best soaked before cooking for a few hours or overnight.
This step improves the digestibility of the starch considerably and safeguards against arsenic from rice brands that don't test their products for purity.
Then, finish it off with a quick cook just before the stew is ready to serve.
If you are grain-free, another way to serve your beef stew is with homemade plantain biscuits.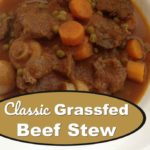 Grass-fed Beef Stew Recipe
A traditional recipe for beef stew using grass-fed beef and other classic ingredients for comfort food that will please the whole family. Serve alone, over rice, or on grain free biscuits.
Cook Time
1
hour
40
minutes
Total Time
1
hour
50
minutes
Instructions
Heat tallow in a large cast iron dutch oven over medium heat.

Add beef cubes and sauté until browned.

Remove with a slotted spoon and place on a plate.

Add onions and sauté for about 4 minutes; add garlic and sauté for another 2 minutes.

Return beef and any juices to pot; stir in tomato paste, then add broth and enough water to just cover.

Reduce heat to low, cover and simmer until beef is tender about 1 ½ hours.

Add carrots, mushrooms, potatoes and green beans. Cover partially; simmer about 30-45 minutes or until vegetables are tender. Remove the lid and allow it to stand for about 5 minutes to thicken slightly.

In a small bowl, mix sprouted flour or arrowroot with water and stir into stew. Increase heat and bring to a slight boil for 2 minutes for the flour and 1 minute for the arrowroot.

Ladle into bowls or serve over soaked and cooked basmati rice.
Recipe Notes
The beef stew is tastiest using organically sourced vegetables especially the potatoes and carrots.
Substitute 1/2 teaspoon organic garlic powder instead of the minced garlic cloves in a pinch.
For grain-free thickening, use arrowroot powder, but do it at the very end, as cooking it too long will result in it losing its thickening properties.
Nutrition Facts
Grass-fed Beef Stew Recipe
Amount Per Serving (1 cup)
Calories 261
Calories from Fat 117
% Daily Value*
Fat 13g20%
Cholesterol 180mg60%
Sodium 250mg10%
Potassium 400mg11%
Carbohydrates 16g5%
Protein 20g40%
Vitamin A 2400IU48%
Vitamin C 6.6mg8%
Calcium 20mg2%
Iron 1.4mg8%
* Percent Daily Values are based on a 2000 calorie diet.