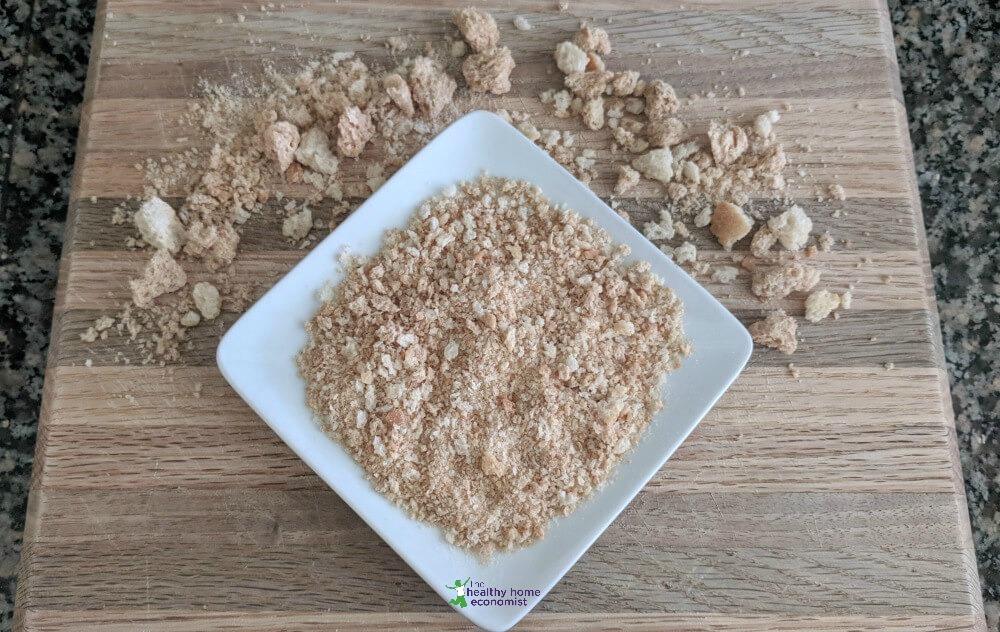 When it comes to sourcing quality ingredients for home cooked dishes, the little things really do matter. Take breadcrumbs, for example.
Most people don't bother to learn how to make breadcrumbs because the task seems so incredibly mundane.
I mean, breadcrumbs?
How boring! How bad can the store bought ones be anyway?
Others make the mistake of assuming that specialized equipment like a dehydrator or digital oven is needed.
Why It's Important to Make Your Own Breadcrumbs
The reality is that this ingredient is very important to make yourself. They are an essential ingredient for many meatloaf recipes and breading for healthy frying.
The reason you should avoid buying them is because there isn't a single brand on the market that is worth your food dollar. Even the organic ones I've exhaustively checked are lacking in quality. Not to mention they are insanely expensive for what you actually get.
For example, a mere ten ounce bag of Trader Joe's organic breadcrumbs costs eight dollars or more. For the Japanese style panko breadcrumbs, the price is even higher.
Let's examine the ingredients of three commercial breadcrumbs brands and why all are best avoided!
Supermarket Breadcrumbs
First is one of the most popular brands at the supermarket manufactured by General Mills. See the picture of the label below.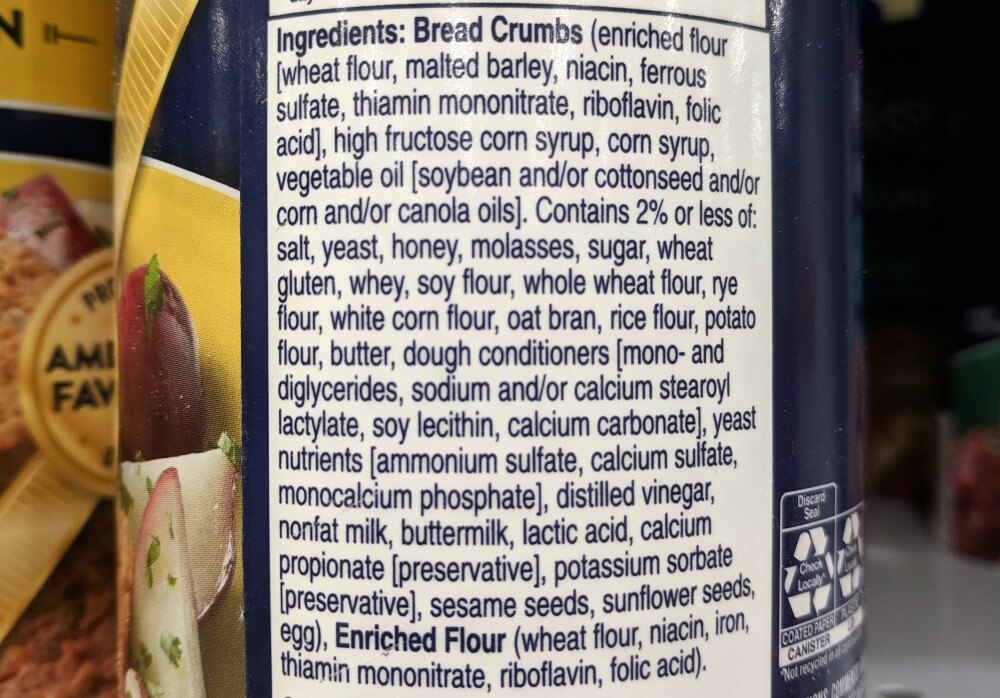 I'm not going to bother explaining all the reasons why this eye-poppingly long list of ingredients is bad for you. Suffice it to say that it contains high fructose corn syrup along with a host of other toxic additives and synthetic B vitamins (that do more harm than good) from "enriched" flour.
If you are looking at a product and it has this many ingredients, put it down and move on.
It's not worth your time to analyze it. It's garbage.
Gluten Free Breadcrumbs
The second brand (4C) is gluten free. As you can see, the ingredients are much better.
Gluten free crumbs (rice flour, raisin juice concentrate, honey, salt), grated romano cheese, cheese culture, salt, rennet, salt, dehydrated parsley flakes, spices, onion powder, garlic powder.
I would not recommend using this brand for three reasons. First, it is sweetened with toxic cooked honey and raisin juice.
The second problem is the ubiquitous "spices". This ingredient is used by food manufacturers to hide all manner of problematic additives, most notably MSG.
The third problem is that the main ingredient is rice flour. Not the best choice for a gluten free flour, by any means, given the heavy metal contamination issues with rice crops around the world.
The label doesn't even note where the rice comes from.
China anyone? No thanks.
Even Organic Breadcrumbs Contain SUGAR

Let's now take a look at the very popular organic breadcrumbs available at Trader Joe's.
The ingredients are as follows:
Organic wheat flour, Organic evaporated cane juice, sea salt, yeast, ascorbic acid (vitamin C) as dough conditioner.
While there are only five ingredients in these breadcrumbs, I, for one, would never buy them.
Why?
First, they contain sugar. Seriously? Why does there need to be sugar in breadcrumbs?
That is insane.
Secondly, the synthetically derived vitamin C used as a dough conditioner isn't ideal either. It is almost certainly corn-derived, and hence, a likely carrier of glyphosate residue (even if from nonGMO corn).
The third strike against these breadcrumbs is that they are made with wheat flour that is loaded with phytates because the wheat isn't sprouted, soaked or sour leavened.
Anti-nutrients in the diet quickly add up! The mineral blocking result is nutrient deficiency, tooth decay, gut dysbiosis, eczema or other autoimmune burdens. While symptoms from consuming excessive phytates can take a long time to show up, it's just not worth it in the long run.
You know the old saying, An ounce of prevention is worth a pound of cure?
If you can easily avoid using this stuff, then why not?
My Trick for Homemade Breadcrumbs
My recipe for making homemade breadcrumbs is simple and doesn't require any specialized appliances like a food dehydrator.
The picture above shows how easy it is to make them whatever size you want too!
The most important thing is to use healthy bread to make your breadcrumbs.
I use quality sourdough from a small, family-owned organic bakery. There are several other types of sourdough bread available as well if you prefer rye, oat, or spelt.
When the freshly baked loaves arrive, I immediately remove all the crusts and make breadcrumbs.
This ensures that they last as long as possible.
This article on using up breadcrusts contains more thrifty ideas!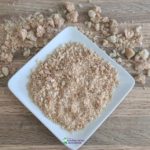 How to Make Breadcrumbs (no equipment necessary!)
Learn how to make breadcrumbs with this easy recipe that does not require any special equipment. This method works for making panko breadcrumbs too!

Instructions
Place 6 bread crusts on a large plate in two stacks of three.


Cover bread crusts with a colander to allow airflow to quickly dry them out while also providing some protection. Leave on the counter until they are hard from drying out.


How long this takes will depend on the humidity in your home. In my house, it only takes 24 hours or so. Even if it takes a couple of days, the breadcrumbs turn out fine!

Alternatively, you can dry them more quickly in a dehydrator or a warm (150F) oven or placing on a plate on a warm (not hot) stovetop. Sitting on the counter works fine though!


Break bread crusts into quarters and process until desired size in the food processor. Pulse a few times for panko breadcrumbs and pulse continuously until finely ground for traditional breadcrumbs.


Alternatively, if you don't have a food processor, tear the crusts into the smallest pieces possible and pound them into the desired size crumbs in a mortar & pestle.

Place breadcrumbs in an airtight container and refrigerate. Using glass will help them keep longer.
Recipe Notes
Homemade breadcrumbs will last about a month in the refrigerator. Freeze what you will not use in that time.
Substitute sprouted bread crusts for sourdough if you prefer.
Nutrition Facts
How to Make Breadcrumbs (no equipment necessary!)
Amount Per Serving (0.5 cup)
Calories 130
Calories from Fat 9
% Daily Value*
Fat 1g2%
Sodium 100mg4%
Carbohydrates 26g9%
Protein 4g8%
Iron 0.4mg2%
* Percent Daily Values are based on a 2000 calorie diet.