Just because the weather is warm doesn't mean you can't enjoy some serious comfort food! When it comes to main courses, one of my favorite dishes that hits the spot is classically inspired meatloaf.
I recently enjoyed perhaps the most delicious traditional meatloaf I've ever ordered in a restaurant. It was at a farm-to-table restaurant in the Seminole Heights neighborhood of Tampa. A known local food mecca! Unfortunately, the restaurant was forced to close recently, but it wasn't for lack of an excellent menu.
Classic Meatloaf with a Southern Flair
If you really love meatloaf as I do, try out this southern style meatloaf wrapped in bacon for an extra layer of deliciousness. If you prefer ground lamb, this recipe for lamb loaf is a lighter alternative.
You will notice that this traditionally inspired meatloaf recipe contains a small amount of ground organ meats. Meatloaf is perhaps the best dish for hiding nutrient-dense organ meats. Chances are high that your family will never even know its there!
The recipe below is courtesy of Paula Jager, CSCS founder of CrossFit Jaguar in Tampa, Florida.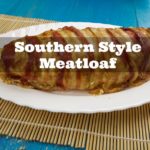 Traditional Meatloaf Recipe (offal good!)
Classic meatloaf recipe with a traditional, Southern flair that is sure to please anyone at the dinner table. Makes great leftover sandwich meat as well!

Instructions
Saute onions, garlic, carrots, bell pepper and celery in bacon grease over med low heat until tender, about 6 to 8 min. Take off the stove and allow to cool.

Beat eggs slightly and sprinkle gelatin over the top (if using) allowing to set for 5 min.

Place meat and offal in a large mixing bowl and add in the cooled vegetables, salt, pepper, cheese and spices.

Add the egg mixture and mix gently with your hands until combined being careful not to over mix.

Line a 9" x 13" glass pan with a sheet of parchment paper. Take the meat mixture and form into a 10" x 4" loaf. Wrap the bacon in a diagonal fashion covering as much of the meat as possible. Trim the ends of the bacon, leaving ½" of overlap and gently tucking under. Use additional strips trimming as necessary to patch any areas not covered.

Broil the meatloaf 6" from broiler element until brown and crisp, about 5 min.

Let cool 10 minutes; transfer to a serving plate, cut into ¾- to 1-inch slices and enjoy!
Recipe Notes
If you do not eat pork, substitute another pound of ground beef.
Pastured lard or bacon grease may be substituted for the tallow.