Table of Contents

[Hide]

[Show]
Healthy garlic bread recipe using nourishing fats and a traditionally made loaf for the ultimate taste and digestive experience.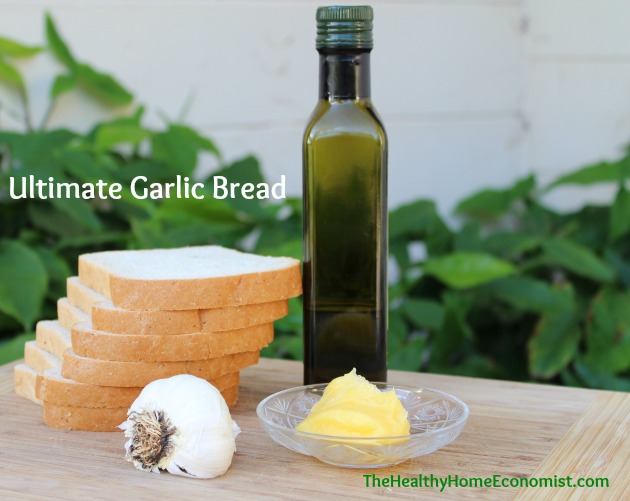 I view bread thusly: it is the ideal vehicle for getting loads of healthy fats into your children quickly, easily, and with no fuss!
We don't eat a lot of bread in our home, about two loaves per week for a family of five. But, when bread is served, it is loaded with healthy fats to the point where the calories in the bread are far exceeded by the healthy fats it is topped with!
One particular fave in my home is garlic bread with dinner. I've found that garlic bread goes with just about any dish even those you might scratch your head about like fish. We enjoy it best as a side with bone broth soup.
Healthy Garlic Bread
When garlic bread is served with dinner, one slice per person is usually plenty as it is so filling the way I make it with about 2-3 Tbl of brain and bodybuilding traditional fats baked right in.
As a bonus, it is unlikely anyone will want dessert after eating this garlic bread due to the satiating and blood sugar steadying effect of consuming adequate amounts of healthy fats with a meal.
When fresh garlic cloves are used, this enhances the nutritional value of this side dish even further as garlic packs a powerful antioxidant punch and boosts the immune system too. To maximize these benefits, mince the garlic and let sit for 15 minutes at room temperature before baking.
My favorite bread to use as the base is a true sourdough from a small family bakery that ships fresh to your door (check them out online here). It is simply divine and every member of our family loves it. Sprouted bread is also an excellent choice.
Some children have texture issues with butter when they are young, so if this is the case in your home, solve the problem by incorporating garlic bread into your family dinners as it fits the menu.
If garlic makes the flavor too strong, you can omit it as this recipe is delicious even without the garlic topping. And, if you have any bread leftover, use it to make this recipe for bread soup (panata).
Want to learn more about healthy fats? My book Get Your Fats Straight is a straightforward and simple explanation of all the fats — which ones to eat and why and which ones to avoid and why — along with how to implement them in the diet in a cost-effective and practical manner.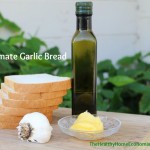 Traditional Garlic Bread Recipe
This ultimate garlic bread recipe goes with just about any dish and is perfect as the side for a main meal, with soup as as a salad topper. Leftovers are easily warmed in a toaster oven for easy snacking.
Instructions
Melt the butter on low heat on the stove in a pan.

After the butter is melted, add the olive oil and mix well. Using a basting brush, slather on the oil mixture generously onto the slices of bread until the entire cup of fat is used.

Spread one clove's worth of minced garlic onto the each slice.

Bake at 350 F/ 177 C until crispy but not browned – about 15 minutes.

Serve immediately as a side dish or break into pieces to use as healthy croutons for salads. Refrigerate leftovers and rewarm in a toaster oven as needed.

Refrigerate leftovers and rewarm in a toaster oven as needed.
Recipe Notes
Substitute ghee for the butter if there is a dairy allergy in the home.
Nutrition Facts
Traditional Garlic Bread Recipe
Amount Per Serving (1 slice)
Calories 321
Calories from Fat 225
% Daily Value*
Fat 25g38%
Carbohydrates 22g7%
Protein 3g6%
* Percent Daily Values are based on a 2000 calorie diet.