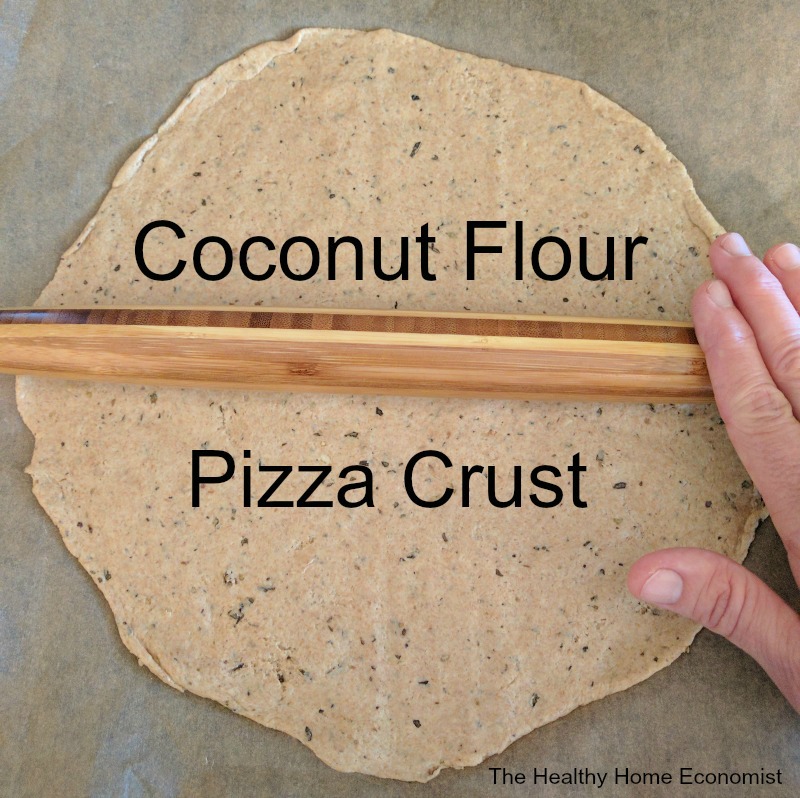 I've been using both store bought and homemade coconut flour for years. Until very recently, however, I had never tried making it into a coconut flour pizza crust! I held off for so long because of the natural sweetness of coconut flour. I just didn't think it would work very well in a savory dish.
This changed when I read a post on Food Renegade which featured a recipe for mini pizzas made with coconut flour.
I was inspired! I decided to try out that recipe that very night for dinner and even left a comment to that effect.
Problem was, when dinner rolled around, I only had a very few minutes to whip something up (can any of you relate to this?).
The coconut flour pizza crust recipe I had planned to follow called for frying up the mini pizza crusts in a pan, and I simply didn't have the time to babysit those little critters. To compensate for my lack of time, I came up with another method and added a bunch of herbs to the batter to mask the natural sweetness of the coconut flour.
It worked! Best of all, this pizza is so filling compared with pizza made with wheat. I could only eat one slice and we ended up with a lot of pizza leftovers for lunch the next day!
Here's the recipe and method of preparation I came up with that has turned out to be one of our favorite meals of late. Many thanks to Kristin and Cara for the inspiration for this recipe.
What Makes a Healthy Pizza Crust?
Whole food ingredients are where it's at when you make pizza crusts no matter which flour you choose. Remember, not only are you using real food to make your pizza crust at home, but you are avoiding the toxic packaging that the processed pizza crusts come in. Even if the ingredients are organic, the packaging likely contains more than its share of chemicals that can get into that refrigerated dough or plastic wrapped crusts. Most people never consider the packaging as something to be avoided and one of the huge benefits of homemade pizza!
Healthy Pizza Crust Recipes
If you would like to try some other variations, this recipe for almond flour pizza crust is delicious and simple to make. Or, you can try sprouted pizza crust using einkorn or gluten free flour. This gluten free pizza crust recipe will work using whatever gluten free flour blend you choose. If you really want to mix things up, try this breakfast pizza recipe.
Coconut Flour Pizza Crust Recipe
The instructions below outline the four steps and simple, whole ingredients to make coconut flour pizza crust in your home. One of the best things about working with coconut flour is that you don't have to knead it. You simply mix up all the ingredients, roll out the dough, and bake!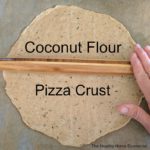 Coconut Flour Pizza Crust
Easy coconut flour pizza crust that will delight both your grain eating and Paleo friends.
Instructions
Whip the eggs in a large bowl with the yogurt and sea salt. Add the coconut flour and whip until very smooth with no lumps. This may take a few minutes to accomplish as it takes some time for the coconut fiber to absorb the liquid. Blend in the onion powder, oregano, basil, garlic, and parmesan cheese.




Line a pizza pan with parchment paper. Gently pour about 1/2 the batter onto the paper lined pan. Use a spatula or other kitchen utensil to spread the batter into an 8-9" circle that is quite thin (the thinner the better).


Bake at 400F for 10 minutes. Remove pan from oven, add easy pizza sauce, cheese and other toppings as desired. Place back in the oven on broil for about 8 minutes more.

Repeat this process with the remaining half of the coconut flour batter.
Sarah, The Healthy Home Economist