Table of Contents

[Hide]

[Show]
This classic recipe for Shepherd's Pie can be prepared either traditionally with mashed potatoes or low carb Keto-style and includes only whole food ingredients with an easy to make, flavorful sauce.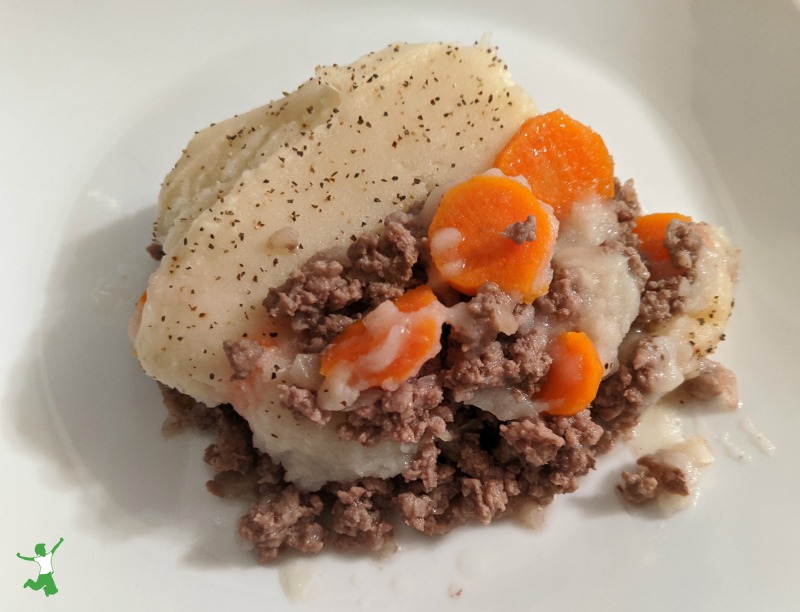 If you've ever visited an Irish Pub, chances are you've noticed Shepherd's Pie featured on the menu. This dish is also commonly called cottage pie. In my public high school lunchroom, we called it potato turbate.
Never mind that "turbate" isn't even a real word, that's what everyone called it…students and cafeteria staff alike.?
While the classical recipe itself has many names and variations, the basic method and ingredients for making Shepherd's Pie are the same. It is a baked casserole consisting of ground beef or lamb cooked in gravy with onions and topped with a layer of mashed potatoes.
Shepherd's Pie at a Restaurant
The trouble with ordering this dish in a restaurant is that the gravy or stock used to make it is inevitably the fake stuff containing loads of factory synthesized flavors a la MSG. It really is a headache waiting to happen if your order it.
If you want to enjoy this quintessential comfort food with no uncomfortable side effects later, you will have to make it yourself!
But don't follow the recipes online that come to the top of page one when you do a search. They all incorporate the cop-out of MSG-laced powdered gravy packets/fake broth.
Real Food Cottage Pie!
Making a Real Food version of cottage pie doesn't have to take a lot of time if you forgo the commercially made fake-flavor ingredients.
My method incorporates an easy-to-make sauce that gives the dish it's memorable flavor without taking the time required to make a traditional gravy.
And…if your food philosophy excludes starches, it is very easy to transform this dish into a low carb, a la keto version!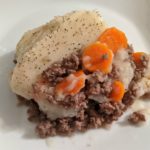 Classic Shepherd's Pie (with keto option)
This classic recipe for Shepherd's Pie is Keto-style and includes only whole food ingredients with an easy to make, flavorful sauce.
Instructions
Finely chop the onion and sauté in 2 TBL butter in a large saucepan for 5 minutes on medium-high heat.

Slowly drizzle in 1/4 cup of beef stock into the saucepan with the cooking onions. Simmer on medium heat and stir occasionally until most of the liquid is evaporated. This takes about 2-3 minutes.

Drizzle in another 1/4 cup of beef stock and repeat process until the entire cup of stock is caramelized into an onion/beef stock glaze.

Add the ground beef to the saucepan with the onion/beef stock glaze. Begin to brown the beef on medium-low heat.

While the ground beef is browning, peel/chop the carrots and put in a pot with 1/2 cup filtered water and cook on medium-high until soft, about 10 minutes. Remove from heat and drain.

Also while the ground beef is slowly browning, sauté the cauliflower rice in 2 TBL butter until soft, about 10 minutes. Remove pan from heat and mash until smooth.

Preheat oven to 350 °F/ 177 °C

When the ground beef is fully browned and cooked into the onion/beef stock glaze, place evenly in a large casserole dish. Drain the carrots and spread evenly on top. Spread the cauliflower mash evenly on top of the carrots and sprinkle with sea salt and pepper.

Bake uncovered at 350 °F/ 177 °C for 30 minutes or until the cauliflower mash begins to brown on the sides. Remove the casserole dish from the oven and serve immediately.

Cool to room temperature, cover, and refrigerate leftovers. Reheat to enjoy for up to 4 days.
Recipe Notes
If you wish to prepare this dish with mashed potatoes on top instead of cauliflower mash, to save a lot of time since this dish already takes one hour to prepare, I recommend sourcing nonGMO dehydrated potatoes to make quickly. The only ingredient should be potatoes!
Heat up 1.5 cups of water with 2 TBL butter and 1/2 tsp sea salt.  When boiling, remove pot from heat, pour in 1/2 cup whole milk and stir in 1.3 cups dehydrated potatoes. Let sit for one minute, then spread on top of Shepherd's Pie casserole.
If you don't wish to make homemade beef stock, I recommend this brand as the best to buy instead.
Nutrition Facts
Classic Shepherd's Pie (with keto option)
Amount Per Serving (1 cup)
Calories 330
Calories from Fat 189
% Daily Value*
Fat 21g32%
Cholesterol 75mg25%
Sodium 300mg13%
Potassium 1000mg29%
Carbohydrates 8.3g3%
Protein 25g50%
Vitamin C 18mg22%
Calcium 75mg8%
Iron 3mg17%
* Percent Daily Values are based on a 2000 calorie diet.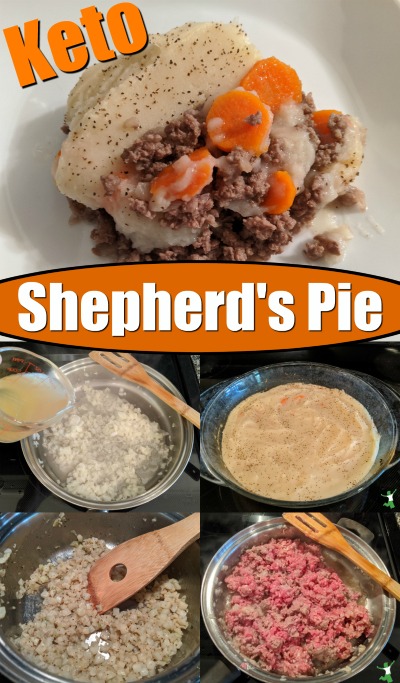 References
(1) Potato Turbate – AKA Pinellas County Schools' Shepherd's Pie