by Sarah TheHealthyHomeEconomist
February 18, 2010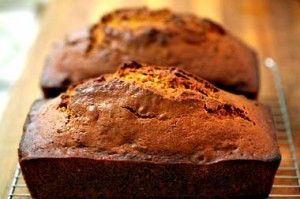 Today I baked a loaf of pumpkin bread with the last cup of pureed pumpkin that I had made back at Thanksgiving. When I bother to make pureed pumpkin, I always use in season pumpkins and make a lot, frozen in small containers, so that I have enough for not only pumpkin pie at Thanksgiving, but also for pumpkin bread for several months afterward. My family loves pumpkin bread – it really shouldn't be just Autumnal Fare, should it?
Now that I've used up the last of my pureed pumpkin from the freezer, I will just have to wait until the (tropical) pumpkins come back into season with the warmer weather in a few months. Then, I will make enough again to last through just before Thanksgiving 2010! That's the essence of a Traditional Kitchen – plan ahead, make a lot, and fully maximize not only the nutrition in your food with Traditional Cooking Methods, but your enjoyment as well! Hope you like the recipe.
Pumpkin Bread
1/2 cups freshly ground flour (sources)
1 cup organic pumpkin puree
1/2 cup expeller pressed coconut oil (sources)
2 eggs, beaten
1/2 cup sucanat (sources)
5 drops liquid stevia (sources)
1 tsp baking soda (sources)
3 Tbl water (only if needed to add moisture to the batter)
1/2 tsp nutmeg (sources)
1/2 tsp ground ginger (sources)
1/2 tsp allspice (sources)
1 tsp cinnamon (sources)
1/2 tsp cloves (sources)
1/2 tsp nutmeg (sources)
1/2 tsp of sea salt (sources)
Mix the dry ingredients in a bowl. Mix the wet ingredients in a separate bowl and then fold in the dry ingredients until smooth. Bake at 350F/177 C for about 1 hour or until knife inserted in the center comes out clean.
Sarah, The Healthy Home Economist