Healthy and homemade pumpkin spice latte that you can feel good about enjoying any time of year!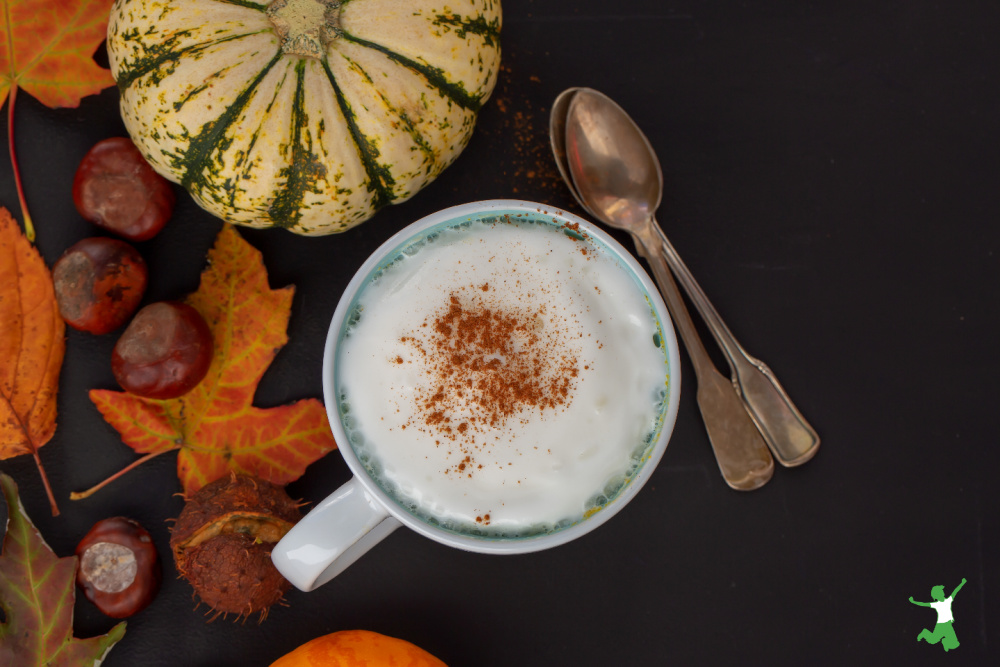 Pumpkin spice lattes are a very popular seasonal beverage as the weather cools and the leaves begin to change color.
Unfortunately, commercial versions a la Starbucks are best avoided. Here's the rundown of what you're actually putting in your body by drinking one of these concoctions according to Food Babe: (1)
Caramel Color Level IV (coloring made with ammonia and considered a carcinogen).
"Monsanto Milk" from cows fed GMO corn, soy, and cottonseed or soy milk that contains carrageenan linked to instestinal inflammation and cancer.
Insane amounts of sugar (over 50 grams in a Grande).
"Natural flavors" that can be made with literally anything on earth even if toxic.
Artificial flavors made from substances like petroleum.
Preservatives & sulfites that can cause allergic reactions
Possible pesticide residues from nonorganic coffee beans
It's important to avoid pumpkin spice coffee blends too. They also contain "natural flavors" and other undesirable ingredients.
This easy and fast pumpkin spice latte I make is a healthy alternative that is amazingly tasty and less than half the sugar. It uses whole food sweetener too!
I suggest making it in the morning and pouring in a stainless steel, on-to-go coffee mug to take with you in the car. Then, you won't be tempted to go through the drive-thru.
If you have some smooth pumpkin puree on hand, the latte tastes the best when you include a few teaspoons in addition to the pumpkin spice blend.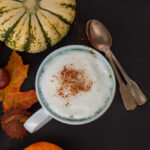 Pumpkin Spice Latte
Healthy pumpkin spice latte made with just a few whole food ingredients that you can feel good about enjoying.
Instructions
Beat pumpkin spice into the date or maple syrup and optional pumpkin puree in the mug you will use for the latte. It should be blended very thoroughly. Set aside.

Pour whole milk into a small saucepan and turn on medium heat.

As milk is heating, use Moka pot to make espresso preferably using freshly ground espresso beans (I prefer to use organic decaf beans).

When espresso is ready, milk should also be starting to froth. Pour both into the same mug where you blended the syrup/pumpkin spice. Blend again with a large spoon until well mixed.

Taste and if you prefer more sweetness, stir in 1-3 drops of the optional vanilla stevia.

Sprinkle a pinch of optional ground cinnamon on top of the frothy milk or add a cinnamon stick to dress it up if you have company!
Recipe Notes
If you do not have an espresso machine, you can substitute 2-3 ounces of strong coffee.
Nutrition Facts
Pumpkin Spice Latte
Amount Per Serving (12 ounces)
Calories 200
Calories from Fat 54
% Daily Value*
Fat 6g9%
Carbohydrates 30g10%
Protein 6g12%
* Percent Daily Values are based on a 2000 calorie diet.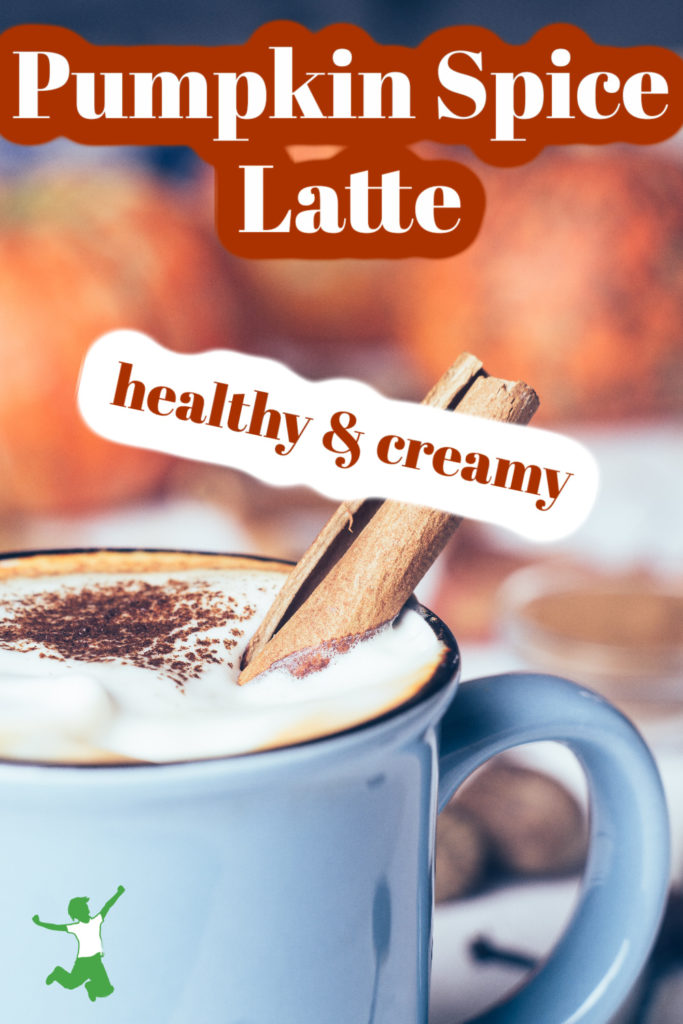 (1) You Won't Believe What's in a Starbucks Pumpkin Spice Latte