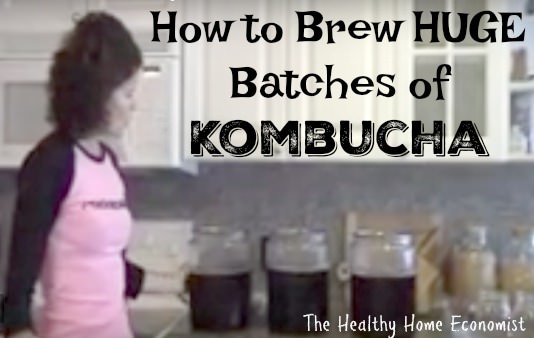 Do you already make a basic kombucha recipe, but wish you could easily make more than a gallon at a time? If so, this advanced kombucha recipe plus video series is for you!
The technique I've developed for brewing many gallons of kombucha at once involves making a sweetened tea concentrate that you can use to make as many gallons as you like in a single batch. To prevent mold because cold water is mixed with the concentrate, extra starter is used.
I've also included the written recipe for those of you who wish to jump right in!
If you wish to add additional fizz to your finished brew, know that you can bottle it. This recipe plus video shows you how to bottle fermented beverages to add that additional carbonation everyone loves.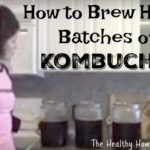 Advanced Kombucha Recipe
How to make huge batches of kombucha by making this recipe for sweet tea concentrate.
Instructions
Bring15 quarts of water in large stockpot to a boil.

Add cane sugar, stir, and continue to boil for 5 minutes.

Remove stockpot from heat and add tea.

After steeping, remove teabags or if using bulk tea, strain out tea.

Divide sweet tea concentrate into large 2.5 gallon jars. This will be 5 quarts per jar.

Add 2 quarts cold filtered water to each jar. This will total 7 quarts of liquid per jar. Stir.

Let cool for 2-3 hours until tea water comes to body temperature.

Add 2 cups of starter per jar, stir, and place SCOBY on top.

Cover with clean floursack cloth and secure with a rubberband.

Place jars carefully in a quiet part of the house away from the kitchen. The top of a cabinet or dresser in a guest room is a good place. Do not put in a closet.

After 7-10 days or when a new SCOBY that is at least 1/8 - 1/4 inch thick has grown on top, the kombucha is ready to drink.

Repeat process to make the next batch after refrigerating kombucha in glass jars and washing out the containers with mild soap and warm water.
Recipe Video
Recipe Notes
Half green tea bags or bulk green tea may be substituted for half the black tea. Do not use all green tea as the brew will not take properly. If you wish to use all green tea, then brew Jun tea. 
Kombucha FAQ
Want to know more about this age old fermented drink?  These articles provide more detail for your research.
Fluoride in Kombucha: Should You Be Concerned?
Why You Are Addicted to Store Kombucha
Never Pack Commercial Kombucha in a Child's Lunchbox
GTs Kombucha Now Labeled as Alcoholic!
7 Common Kombucha Myths
Can Candida Sufferers Drink Kombucha?
Kombucha: What it is and How to Make it
Does Kombucha Tea Prevent Grey Hair?
Batch vs Continuous Brew Kombucha
Have You Tried Kombucha?
Safe Traveling with Kombucha
Kombucha on Mars
Kombucha Tea: Drink It and Wear It?