Table of Contents

[Hide]

[Show]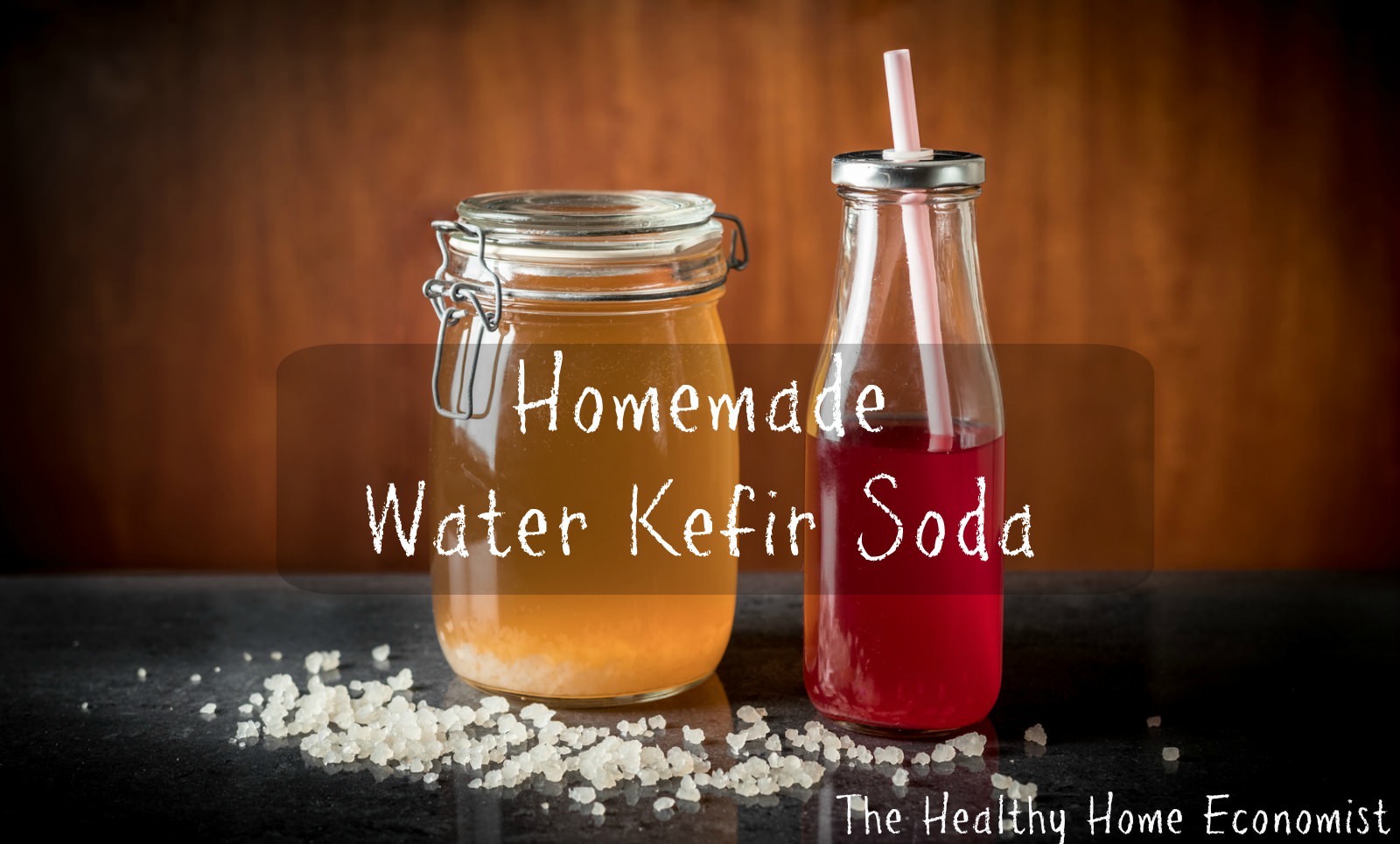 Many people are surprised to learn that soda is actually a traditional food! Of course, ancestral cultures did not sweeten fermented beverages artificially or add unhealthy chemicals and GMO sugar like most brands today. Water kefir soda is a very popular example of a healthy traditional beverage that is tasty, fizzy, satisfying, and thirst quenching without any of these additives.
Many people are familiar with homemade dairy milk kefir or coconut milk kefir. Be aware that a slightly different type of culture is used to make water kefir.
Water kefir grains look different and grow much faster than milk kefir grains. This video shows the different types of kefir grains visually. The probiotic and nutritional properties also vary quite a bit as well. For more information about the differences between water vs milk kefir, check out the linked article.
Free Weekly Newsletter + Report on Secrets of Strong Immunity
You should be able to procure some water kefir grains within your local community by asking around from your health conscious friends or at the healthfood store and farmers markets. If you still cannot find any locally, you can order some from the vetted sources listed in my shopping guide.
One thing to be aware of. You cannot ferment milk with water kefir grains and you cannot ferment water and sugar with milk kefir grains. Be sure you get the right type of kefir grains for what you are trying to accomplish!
Homemade Water Kefir Soda
Water kefir grains produce a bubbly probiotic beverage that contains many beneficial strains of bacteria and yeasts. These microbes help to recolonize the gut by destroying pathogenic strains like candida that may have gained dominance over the years through the use of antibiotics, other drugs, and a diet high in sugar and processed foods.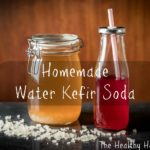 Homemade Water Kefir Recipe
Bubbly, homemade water kefir soda recipe that the whole family will enjoy to help kick the unhealthy soda habit once and for all!
Instructions
Mix all the ingredients together in a mason jar leaving 1 inch at the top.

Screw on the lid and leave on the counter for 48 hours. Taste after 48 hours, and if it is too sweet, leave for another 24 hours. Taste again, if too sweet, leave another 24 hours. Repeat for up to 5 days until the a fermented, apple cider type flavor with minimal sweetness has been achieved.

Strain out the water kefir grains and refrigerate the liquid (no metal please), clean the mason jar, and repeat the process for a new batch of water kefir. You will have approximately double the kefir grains as they grow rapidly with each batch. You can give them away, eat them as a live probiotic, or make a larger batch of water kefir.

To add variety, you may also reduce the sugar to 1/8 cup, reduce the water to 3 cups, and add 1 cup of fresh fruit juice. Juice from the store is almost always pasteurized and as such, is not recommended as it significantly increases the risk of fermentation mold. Fresh juice has minimal mold issues when fermented and is much more nutritious, and is therefore best to use. If using fresh lemon or lime juice, keep the sugar at 1/4 cup and only use 1/2 cup fresh juice.

After fermenting, you may bottle the liquid to achieve extra fizz. This is an optional step. The picture with this step shows the types of bottles I use. Only fill the bottles to the bottom of the neck and leave on the counter for and additional 24-48 hours.

Chill well and open the bottles slowly over the sink as the level of carbonation is quite surprising!

To store your water kefir culture, place up to 1/2 cup water kefir grains in 1 quart of filtered water mixed with 1/4 cup sucanat, coconut sugar, or maple sugar and refrigerate until you are ready to use again.
Recipe Notes
Maple sugar or coconut sugar may be substituted for the sucanat. Raw honey does not work as well in my experience.
Homemade Water Kefir Video Demonstration
The video below shows you how simple it is to make your own water kefir soda. Once fermentation is complete, feel free to flavor with the fruits or fresh fruit juices of your choice. You can also bottle it for a secondary fermentation to achieve extra fizz.
Please comment with any unique recipes for water kefir soda that you have developed yourself using this basic recipe as a starting point.
Sarah, The Healthy Home Economist