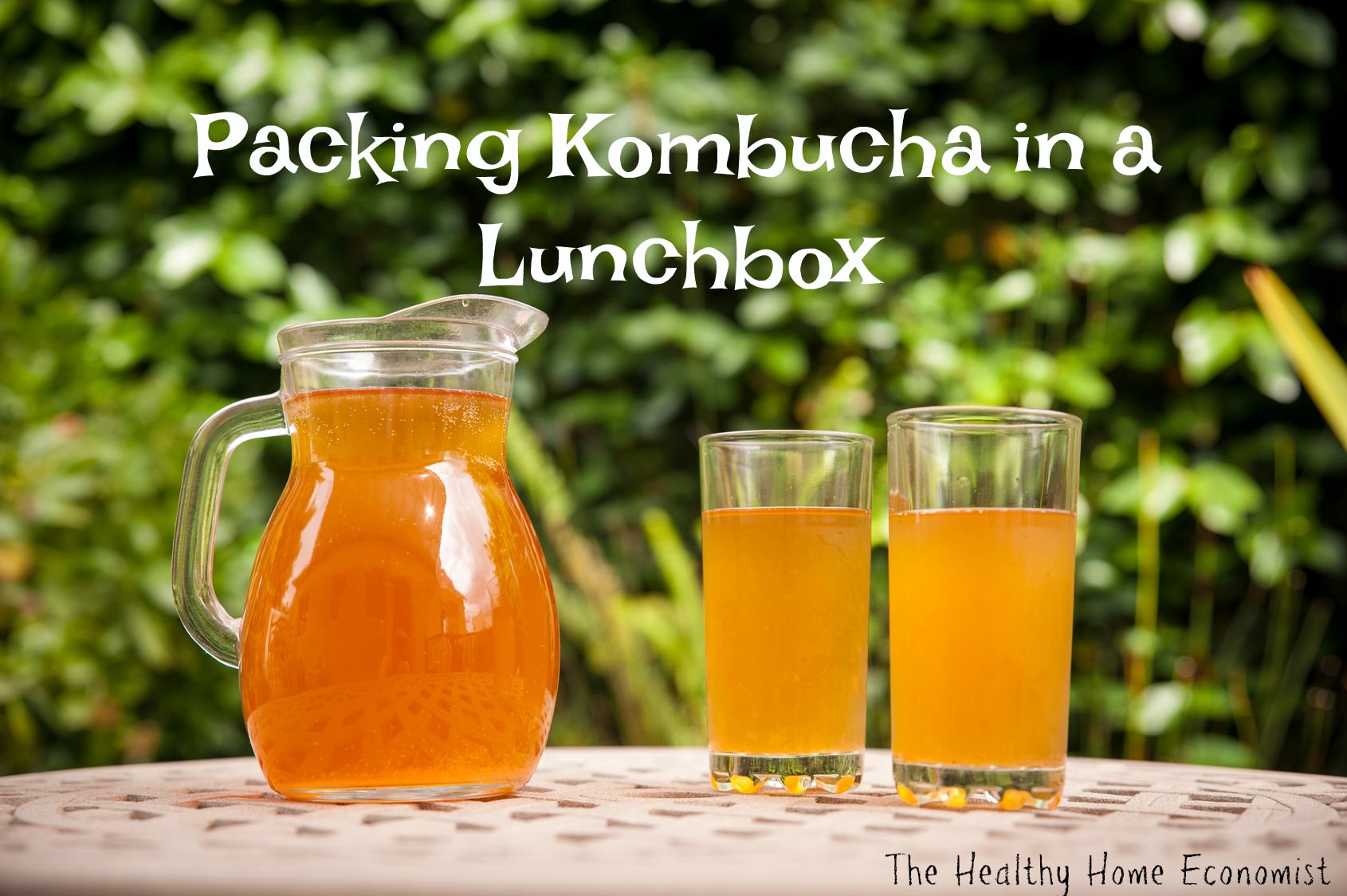 Our family enjoys lots of outdoor activities during the warmer months, but heat, humidity, sweat, and thirst just seem to go hand in hand, don't they?  To stay hydrated and comfortable while you are enjoying all that summertime recreation, skip the sports drinks full of GMO high fructose corn syrup or hidden artificial sweeteners and opt for the delicious, healthy, fermented drink from Russia – kombucha tea.
I have a number of videos with recipes on how to make kombucha various ways but have never done one on how to pack it safely in a lunch or cooler.
Kombucha must be packed in glass containers as it has an acidic, vinegar quality to it (don't let that fool you – it tastes yummy) that will leech chemicals from plastic and metal from stainless steel. Ideally, the glass should be clear, not colored.
Kleen Kanteens and other stainless steel bottles are NOT appropriate for kombucha tea and neither is food grade plastic – ever!
But packing glass in a lunchbox with a young child is a bit of a dangerous venture, wouldn't you agree?
In this short video below, I show you how I pack kombucha tea in a picnic basket or lunchbox to ensure that everyone stays safe!
Packing Kombucha Safely in a Lunchbox (Video)
In essence, all you need to do is empty the small glass seltzer bottles available at the supermarket. Small sparkling water bottles work well too. Syfo seltzer is a good brand in my area. Then fill them a little more than halfway with kombucha and safely tuck it into a foam sleeve before placing it in the lunchbox. That's all there is to it!
Don't Pack Commercial Kombucha in School Lunches
One word of caution. It is recommended that you do not pack bottles of commercial kombucha in a child's lunchbox that are labeled as containing tiny amounts of alcohol. GT's Kombucha with the black lid is one brand labeled in this manner. Only pack small bottles of home brewed kombucha or transfer commercial kombucha into small, unlabeled bottles. Misguided school lunch police have been known to suspend students from school for having store kombucha bottles in their lunchbox.
Source
Mad As  a Hatter, Dr. Kaayla Daniel
More Information
Want to know more about kombucha?  These articles provide more detail for your research.
Fluoride in Kombucha: Should You Be Concerned?
Can Candida Sufferers Drink Kombucha?
Does Kombucha Prevent Grey Hair?
Batch vs Continuous Brew Kombucha
Have You Tried Kombucha?
Kombucha: Drink It and Wear It?
Jun Tea:  Kombucha Champagne