Recipe and detailed video instruction on how to make traditional sauerkraut that is loaded with probiotics and Vitamin K2 for better digestion and health.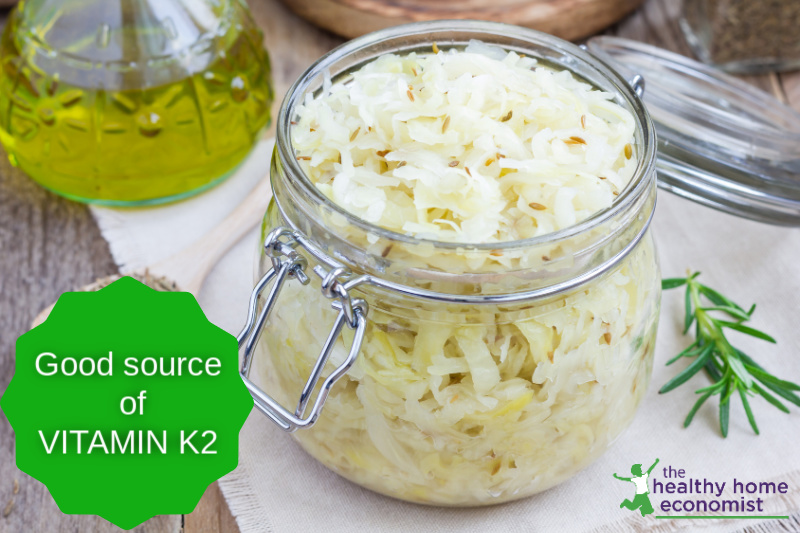 By popular demand, the process of making homemade sauerkraut is explained and demonstrated in the two video lessons below. The written recipe is also provided by those who wish to dive right in.
This traditional food is probiotic-rich and very nutrient-dense unlike the vinegar-packed sauerkraut wanna-be's at the store.
The first video covers a brief history of sauerkraut and what you need on hand to make it. The second video covers how to make sauerkraut yourself quickly and easily in your kitchen.
The sauerkraut recipe I use is based on the Nourishing Traditions method.
Benefits of Fermenting Cabbage
Eat small amounts of this probiotic-rich condiment with cooked foods to improve digestion and assimilation.
Remember that fermenting does not reduce the goitrogens (thyroid suppressing substances) in the cabbage. So, if you have thyroid issues, you may wish to consider avoiding this particular condiment.
If your thyroid status is good and you eat plenty of iodine-rich foods like grassfed butter, then sauerkraut is a healthy addition to the diet.
Loaded with Vitamin K2
Did you know that properly cultured cabbage contains a significant amount of natural Vitamin K2? This is an elusive nutrient that is very hard to get in the diet. It is essential for strong bones and healthy teeth.
The USDA reports that one cup of sauerkraut contains 81 mcg. No doubt this is the commercial, pasteurized stuff that the USDA is testing too.
I would venture to suggest that making raw sauerkraut yourself and fermenting properly would potentially contain larger amounts.
Natural Remedy for Reflux
Another bonus of eating raw fermented cabbage is that it is a natural way to prevent acid reflux. Simply eat a mouthful or two a few minutes before the start of a meal.
Want to experience these benefits for yourself? Two detailed video lessons are included with the recipe below.
Tip: Be sure to wear an apron when you make this dish as you will see in the video! ?
Why don't you try it today! You will never go back to the pasteurized, shelf stable sauerkraut at the store!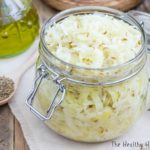 Homemade Sauerkraut Recipe
Basic recipe for homemade sauerkraut as traditionally made as a live cultured food loaded with probiotics and enzymes to aid digestion and absorption of nutrients.
Total Time
3
days
20
minutes
Instructions
Core and chop cabbage. Place all the chopped cabbage and other ingredients together in a large sturdy bowl.

Pound the juices out of the cabbage thoroughly with a kitchen pounder of some kind for a full 10 minutes.

Tightly pack the cabbage into a one quart mason jar leaving at least 1 inch of space at the top. Tightly seal with the lid.

Leave on the counter for 3 days and then refrigerate.

The flavor of the homemade sauerkraut improves over time. It will last many months in your refrigerator or cool cellar.
Recipe Video
Nutrition Facts
Homemade Sauerkraut Recipe
Amount Per Serving (2 ounces)
Calories 15
% Daily Value*
Sodium 300mg13%
Carbohydrates 4g1%
Vitamin C 51mg62%
Calcium 100mg10%
* Percent Daily Values are based on a 2000 calorie diet.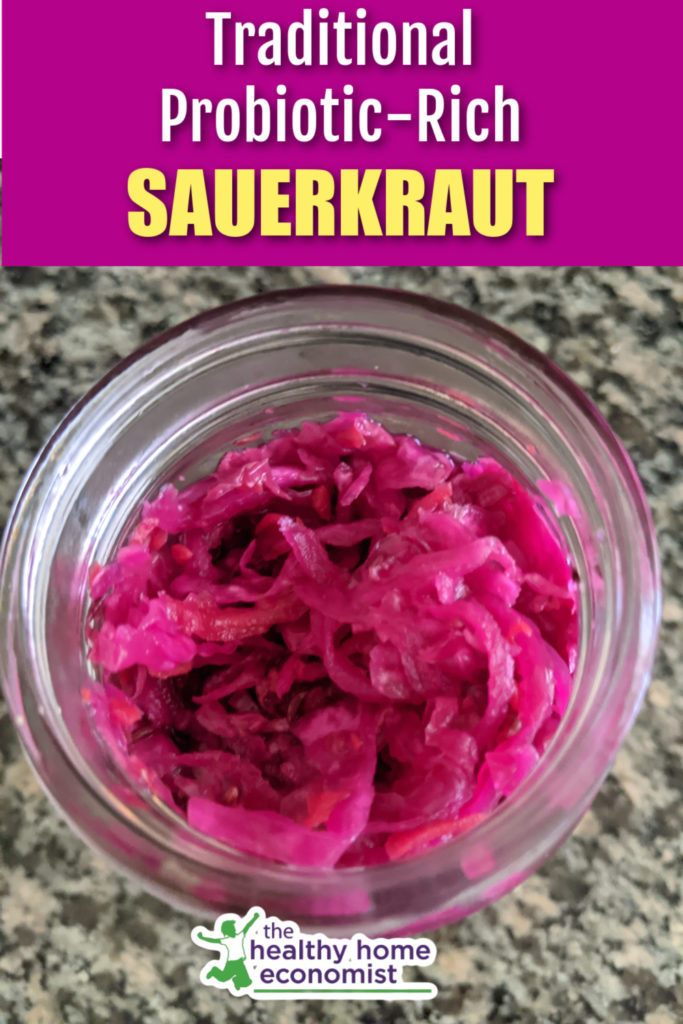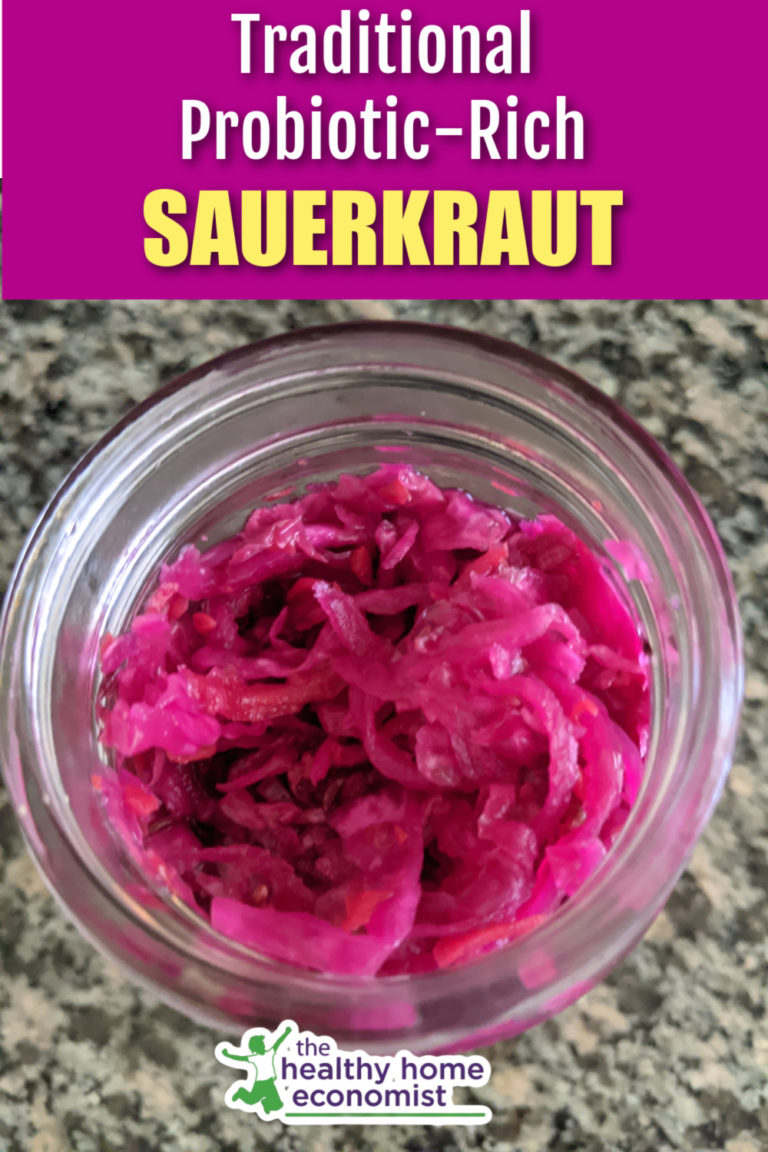 References
(1) Vitamin K2 in Sauerkraut
(2) Nourishing Traditions
More Fermented Food Recipes
Love this sauerkraut recipe? Try these other delicious fermented foods and drinks below and unleash the power of a traditional diet in your home.
How to Make Fermented Lemonade
How to Make Orangina
Mango Chutney Recipe
Homemade Apricot Butter
Fermented Potatoes
Probiotic Corn Relish
How to Make Fermented Cilantro Salsa
Beet Kvass Recipe