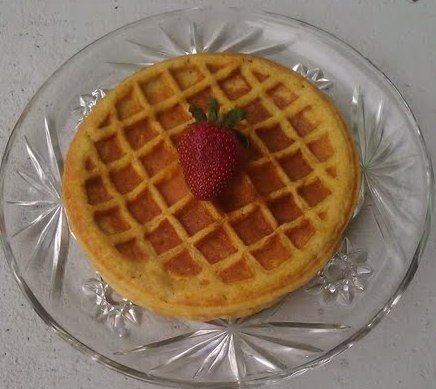 Our family loves my Belgian waffles recipe using sprouted flour. Sprouted waffles are our family's breakfast of choice most weekends. The kids almost always request them as their special birthday breakfast too.
I've tried so many different Belgian waffle recipes over the years, I've honestly lost count. I've made them with various flours as well including kamut, spelt, soft white wheat, einkorn, rice, cassava, oat, and various gluten-free flour blends in between. Perhaps you've even tried the soaked waffles or Paleo waffle recipe I've posted too.
My favorite classic Belgian waffles recipe is the one by Chef Emeril Lagasse. To his credit, Emeril's recipe calls for real eggs and butter which many of the modern waffle recipes do not.
However, there are still a number of things about Emeril's recipe that aren't healthy choices like the use of cake flour, refined sugar, white salt, and nonstick cooking spray (yikes).
If you've ever wondered how to modify a conventional recipe into one that is traditionally based, healthy and nourishing, it isn't a hard task.
Typically, what I do is substitute the unhealthy ingredients for healthy versions on a 1:1 basis. Once in a while, things don't turn out right, but most of the time, the dish is perfect.
Voila! Sprouted Belgian Waffles
I had a bag of sprouted kamut flour ready to go for Christmas Eve breakfast yesterday. So, I decided to morph Emeril's recipe into a totally healthy version. It is so nice to be able to buy germinated grain (vetted brands on my Resources page) now so I no longer have to sprout my own which is rather time-consuming.
I sprouted my own flour for years, but now I simply buy the whole grain already germinated in large bags and grind fresh sprouted flour fresh in my kitchen at my convenience.
My sprouted waffles recipe turned out so light, fluffy, and amazing that my family has decided that this is our new favorite way to eat this classic breakfast dish.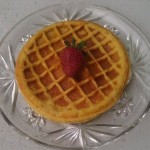 Sprouted Waffles Recipe
Easy recipe for sprouted Belgian waffles that is more digestible and nutritious than using unsprouted flour. Bonus: You'll get full faster!
Servings
12
Belgian waffles
Instructions
Preheat the waffle iron and lightly coat with expeller pressed coconut oil.

Sift sprouted flour, baking powder and sea salt together in a bowl.

In another bowl, beat eggs yolks and whole sweetener of choice until thoroughly mixed. Add vanilla, melted butter and milk and combine with a whisk.

A few ladles at a time, add the liquid mixture to the flour and whisk until just blended being careful not to over mix.

In a third bowl, beat the egg whites until soft peaks form.

Gently fold in the whipped egg whites into the batter being very careful not to over mix.

Ladle just enough batter to just cover the grid of the waffle iron. Close the waffle iron lid and cook until light brown.

Serve immediately. Refrigerate leftovers for quick breakfasts or snacks!
Recipe Notes
Expeller pressed coconut oil may be substituted for the butter.
Maple syrup or coconut palm sugar may be substituted for the cane sugar.