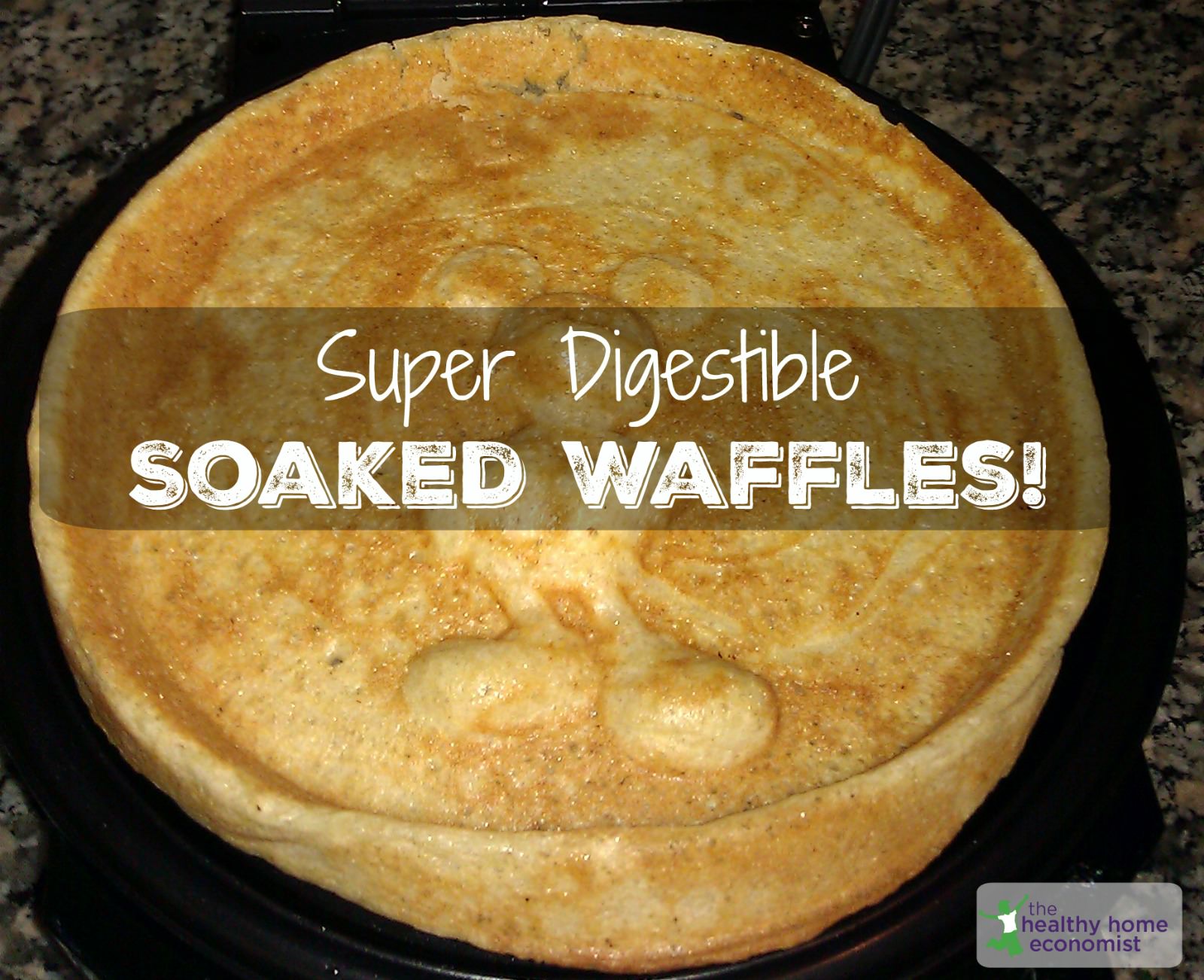 One of the holiday traditions in our home is eating soaked waffles on Christmas morning after all the presents have been opened. In past years, I have always used the waffle recipe from Nourishing Traditions cookbook. I dutifully soaked the freshly ground, whole wheat, einkorn or spelt flour in buttermilk, yogurt, or kefir the night before and whipped up the batter in the morning.
While the NT recipe is delicious, my husband always felt like the waffles were a bit heavy on his stomach and didn't find them all that easy to digest even when soaked overnight in some sort of cultured dairy.   I even tried soaking for a full 24 hours one year, but this did not seem to improve the digestibility at all as compared with an 8 hour, overnight soak.
This time I tried something different.   I followed Rami Nagel's suggestions on how to prepare wheat for optimized digestibility. Rami is the author of Cure Tooth Decay fame. The method I used was based on a conversation Rami and I had at the Wise Traditions 2010 Conference.
That chat really set me back on my heels as Rami told me that whole grains contribute to cavity issues and that soaking flour in cultured dairy really does not break down the phytic acid, lectins and other anti-nutrients or improve digestibility that well according to his research.
Soaking in water plus an acidic liquid such as lemon juice, vinegar, or liquid whey apparently breaks down these little nasties much much better.
According to Rami:
Calcium when souring reduces how much phytic acid is removed. So if a grain is soured with too much calcium, such as milk or yogurt, not as much phytic acid will be removed.
Homemade Soaked Waffles
Below is the recipe I came up with using Rami's suggestions for super digestible, nutrient dense, healthy waffles.
The verdict?  The kids said the waffles tasted the best ever and my husband said they were very light and easy on his stomach! In fact, he said that waffles prepared this new way were as easy to digest as his typical, non grain based breakfast.
Looks like I will be preparing my waffles using this new and improved method from now on! One other tip from Rami to keep in mind is that when soaking grains, the temperature needs to be kept at 70-85F otherwise phytic acid breakdown will be hindered.
Want to try this even more digestible, traditional waffle recipe on your family? Here's how I incorporated Rami's suggestions using the Nourishing Traditions' basic waffle recipe as a guide.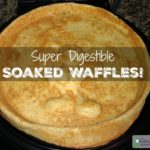 Traditional Soaked Waffles Recipe
Recipe for the traditional method of making soaked waffles so that get full faster, eat less and stay satisfied all the way to lunch.
Instructions
Sift 4 cups of fresh flour to remove most of the bran. This should result in about 2 1/2 cups of sifted flour. Add the discarded bran to your compost pile or feed to your chickens or other birds.

Mix 2 1/2 cups of sifted flour with 2 cups filtered water plus lemon juice. Cover with a cloth secured with a rubber band and let sit on the kitchen counter for 8 hours or overnight.

After soaking is complete, drain off any excess water that has come to the top. Blend in maple syrup, egg yolks, vanilla, salt, and melted butter.

In a separate bowl, add pinch of sea salt to egg whites and whip them until stiff peaks form. Pour whipped egg whites into batter and blend until smooth.

Cook in a hot waffle iron oiled with coconut oil.

Serve with plenty of raw, grassfed butter and Grade B maple syrup.
Prefer Sprouting to Soaking?
Do you prefer sprouting vs soaking as a traditional method for preparing grains? If so, check out this recipe for sprouted Belgian waffles using the sprouted flour of your choice.
Eat Paleo? Here's a gluten free waffle recipe that is also grain free!
Sarah, The Healthy Home Economist