Table of Contents

[Hide]

[Show]
Tasty taco spice mix that you can quickly make yourself at home by blending 7 budget-friendly herbs and seasonings with sea salt.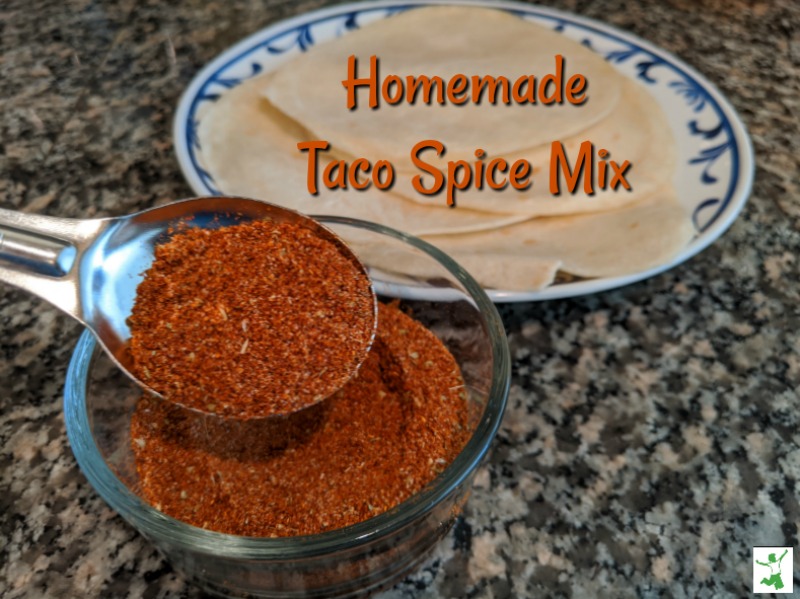 One of the big problems with taco seasoning mixes from the store is that they contain stealth ingredients like "seasoning", "spices" or "natural flavors".
The inclusion of stealth ingredients on the label is almost always used to hide MSG. This substance can cause headaches, digestive distress, and heart palpitations among other symptoms in susceptible individuals. Symptoms can appear within a few minutes of ingesting or as much as 72 hours later! (1)
Using an organic brand from the health food store isn't necessarily safer or better. "Organic seasoning" and "organic natural flavors" can mean MSG too!
While you can certainly call the company that makes the product to see what components actually make up a stealth ingredient…sometimes it is simply a blend of several herbs…the very fact that a euphemism is being used on the ingredient label usually means that you should bypass that brand.
They are trying to hide something from your prying eyes!
If you don't feel like spending the time navigating the company's customer service line, I recommend taking the plunge and simply making your own taco seasoning!
Making Your Own Taco Spice Mix
If you've never tried it before, you'll be happy to know that blending up your own taco spice mix is rather easy.
Besides ensuring the inclusion of only the freshest, organic herbs, it also means that you can tweak the ingredients so that it is milder or hotter to cater to your family's particular tastes.
And YES, you can add that mouth-watering umami flavor naturally to your home mix that store taco seasoning achieves synthetically with MSG.
My secret trick is to use organic smoked paprika where filtered smoke from real oak wood flows over the peppers. When done authentically, this process takes between 48 to 72 hours. Totally worth it to use this ingredient instead of the plain paprika of most DIY taco seasoning recipes.
I hope you enjoy my homemade taco spice mix!
By the way, this herbal blend tastes amazing mixed with fluffy scrambled eggs for breakfast tacos. Try it for fish or shredded chicken tacos too.
Feel free to adjust the herb proportions however suits you best if you prefer things mild or medium. This mix is fairly hot, though not as hot as some I've tried!
Looking for quality tortillas for Taco Night? Try these organic sourdough tortillas from a family bakery that ships them freshly baked to your door.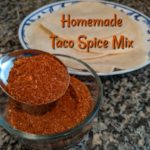 Homemade Taco Spice Mix
Tasty taco spice mix that you can quickly make yourself at home by blending 7 budget-friendly herbs with sea salt.
Instructions
Mix all the herbs and spices together in a small glass bowl.

Store in an airtight container in the pantry or your spice cabinet. I recommend glass for the best preservation of flavor. If making with fresh garlic and oregano, store in the refrigerator.

I typically use 1 tablespoon of this taco mix to season every 1 pound of taco meat.
Recipe Video