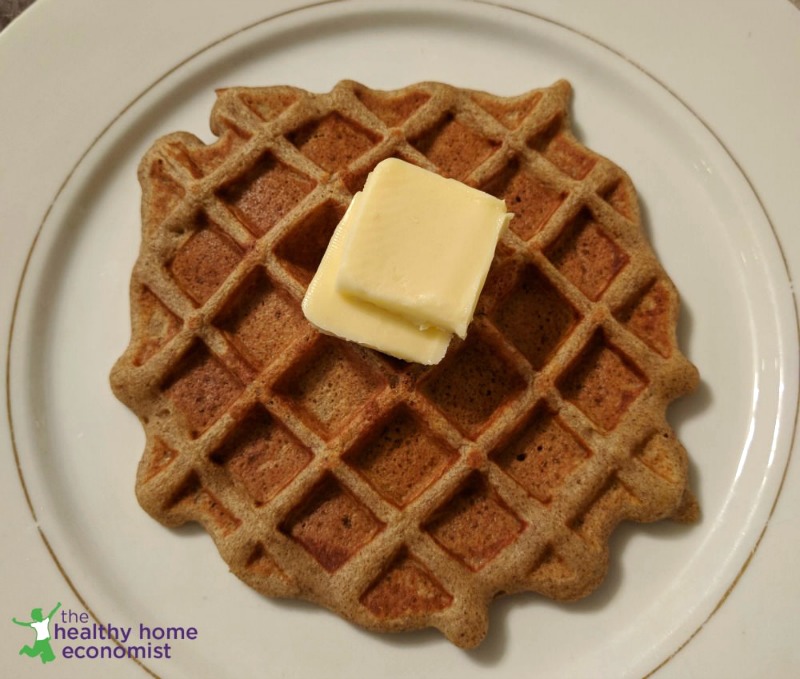 It seems as though many of you enjoyed the recipe for plantain biscuits, so here's another one for plantain waffles!
This breakfast recipe is extremely high in beneficial resistant starch. This type of carbohydrate is not digested. Instead, it serves primarily as nourishment for the beneficial microbes in the gut. Thus, the net carbs are quite low. This recipe also uses yogurt instead of milk which helps keep the net carbs per waffle minimal as well.
Believe it or not, there are about 21 grams of resistant starch in half of a single, large Belgian style plantain waffle! 20-30 grams per day is considered a therapeutic level for reducing belly fat and improving insulin sensitivity according to existing scientific research. It also equates to the levels in some healthy traditional diets.
If you are just starting out increasing this prebiotic nutrient into your diet, I would suggest eating only a quarter of a waffle at a time at first to give the intestinal tract time to adjust.
The look and texture are very similar to grain-based waffles. The only giveaway that the waffles are made with plantain flour is the telltale taste of plantains when you take a bite.
If you would prefer to reduce the amount of resistant starch and lessen the plantain flavor, feel free to substitute half the flour with cassava starch instead. Or, just start out making grain-free cassava waffles and gradually replace the cassava with plantain flour with each batch – one tablespoon at a time.
One other substitute possibility. If you prefer to use only organic ingredients, substitute organic banana flour for the plantain flour. I have yet to find a source for organic plantain flour in the United States. If you know of one, please post it in the comments section!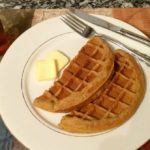 Breakfast Plantain Waffles Recipe
Delicious breakfast recipe for plantain waffles that are low net carb and high in belly fat reducing, prebiotic resistant starch.Texture similar to wheat.
Instructions
Separate yolks from egg whites and place in separate bowls.

Beat egg yolks and then blend in melted butter, vanilla, sweetener and yogurt.

Measure out flour in a third bowl and mix in sea salt and baking powder.

Gradually add flour mixture to egg yolk mixture until blended thoroughly with no lumps.

Whip egg whites with a handheld blender until stiff peaks form.

Carefully mix the stiff egg whites into the waffle batter using a large spoon until just blended. Do not overmix else it will negatively affect the fluffiness of the waffles.

Ladle waffle batter into a preheated/oiled waffle iron and cook as directed. Makes 12 quarter size waffles (2 of these is one serving).
Recipe Notes
Substitute green banana flour for the plantain flour if desired. 
Substitute 4 drops stevia liquid or a pinch of stevia powder for the date syrup if desired. A pinch of monk fruit sweetener may also be substituted. 
If using pasteurized yogurt, you will need 1.5 cups for this recipe. If using raw yogurt which is more like homemade kefir in consistency, you will only need 1 cup.
Nutrition Facts
Breakfast Plantain Waffles Recipe
Amount Per Serving (1 half waffle)
Calories 202
Calories from Fat 95
% Daily Value*
Fat 10.5g16%
Carbohydrates 23g8%
Protein 4.1g8%
* Percent Daily Values are based on a 2000 calorie diet.