Table of Contents

[Hide]

[Show]
Tender and delicious recipe for City Chicken as traditionally popular in the Great Lakes region of North America made with alternative meats that are frugal and nourishing.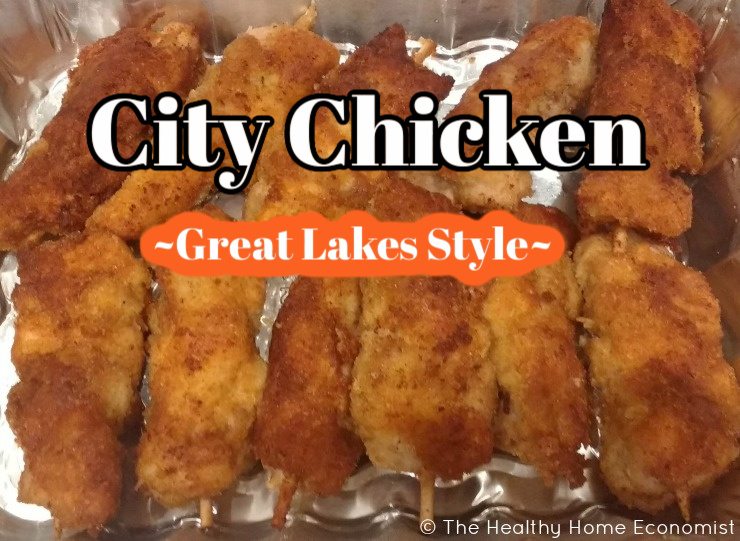 It's might be hard to believe at first, but back in the days of the Great Depression, chicken was hard to come by in the cities. It was so rare, in fact, that when it was available, only the rich could afford it. To compensate, a regional dish known as city chicken became a popular substitute in the urban areas ringing the Great Lakes.
My Grandfather was a butcher in and around the Buffalo area during that time. As such, he cut up a lot of city chicken in his day which was made from small, alternating medallions of pork and veal skewered on 6″ sticks. The skewers resembled chicken drumsticks, hence the other common name for this dish – mock chicken.
Even once the Great Depression ended and chicken became affordable to buy in the cities during the 1950's, city chicken continued to be a popular dish. It is still found in markets around the Great Lakes today.
One of my favorite comfort foods growing up was the incredibly flavorful and tender city chicken my Grandmother made using the top-quality meat my Grandfather continued to source even after he retired.
Ethical Veal?
Veal has long been regarded as a "cruel meat". It was avoided by people who refuse to buy meat that was not raised ethically.
I myself had not purchased veal in over two decades since seeing the TV images of anemic, formula-fed calves tethered in crates where they could barely move (to keep their muscles soft).
Consequently, my Grandmother's city chicken was not a recipe I ever made as an adult even though I loved it!
Big changes are afoot in the veal industry, however. Humane, sustainably raised veal is starting to become available in some areas, fueled largely by the grassfed movement.
I would like to think that those of us who refused to buy veal for so many years had something to do with this positive trend!
Veal from calves that are free to run around with their mothers in grassy pastures, never subjected to hormones or antibiotics, and treated with the utmost TLC is now increasingly available.
While this ethical, grassfed veal can't be cut with a fork like the formula raised veal of old, it is still extremely tender. The flavor is also much improved. Unethical veal was known for being tasteless, but grassfed veal has a subtle beef flavor prized by top-end chefs who are starting to use it again.
With humanely raised, grassfed veal now an option, I am thrilled to finally be able to make this recipe for my own family and share it with you – continuing the tradition of my Grandmother, who was an amazing, traditional cook.
Rabbit or Lamb
If even after learning about grassfed veal, you still prefer not to eat it, note that you can substitute rabbit instead. Rabbit is available at many local butcheries and is very inexpensive.
Depending on where you live, lamb may also be a frugal alternative to consider.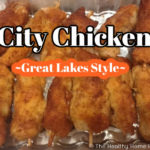 City Chicken Recipe
Healthy, tender and delicious recipe for city chicken just like Grandma used to make which ironically contains no chicken at all as was traditionally popular in the Great Lakes region.
Instructions
Prepare the skewers with alternating medallions of pork and veal. You should have 4-5 medallions per skewer.

Beat the egg in a medium sized bowl. Mix in the milk, sea salt, and pepper.

To make the city chicken gravy, mix a few tablespoons of the chicken broth with the flour in a bowl and blend until smooth. Add to the rest of the chicken broth and set aside.

Sprinkle the cup of sprouted flour evenly on a large plate.

Dip each skewer in the egg mixture. Roll each skewer in the plate of flour until the meat is covered completely.

Heat the oil in a large fry pan on medium-high heat. Cook each floured skewer for about 4 minutes, gently turning each one until browned on all sides.

Place all the browned skewers in a large baking pan. Pour in optional chicken broth gravy and cover with foil. Bake at 350 °F/ 177 °C for about 45 minutes.
Recipe Notes
Wooden skewers (6 inch/ 15 cm long) are ideal for this recipe.
Use pastured lard or avocado oil in place of the coconut oil if desired.
Substitute rabbit and/or lamb medallions for the veal or pork if you avoid either of these in your diet.