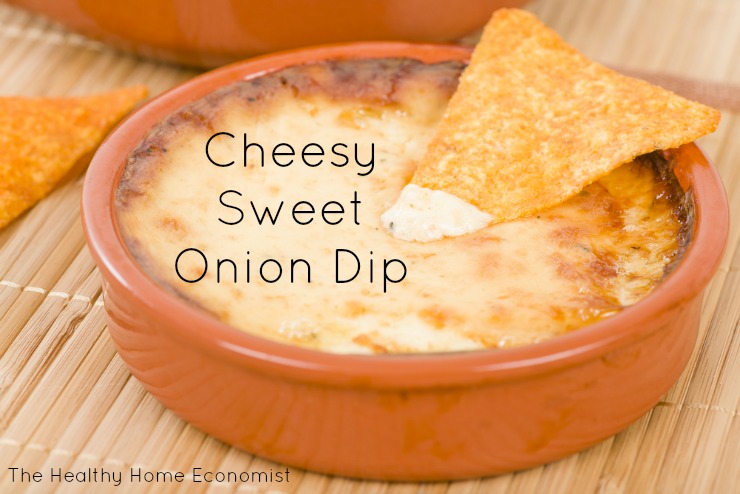 While on vacation with four of my siblings recently, my baby Sis whipped up a homemade sweet onion dip. It was quite possibly the best I've ever tasted!
I asked her if she would mind if I shared the recipe, and she said "of course".
Thanks Beth!
Not only is this onion dip super easy and fast to make, it contains just three ingredients!
This appetizer is sure to please a variety of palates and would be a good dish to take to a potluck or a friend's house for dinner. Even one of my nieces who doesn't like onions devoured it!
Dip is an Easy Way to Get LOADS of Onion into your Family!
Onion is one of the top two immune system boosting vegetables. Dr. Natasha Campbell-McBride, author of the bestselling book Gut and Psychology Syndrome, recommends frequent consumption of onions (and garlic) as one of the top ten ways to enjoy robust health.
Some of the important minerals found in plentiful amounts in onion include:
Manganese
Sulfur (critical for detoxification)
Potassium
Phosphorus
Magnesium
Calcium
In addition to high mineral content especially if grown in rich organic soil, onions contain a significant amount of whole Vitamin C. They also boast high levels of the antioxidant quercetin, which inhibits cancer cell growth.
Onions not only help prevent illness, they help heal it too used either internally or externally. When applied as a therapeutic onion poultice, they can help with the inflammation and congestion in the chest, such as from a bronchial infection. Onions regularly taken as food help inhibit allergic reactions, which are a sign of imbalance in the immune system.
Homemade Sweet Onion Dip
Be warned. The mayonnaise you choose to make this sweet onion dip can make or break whether it is a health boosting dish or a health robbing one!
Nearly all commercial mayonnaise is terribly unhealthy because it is made with cheap rancid oils, additives, chemicals and fillers. This surprisingly includes most brands at the healthfood store.
Even if you manage to find a healthy brand of mayo (there aren't many!) or make homemade mayo yourself, if it is made with an oil that should not be heated or cooked, the onion dip can quickly morph into a free radical fest. This article details how to choose healthy oils for making homemade mayo if you would like to learn more.
For many years, I made mayo myself, but in recent months, a healthy mayo has finally hit the market that uses the exact same quality oil and ingredients I use at home (check it out here)! This mayo is delicious to use right out of the fridge and safe for mixing into dishes that will be cooked.
If you are egg-free, the choices at the store are still not good, unfortunately. You will need to make it yourself. This egg free mayo recipe with video how-to can help you get started. Another option is to use homemade sour cream instead of mayo.
If onions aren't your thing, try this artichoke dip recipe instead.
I recommend slathering this dip on these homemade, corn-free sourdough tortilla chips.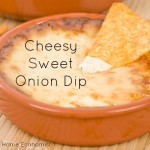 Homemade Sweet Onion Dip
Easy recipe for sweet onion dip that uses 3 whole ingredients and will wow your dinner guests as an amazing appetizer.
Instructions
Chop onions into fine pieces. Do not shred them, however. Also, be sure not to use Spanish, yellow, white or any other strong tasting onion with this recipe. Even red onions, which have a mild flavor, are not the best choice. Walla walla or vidalia onions are best for this recipe.

Shred the Swiss cheese into a small bowl with the grater of your choice. Use another cheese if you desire, but the Swiss cheese seems to go best with the flavor of the sweet onions.

Mix chopped onion, shredded cheese, and mayo together in a glass baking dish. Bake at 350 °F/ 177 °C until bubbly and browned on top (about 30 minutes).

Serve immediately with almond flour crackers, garlic bread, chips (I buy these), or other dipping food that you would enjoy! Hint: skip celery or carrot sticks with this onion dip as the onion pieces don't scoop and stay very well on them.

Refrigerate leftovers and reheat to re-serve as desired.
Recipe Notes
You've probably already figured this out, but if you would like to make a larger pan of this onion dip recipe, simply increase the ingredients in a 1:1:1 ratio.
In other words, to triple the recipe to make a large pan for a party, use 3 cups of chopped sweet onion, 3 cups grated Swiss, and 3 cups mayo.