Table of Contents

[Hide]

[Show]
This recipe for homemade steak sauce contains only whole food ingredients and is quickly mixed together in a couple of minutes so that you can easily avoid using commercial brands from the store with many additives and MSG.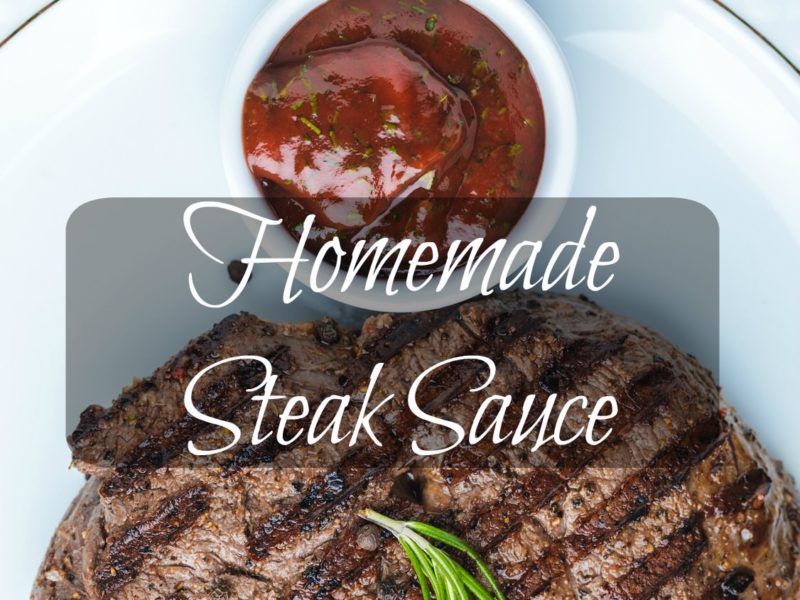 A homemade steak sauce is crucial for the home cook to know how to make. For starters, store-bought versions are loaded with MSG and high fructose corn syrup – usually both if you buy from the supermarket!
Even if a sauce label lists sugar and not corn syrup, the sweetener is beet sugar if not specifically labeled "cane sugar". Beet sugar is GMO nearly 100% of the time unless labeled organic and a devastatingly unhealthy sweetener on par with its corn syrup cousin.
Free Weekly Newsletter + Report on Secrets of Strong Immunity
Why do you need sugar in a steak sauce anyway? A healthy steak sauce made at home would contain no such thing.
Another problem is the oils used. Commercial steak sauces typically contain unhealthy oils like canola or soybean, which are almost assuredly of GMO origin if you purchase in North America.
In my post with several basic dressings and sauces recipes, I demonstrate how to make 8 different condiments and dressings in a snap. Due to time constraints and trying the keep the video under 10 minutes, I didn't include a homemade steak sauce.
Store-bought steak sauce is something I stopped buying years ago as it seems they are all loaded with MSG.  And, that little tray of various steak sauces that they bring you in a steak restaurant? Steer clear unless having a really bad headache or migraine within the next day or two is your goal!
By the way, don't forget to tell the waiter to tell the chef not to brush anything on your steak before it's grilled – yeah, a MSG-based flavor enhancer is frequently used at steak restaurants to make them mouth-watering (and headache-inducing, but most folks fail to connect the dots on that one). Here's an article with more on how to order steak at a restaurant and not make yourself ill in the process.
Healthy DIY Steak Sauce
If you've been wondering how to whip together a delicious homemade steak sauce to use with those grilled grassfed steaks over the weekend, search no more.  Here's an easy steak sauce recipe to try at home!
Note that it is best to use homemade ketchup as the base for this recipe. But, if you need to make the sauce right away and don't have time to make ketchup first, the recipe lists a healthy brand to use in a pinch.
Concerned that grilled steak is a health risk? This article on how to grill safely shares 10 tips for healthy barbecuing!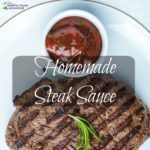 Homemade Steak Sauce Recipe
Homemade steak sauce recipe made with whole ingredients and healthy fats so that you don't end up with a nasty headache and bloating later like what happens with commercial brands!
Instructions
Mix all ingredients in a small glass mason jar set in a small pan of simmering water.

Stir a few times until the butter or ghee is melted and the sauce is warm.

Store leftover homemade steak sauce in the refrigerator. Storing in glass will retain the flavor and freshness better.

This steak sauce typically keeps for about a month.
Recipe Notes
Store bought or homemade ghee may be used in place of butter for those that are sensitive to milk proteins.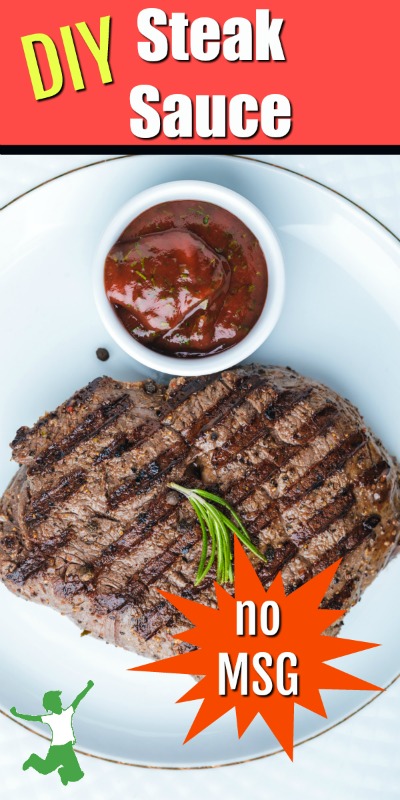 More Healthy Condiment Recipes
If you love to make your own sauces, condiments and dressings like I do, here are a few more ideas to try.
Reference
Wise Traditions Conference, Breakfast, Lunch and Dinner by Sally Fallon Morell