Surprisingly simple method for cooking fillet mignon at home. Perfect results everytime with optional drizzling in garlic butter!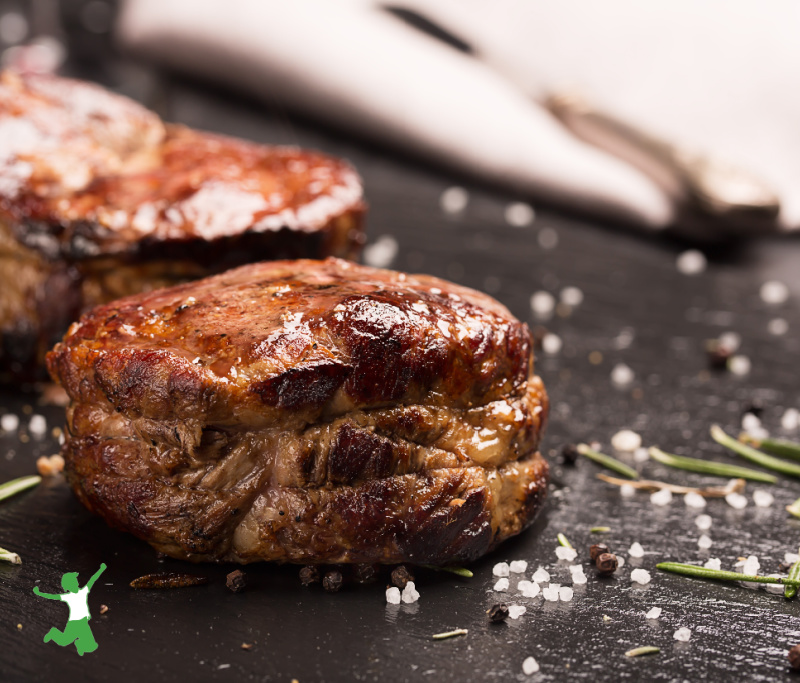 While filet mignon is quite expensive at a restaurant, it is much more affordable enjoying it at home!
This is especially true if you have a local farm where you can buy grassfed steaks wholesale. It's even more cost-effective when you take the initiative to split a whole or half cow with friends or neighbors.
This way of sourcing beef is not only better for the environment, but it is also the most humane for the animals, resulting in much healthier meat (no dirty, GMO grain feedlots ending in a terrifying slaughter).
An extra bonus is that you can enjoy these more expensive cuts of meat on a regular basis without breaking the food budget.
If you've never tried cooking filet mignon at home before, below is my preferred method. It results in a consistently perfect steak that is melt in your mouth with every bite.
I recently served filet mignon for our Father's Day celebration, and it was a huge hit with the whole crowd! I served it with organic baked potatoes and freshly picked green beans from the garden, broccoli and asparagus spears.
Filet is delicious served with green chimichurri aioli sauce on the side.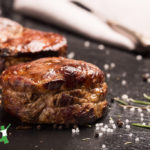 How to Cook Grassfed Filet Mignon
Surprisingly simple method for cooking fillet mignon that starts with a short pan fry followed by a brief bake in the oven drizzled with garlic butter.
Instructions
Preheat the oven to 400 F/ 204 C

Season each steak with coarse sea salt and pepper.

Heat up a large skillet on a stovetop burner on medium-high heat. Melt expeller-pressed coconut oil evenly in the pan and then add the steaks.

Sear the steaks on one side without turning for 3 minutes.

Using tongs, turn over each filet and sear the other side for an additional 3 minutes.

Remove the skillet from the heat and place the filets in a shallow baking pan.

Add the butter and crushed garlic to the still-hot skillet.

When the butter is melted and slightly browned by the residual heat of the pan (about 1 minute), drizzle the butter/garlic mixture over the filets in the baking pan.

Bake the steaks in the oven for 7 minutes for medium-rare steaks and 8 minutes for medium steaks.

Remove from the oven promptly and serve immediately.
Recipe Notes
Substitute 1/4 teaspoon of garlic powder for the two cloves if desired.
Nutrition Facts
How to Cook Grassfed Filet Mignon
Amount Per Serving (1 filet)
Calories 582
Calories from Fat 288
% Daily Value*
Fat 32g49%
Cholesterol 213mg71%
Sodium 250mg10%
Protein 67g134%
Vitamin A 325IU7%
Calcium 107mg11%
Iron 2.1mg12%
* Percent Daily Values are based on a 2000 calorie diet.