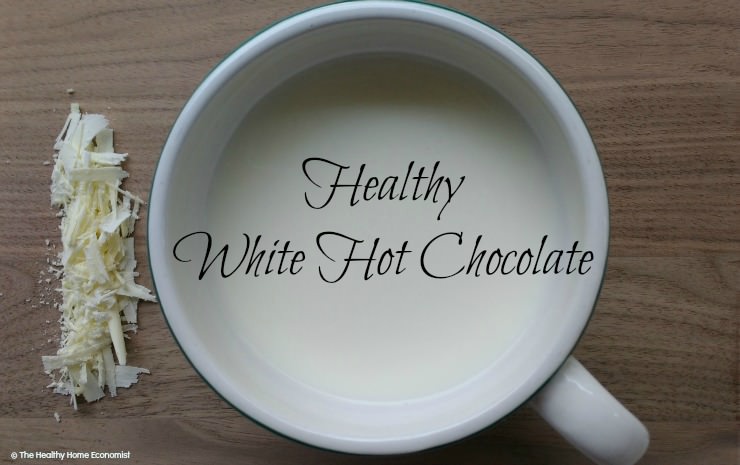 White hot chocolate is the perfect beverage for those who love regular hot chocolate but wish to avoid the caffeine hit. Containing no cocoa solids, white chocolate is the primary ingredient of this hot beverage. This makes it naturally caffeine free unlike more commonly enjoyed versions made with milk or dark chocolate.
The only part of the cocoa bean used in the making of white chocolate is cocoa butter. This pale yellow fat is also called theobroma oil. Despite the absence of caffeine, cocoa butter retains a natural cocoa flavor and aroma. 
Cocoa Butter is a Healthy Fat
Cocoa butter is an incredibly stable fat. It contains 5% or less of rancidity-prone (and backside bulging) polyunsaturated fats. Up to 64% of cocoa butter is made up of saturated fatty acids. Nearly all of the remainder is monounsaturated fatty acids. Coupled with powerful, natural antioxidants, cocoa butter is highly resistant to rancidity with a storage life of between two and five years at room temperature.
With such a rich antioxidant profile and high resistance to breakdown, it's hard to believe that in the early days of cocoa manufacturing in Europe before chocolate was popularized, cocoa butter was considered little more than a waste product. Today we know that cocoa butter is arguably the healthiest and most useful part of the cocoa bean.
How to Make the Healthiest White Hot Chocolate
The best way to make a cup of white hot chocolate is with an ounce of the best quality white chocolate you can find. Skip the white hot chocolate mixes as they contain unhealthy additives, genetically modified sugar and/or soy in addition to that catch-all mystery ingredient "natural flavors" that the food industry uses to hide all manner of undesirable chemicals from prying consumer eyes.
The truth is, I couldn't find a single decent white hot chocolate mix when I went looking for one. In fact, the brands I examined didn't contain any cocoa butter at all! The cocoa butter was replaced with cheap, unhealthy vegetable oil substitutes such as genetically modified (GMO) soybean oil.
In comparison with the substandard commercial white hot chocolate mixes available today, plain white chocolate that is excellent quality is easy to find. Whole Foods sells small blocks of white chocolate from Belgium that contains non-GMO sugar, cocoa butter, whole milk whey, non-GMO soy lecithin and vanilla flavor.
Sourcing Quality White Chocolate
You can even use white chocolate chips instead if you prefer to quickly whip up a cup of white hot chocolate. This brand contains only evaporated cane juice, cocoa butter, whole milk powder, nonfat milk powder, nonGMO soy lecithin, and vanilla. This brand of white chocolate bars is also excellent containing organic ingredients and nonGMO soy lecithin.
Beware of white chocolate impostors though. Just like the white hot chocolate mixes, there are some white chocolate wanna-be's that contain no cocoa butter in favor of cheap and likely rancid substitutes. This deprives the consumer of the health benefits of this natural fat from South America.
If you've been avoiding hot chocolate in the past due to caffeine concerns, why not try a cup of white hot chocolate the next time circumstances call for a hot beverage treat? Unfortunately, I am fairly sensitive to caffeine in general and anything that contains cocoa solids tends to make me feel lousy the next day. As a result, I stick with naturally caffeine free white hot chocolate whenever the urge for a cup of hot cocoa strikes!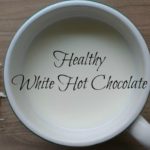 White Hot Chocolate Recipe
This white hot chocolate recipe is the perfect beverage for those who love traditional hot chocolate but wish to avoid the caffeine hit.
Instructions
Warm the whole milk in a small saucepan. If the milk is raw, be sure not to heat over 117 °F/ 47°C to preserve all the enzymes and probiotics. When the milk is warm but not hot, set aside.

*The reason you must warm the milk first is because using cold milk right out of the refrigerator will resolidify the melted white chocolate when you initially mix them together.

Place white chocolate and 2 tablespoons of water in a small saucepan and turn the heat to medium. As the mixture begins to warm, stir with a wooden spoon to dissolve the white chocolate into the water. If you find that you need a bit more liquid, add one to two more tablespoons of water.

When the white chocolate is fully dissolved into the water with no lumps, begin ladling in the warm milk. Stir the white hot chocolate with each ladle to fully mix.

When all the milk has been ladled into the white hot chocolate saucepan, warm the mixture on the stove until it reaches the desired temperature. For raw milk, I suggest keeping the temperature 117 °F/ 47°C or less to ensure that all the precious enzymes an probiotics are preserved. I check mine with a candy thermometer (I use this one).

Pour the white hot chocolate from the saucepan directly into two mugs and serve immediately.

It is best to make only what you will use right away, as any leftovers will lose the smooth, creamy texture as the white chocolate resolidifies in the refrigerator.
Sarah, The Healthy Home Economist
More Healthy Hot Beverage Ideas
Healthy Hot Cocoa (plus video)