Easy to brew latte made with the beneficial herb yerba mate. This delicious beverage contains less than 100 calories per serving and uses a healthy, whole sweetener blended with dairy or milk substitute options.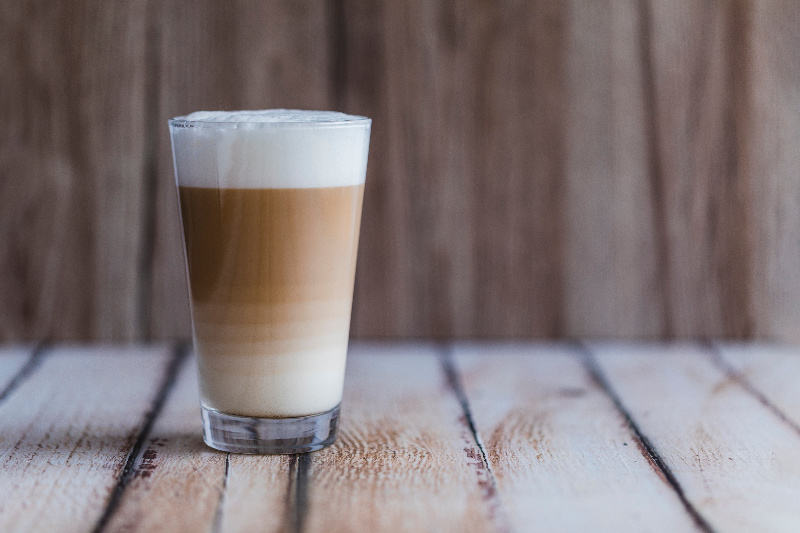 I love lattes as evidenced by the many healthy latte recipes I have shared here over the years! Some are dairy-free, decaf, or medicinal. Others are for pure sipping enjoyment!
If you usually enjoy a coffee-based latte, why not try this yerba mate version as an alternative every now and then? It is especially helpful for those for whom coffee is a cross-reactor to gluten.
Yerba mate contains slightly less caffeine than a cup of coffee. However, it is roughly double the amount of caffeine in black tea and triple the amount of green tea.
"Mate" is more popular than coffee or tea in much of South America. Some estimates suggest it is consumed 6 to 1 over coffee-based alternatives in that area of the world.
I like to make a yerba mate latte with whole milk, but any healthy milk substitute can be used at your discretion. I recommend homemade oat milk as the best tasting for lattes in particular. It is best to never use soy milk to make a latte (or anything else for that matter).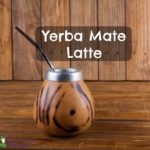 Yerba Mate Latte Recipe
Easy to brew yerba mate latte with less than 100 calories per serving using a healthy, whole sweetener blended with dairy or milk substitute options.
Ingredients
Equipment
1

large

mug

measuring spoon

small pot

spoon
Instructions
Bring filtered water to a boil preferably in a tea kettle instead of the microwave.

Pour 1/2 cup boiling water into a large coffee mug and add loose tea using a tea infuser. Or, pour hot water over tea bags placed into the mug.

Let steep for 3-5 minutes until tea is very dark.

While mate is steeping, pour 1/2 cup milk into a small saucepan and turn on medium heat. If using raw milk, heat only to 117 F/47 C (use a candy thermometer to easily check the temp) to preserve probiotics and enzymes. If using pasteurized milk or a milk substitute like coconut milk, heat the milk to a steamy, frothy state. Using a whisk will add additional foam.

For iced lattes, place the cold milk in a small, closed container and shake until frothy.

Remove teabags or tea infuser.


Stir in date syrup or other whole sweetener and optional lemon or orange peel and stir.

Serve immediately in a mug for hot lattes or over ice in a glass for cold lattes.
Recipe Notes
Use coconut milk if you wish to enjoy a dairy-free latte. Using additive-free whole coconut milk powder is an easy way to make just 1/2 cup quickly.
If using raw grassfed milk, be sure to heat no higher than 118 F/ 48 C in order to preserve the probiotics and beneficial enzymes!
If using almond milk, I recommend the plain bottled brands in the refrigerated section of the healthfood store. It is best to avoid using almond milk in cartons.
Nutrition Facts
Yerba Mate Latte Recipe
Amount Per Serving (1 cup)
Calories 98
Calories from Fat 36
% Daily Value*
Fat 4g6%
Carbohydrates 11g4%
Protein 4g8%
* Percent Daily Values are based on a 2000 calorie diet.