Table of Contents

[Hide]

[Show]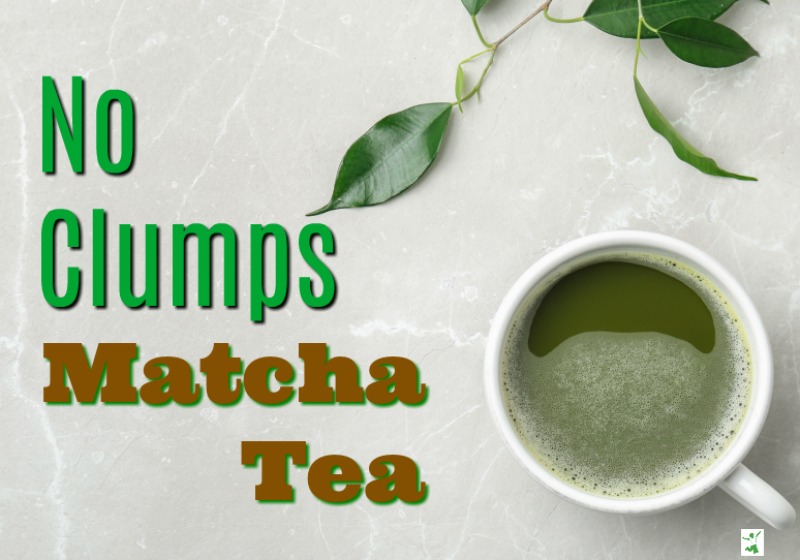 "Better to be deprived of food for three days, than tea for one." This ancient Chinese proverb clearly states how important tea, especially green tea, is within traditional Asian cultures. And, when it comes to tea, matcha green tea is indisputably the best of the best. (1)
One of the best and most concentrated sources of antioxidants in the world, not all matcha is created equal…despite labeling to that effect!
Skip the trendy matcha tea bags that are little better than plain green tea, containing only a tiny percentage of true matcha. Worse, the tea bags are likely toxic especially considering they sit in boiling hot water for several minutes before removal.
Culinary grades are not worth the price, in my view. They add the taste of green tea but few health benefits.
Even if the matcha powder is an authentic ceremonial grade, be very choosy.
The most potent and beneficial matcha, a traditional beverage in Buddhist monasteries, is a bright green powder and extremely concentrated. It heightens alertness without any jitters.
Consuming it involves ingesting the tea leaves themselves rather than brewing them; thus, it must be 100% pure for safety.
Possible Contaminants in Matcha
Tea leaves have a propensity for absorbing toxins from the dirt, air, and water used to grown them. Hence, you really must only patronize brands that are free of the following contaminants:
Pesticides. Carbamates, organochlorine, organonitrogen, and organophosphorus.
Fluoride
Heavy Metals. Arsenic, cadmium, lead, and mercury.
Radiation.
The safest, most nutrient-rich matcha is certified organic, ceremonial grade, and grown in Japan using the following specialized techniques:
Shade-grown for 3-4 weeks prior to harvest. This significantly boosts the nutrient content.

Selectively picked, with stems and veins removed to improve texture and taste.

Stoneground into an ultrafine powder. This keeps delicate nutrients intact.

Hand packed into airtight, high-grade packaging. This prevents oxidation from air and UV light
Avoid literally any matcha grown or processed elsewhere.
Clean Brands
Brands that meet the criteria above are few and far between. Recently, the brand I've been buying for a long time experienced supply issues, so I had to research more brands to find ones I felt safe consuming. I didn't find many!
No-Clump Matcha Tea
Once you have obtained quality, ceremonial grade matcha, the next biggest problem is how to brew it!
Because matcha consists of very finely stone-ground tea leaves, dissolving in hot water completely is very difficult.
The only matcha I feel that is worth consuming costs about 75 cents to $1 per cup. Hence, the last thing you want is a bunch of clumps that don't dissolve that end up going down the drain when you wash the mug!
With that, let me show you how to blend a no-clump cup of matcha every time. Trust me, I learned the hard way about how to do it right!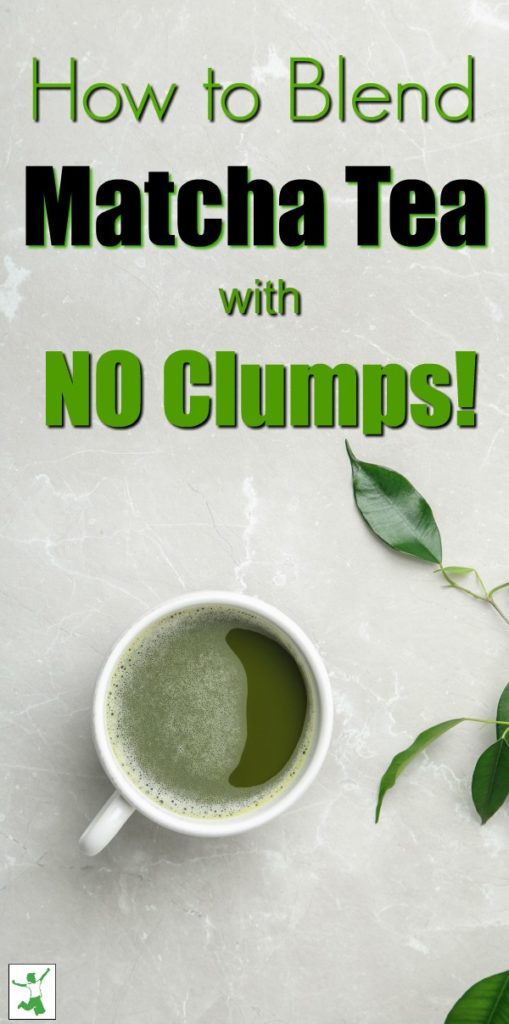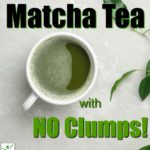 Clump-Free Matcha Tea
How to prepare a cup of matcha tea that is free from clumps to the very last sip!
Instructions
Measure out 1/2 teaspoon matcha powder and place it in the mini strainer placed over the top of the mug.

Use a small bamboo knife or other nonmetal/nonplastic implement to gently scrape the tea against the mesh of the strainer to sieve it into the mug.

Once all the tea is sifted through the strainer into the mug, add the hot water and quickly whisk to fully dissolve.

Enjoy! Notice how no clumps remain at the bottom of the mug once consumed.
Recipe Notes
One-half cup of matcha tea contains 6 calories.