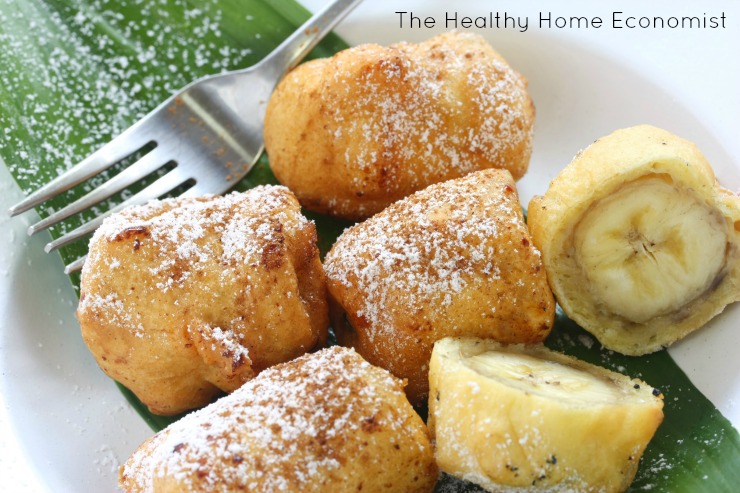 Banana fritters are one of my all time favorite evening snacks while watching a movie or a sporting event on TV.
While I usually make banana fritters with DIY gluten free flour or einkorn, I wanted to share this alternative, grain free recipe that I put together using almond flour for those of you who don't eat grains. 
They turned out terrific and were simply melt in your mouth!
In fact, I would venture to say they were so fantastic that I like them just as much as banana fritters made with grain flour. The mild, nutty flavor of the almond flour and the ripe bananas seem go especially well together.
The key to this recipe tasting so fantastic is the fresh almond flour that is used.
Preparing Almond Flour
While almond flour is a wonderful grain free option, it is important that the almond flour be prepared properly.
I do not recommend commercial almond flour purchased from the store or online because it is likely rancid and nutritionless. If you observe the color and smell of commercial almond flour versus the color and smell when you grind it fresh yourself, you will quickly note these differences!
You know what they say, "the nose knows!".
Once almonds are ground, the oils become subject to breakdown from light and air. Given that almond oil is quite high in polyunsaturated (omega-6) fats which are very delicate, this breakdown can occur quickly. As a result, it is a good practice to avoid buying commercially prepared almond flour. We really don't know how long that bag of almond flour has been sitting on the store shelf and before that, how long it sat in a warehouse, do we?
One thing is for sure. The oils in the almond flour go rancid long before the expiration date on the package!
Sprouting versus Soaking Almonds
Once you obtain quality raw almonds to make your own almond flour, the next step is to prepare the almonds properly. You can either soak them overnight and then dehydrate before grinding or you can sprout them. This article plus video demonstrates the process of soaking almonds from start to finish.
If you would like to speed up the process considerably, feel free to use sprouted almonds instead. Sprouting has the benefit of adding additional nutrition to the almonds as well as improving digestibility in a similar way to soaking.
It is not recommended that you grind the raw almonds and then soak the almond flour. While soaking grain flour works well, nut flours do not turn out well using this method.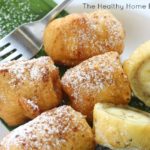 Grain Free Banana Fritters Recipe
This recipe for grain free banana fritters is very filling and loaded with healthy fats so you won't overeat. Your family will never know that they are gluten free and made with almond flour.
Instructions
Mix batter well in a glass bowl. Thinly slice ripe bananas 1/2 inch thick. See the picture above to get an idea about the thickness of each slice.

Liquefy expeller coconut oil to about 1/2 inch deep in a small stainless steel pan (about 6" across) and heat the oil for a few minutes on med-high heat. Expeller coconut oil is recommended over virgin coconut oil for this recipe because expeller pressed has no taste. If you enjoy a slight coconut-y flavor to your banana fritters, then by all means use virgin coconut oil instead.

Be sure to check the temperature of the coconut oil to be sure it does not exceed 350 °F/ 177°C. Exceeding the smokepoint of a given cooking oil creates free radicals! I check oil temperature while I am cooking with an inexpensive candy thermometer.

Fully immerse 2 or 3 slices of sliced banana or plantain in the batter and then carefully place in the hot oil.

Fry bananas until medium brown on both sides.

Remove banana fritters from oil with a slotted, stainless steel spoon and place on a plate.

Cool slightly and serve banana fritters warm with a small dipping dish of raw honey. Fabulous!
Sarah, The Healthy Home Economist