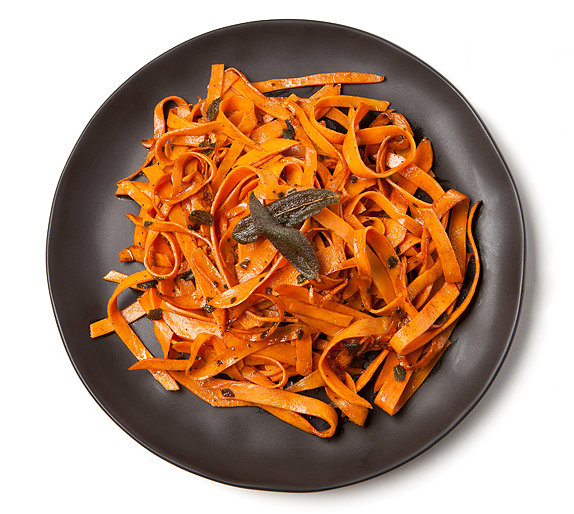 This recipe for sweet potato pasta is sure to both delight and nourish your family.  It is also guaranteed to establish your reputation as a very creative and enterprising cook! 
The biggest bonus is that this sweet potato noodles dish will fool even the most die-hard carb monsters in your home according to Ashley Tudor, author of the new book Sweet Potato Power from which this recipe was generously shared.
Homemade Sweet Potato Noodles
This recipe even won a national sweet potato recipe competition!
If sweet potato noodles get you excited for more recipes and information about this amazing vegetable that is a healthy alternative to grains when grains don't seem to digest well for you or just when you want to mix it up in the carb department, check out Ashley's website Sweet Potato Power.
I can't wait to make sweet potato pasta for my own family.  The only reason I haven't yet is because I don't own a mandoline slicer.  There are not many recipes that I will actually buy a new kitchen gadget to make, but this recipe is worth the investment as I feel certain that I will be making it on a frequent basis for my family!
Thank you for sharing your creativity with all of us Ashley and congratulations on the publication of your sensational new book!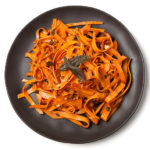 Sweet Potato Pasta Recipe
This sweet potato pasta recipe is sure to delight your family and has even won a national sweet potato recipe competition. Make these noodles with either sweet potato or yams.

Instructions
Wash the yam well in filtered water and peel.

Slice yam lengthwise as thinly as possible - a mandoline slicer (I like this one) is the best tool to use. Note that a potato peeler will not result in thin enough slices to achieve linguine like texture.

Cut the long, thin yam slices into even strips about 1/4 inch wide. Set aside.

In a large saute pan, melt butter on medium-low heat and add the sage leaves. Watch the butter closely as the sage begins to brown (you do not want the sage to burn).

When the sage is crisp, remove and set aside. Add the sweet potato pasta strips to the butter and heat thoroughly. Stir and toss for about 2-3 minutes. When tender and warmed through, arrange on a serving platter and garnish with the fried sage.
Recipe Notes
If you want to make this dish, but don't have a mandoline slicer, try buying 100% sweet potato noodles. They are now available in many healthfood stores (such as this brand).
Be sure to read labels as many types of sweet potato noodles are blended with grain flour!
Nutrition Facts
Sweet Potato Pasta Recipe
Amount Per Serving (2 cups)
Calories 158
* Percent Daily Values are based on a 2000 calorie diet.
More Sweet Potato Recipes
If you enjoy sweet potatoes and yams, try these other dishes inspired by traditional wisdom.
Sarah, The Healthy Home Economist