Healthy homemade tortilla corn chips recipe that uses a healthy fat for brief frying to avoid free radicals for a nourishing and digestible treat.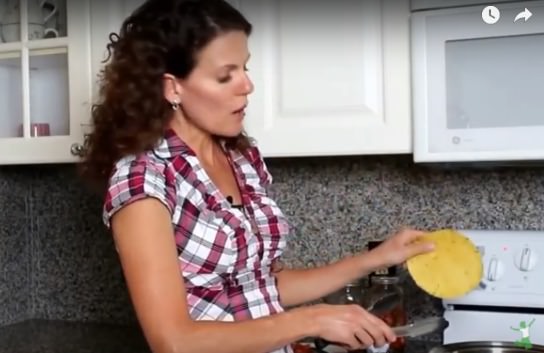 Who doesn't love tortilla chips? That enjoyable salty crunch is irresistible especially when paired with a healthy salsa for dipping.
The problem is that the modern tortilla chip has strayed from its healthy heritage and become more of a junk food than the nourishing, traditional, food it should be.
Even the tortilla chips served at Chipotle are fried in sunflower oil, an omega-6 vegetable oil that absolutely cannot be heated without the creation of free radicals that damage cell DNA.
Organic tortilla chips from the healthfood store are not a good idea to eat on a regular basis either.
While the corn used is nonGMO in an organic chip, a survey of the popular organic tortilla chip brands indicates that food manufacturers typically use oils (safflower, sunflower, canola) that are not appropriate for high heat frying due to the high concentration of heat-sensitive polyunsaturated fatty acids.
No need to write off tortilla chips, however. Make them the old fashioned way! Then, you can eat them knowing that you are safe from the free radicals in commercial versions.
The video below shares my method for making healthy, no guilt tortilla chips. This approach is fast! There is no need to make the tortilla chips from scratch unless this is something you want to do.
All you have to do is source sprouted or organic tortillas from a local food co-op or healthfood store and fry them for a minute or two in a healthy, heat stable oil.
Be sure to keep an eye on the temperature so that it is as low as possible to avoid the excessive formation of acrylamides.
Best Oil for Frying Tortilla Chips
My favorite oils for frying tortilla chips are avocado oil or expeller pressed coconut oil. Plain, organic corn tortillas work fine also.
However, I prefer sprouted corn tortillas as the sprouting process adds improved digestibility and nutrition to the corn. Major nutrient improvements include additional natural B vitamins and Vitamin C.
Be sure to check the oil temperature with a digital thermometer.
This is because even heat-stable oils can become rancid beyond the smokepoint.  I keep my frying oil temperature at 350F (177 C) to ensure no creation of free radicals.
Need an option for corn-free tortilla chips? Try these baked sourdough tortilla chips instead.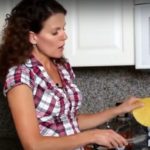 Homemade Corn Tortilla Chips Recipe
This healthy homemade tortilla chips recipe is nourishing and digestible unlike even the organic ones from the store made with unhealthy vegetable oil.
Instructions
Add about an inch of oil to a medium to large frying pan. Using a frying thermometer, heat the oil to about 350 F (177 C).

When the oil is the proper temperature, add one tortilla at a time, frying each side for about minute. The tortilla should be lightly browned but not burned.

Remove the tortilla from the oil and place on a plate. Continue process until the entire package of sprouted tortillas has been fried.

When cool to the touch, break each tortilla into quarters. Pair with homemade cilantro salsa and serve.

Alternatively, you can break the fried tortillas into small pieces and use them as a healthy cold breakfast cereal that tastes just like corn flakes.
Recipe Video
Recipe Notes
Avocado oil is a healthy substitute for coconut oil if desired.