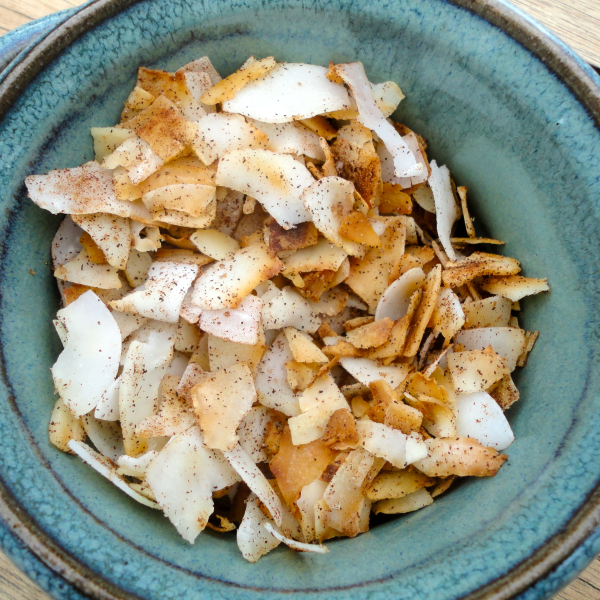 Have you noticed that healthfood stores in recent months seem to be carrying an ever increasing variety of snack chips?  In addition to the typical potato and corn chips, I've noticed taro chips, black bean chips, kale chips, and even chips made from chickpeas! My grocery store is also getting into the action with a large display of lentil chips that is very prominent right as you walk in the door. 
While the variety is nice and it shows that there is growing consumer demand for a wider selection of healthier snacks, the problem with these chips is twofold.
First, the oils used to fry the chips are usually nothing short of extremely unhealthy. Polyunsaturated oils like soy, corn, high linolenic safflower, or low oleic sunflower are the usual ones used to fry processed snack chips, and you simply cannot fry anything in these oils as they get damaged too easily by heat resulting in a rancid, free radical laced snack!
I've dubbed polyunsaturated vegetable oils the marijuana of fats as they give you the munchies by contributing to overproduction of neuromodulatory lipids called endocannabinoids that are responsible for signaling hunger to the brain. Marijuana or cannabis is also notorious for giving users a munch attack.
Fortunately, manufacturers are wising up and there are a few brands out there that use lard, avocado oil, peanut oil or some other type of fat that is either monounsaturated, saturated or a mix of the two and hence does not turn rancid when fried.
Avoid canola oil, though, as even though it is high in monounsaturated fat, it also contains about 10% delicate omega 3 fats which are rendered completely rancid by processing. In addition, canola oil, short for "Canadian oil", is a genetic hybrid of rapeseed oil and should be avoided for that reason alone.
I also avoid snack chips cooked in "olive oil" as most of the olive oil used in manufacturing is really vegetable oil.  Shocking but true – the Mafia controls much of the world's olive oil market!  You must buy olive oil from a carefully vetted source to be certain it is authentic.
Unfortunately, even if you buy chips and carefully check to ensure that the proper type of fat was used, the lethal neurotoxin and carcinogen acrylamide is formed by heating starch to a high temperature. This happens whether or not a healthy oil is used for frying and regardless of the type of starch that the chip is made from – bean, taro, corn, potato, chickpea, lentil etc.  Don't be fooled into buying the baked chips either – they are no better in my book.
As a result, it is best to greatly limit carb based snack chips from the store.
Period.
While an occasional handful at a party or whatnot is fine for most people, having them in your pantry as a regular snack feature is not a healthy habit at all.
What to do? Chips are just so awesome, aren't they? There's just something about that crunch that is so appealing to children and adults alike.
For those of you seeking an alternative to high carb, starch based snack chips from the store, I have a coconut chips recipe for you and it only takes about 3 minutes to make a batch!
This recipe was created by Kathy LeMoine, owner of the company Radiant Life. She has generously given me permission to reprint this recipe here for you all to try and enjoy!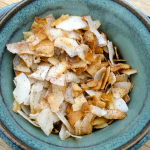 Spiced, Low Carb Snack Chips
Easy recipe for spicy, low carb snack chips, the perfect finger food for lunchboxes and your waistline if limiting carbs or eating grain free is your preference.
Instructions
Combine the sea salt and ground cinnamon in a small dish and put aside.

Heat a large skillet over medium heat for 2 minutes. Add the coconut chips and spread evenly in the pan in a single layer. Stir frequently.

Remove pan from heat and put the coconut chips in a glass bowl as soon as the flakes have reached an appealing level of toastiness (see picture) which only takes about 3 minutes at the most.

Sprinkle with cinnamon and salt mixture tossing to coat evenly.

For maximum crunch, allow the lightly fried coconut chips to cool in a single layer on a cookie sheet.

Store the spicy coconut chips at room temperature in an airtight container (if they last that long!)

These low carb coconut chips are great served as a stand alone snack or sprinkled atop other fruit and veggie dishes, i.e., green beans, berries, etc.!

Also a great lunchbox idea!
Nutrition Facts
Spiced, Low Carb Snack Chips
Amount Per Serving (14 g)
Calories 103
Calories from Fat 81
% Daily Value*
Fat 9g14%
Carbohydrates 4.5g2%
Protein 1g2%
* Percent Daily Values are based on a 2000 calorie diet.