Simple, healthy recipe for chicken parmesan using low-carb breading that is also grain-free, easy to digest, and legal for gut healing diets like GAPS.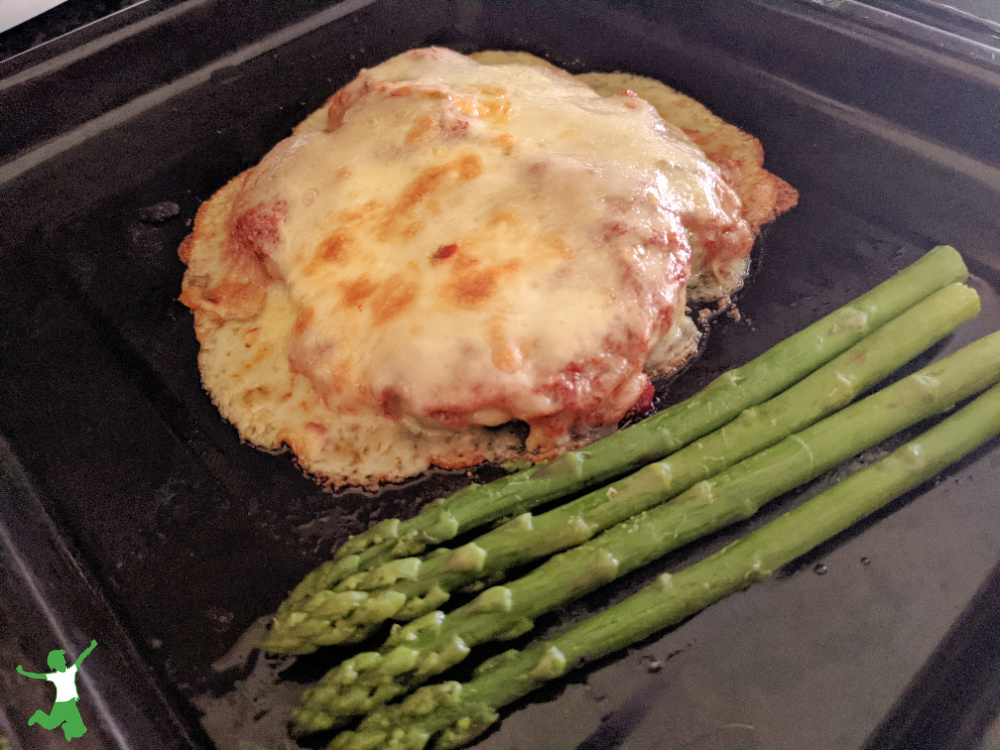 If you love the special texture of breaded chicken breast but are reducing the carbs or going grain-free for a while, this chicken breast parmesan recipe is for you!
My favorite low-carb breading to use is sunflower seed flour. It's so simple to make fresh…simply mill in an inexpensive coffee grinder! I don't recommend a grain mill for this purpose, as sunflower seeds are too oily.
In my experience, sunflower seed flour is the best low carb alternative to almond flour, perhaps the most popular keto baking option.
Not only is it nut-free for those who are sensitive, but sunflower seed flour is also low in oxalates.
Of course, it is best to use sprouted or soaked seeds as the most digestible option. But, in a pinch, roasted seeds will do fine for all except the most digestively challenged.
I like to serve chicken parm with asparagus spears. Feel free to choose any vegetable you enjoy or simply swap for a salad.
I would also encourage everyone to find a local poultry farmer to source chicken for their family. This step is less convenient than a trip to Whole Foods but is becoming more and more important as the food supply continues to deteriorate.
Medicalization of even organic livestock is now occurring in ways that could harm those who consume the meat. And, there is no labeling to alert consumers! The only way to ensure a clean product is to…Know. Your. Farmer.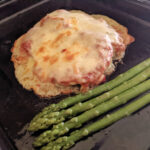 Breaded Chicken Parmesan
Simple, healthy recipe for breaded chicken parmesan using low-carb breading that is also grain-free, easy to digest, and legal for gut healing diets like GAPS.
Instructions
Preheat oven to 400 °F/204 °C

Grease a baking dish with butter. Ghee or expeller pressed coconut oil also work well.

Grind 1/2 cup sunflower seeds in a coffee grinder. Set aside.

Beat egg in a wide shallow bowl or plate. Sprinkle in herbed sea salt and mix well.

Dip chicken breasts into egg mixture and then coat with the sunflower seed flour. Place in greased baking dish.

Sprinkle chicken breast in the baking dish with any remaining flour.

Remove pan from oven and spoon one tablespoon of homemade no-cook pizza sauce on each chicken breast. Use a knife to gently spread evenly.

Place a one ounce slice of pepper jack cheese on top of the pizza sauce.

Bake for 5-10 additional minutes or until the cheese is melted and slightly bubbly.

Remove pan from oven and serve immediately with your choice of salad or vegetables.
Nutrition Facts
Breaded Chicken Parmesan
Amount Per Serving (1 g)
Calories 427
Calories from Fat 243
% Daily Value*
Fat 27g42%
Cholesterol 161mg54%
Carbohydrates 6g2%
Protein 40g80%
* Percent Daily Values are based on a 2000 calorie diet.