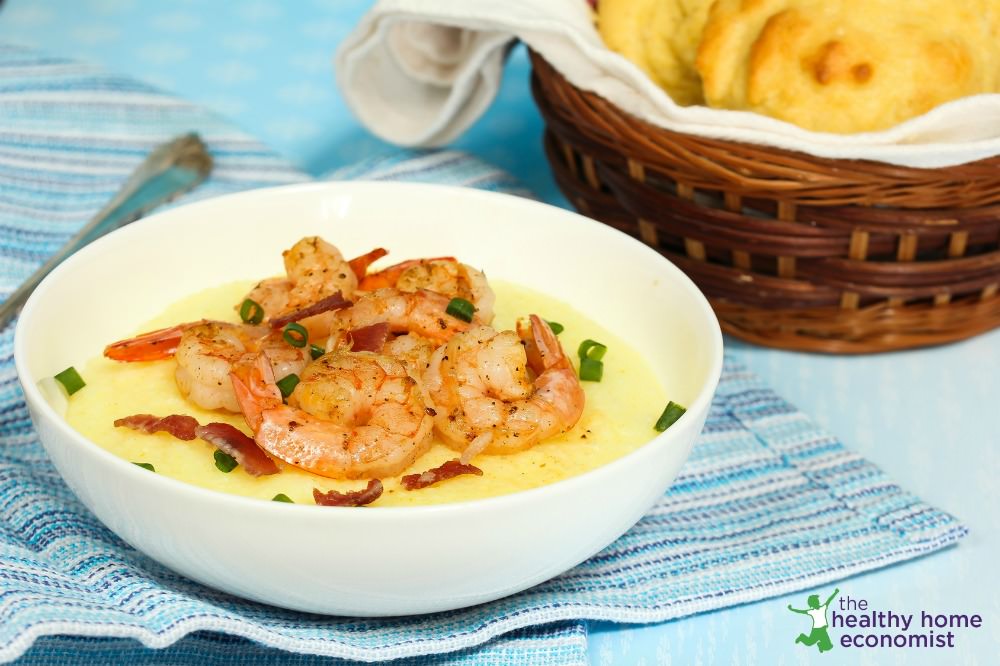 For those of you who love shrimp and grits but aren't eating corn for whatever reason, this recipe is for you!
Why would someone want to go grain-free in the first place? There are a couple of key reasons.
First of all, going grain-free can help speed weight loss. This is because our bodies love to use glucose for fuel because it's an easy, quick burn. When glucose is so readily available on a diet that includes grains, starchy vegetables and/or sugar, the body won't readily tap into stored body fat.
Even grains properly prepared via soaking, sprouting or sour leavening (sourdough) can contribute to this scenario.
For this reason, many folks trying to lose weight opt to go grain-free at least temporarily. This encourages the use of stored body fat for fuel. The Keto and Paleo diets are some of the most popular low carb weight loss protocols that advocate the exclusion of grains.
After the desired amount of weight is lost, most people opt to reintroduce a moderate amount of grain-based foods and starch back into the diet.
A second reason someone may go grain-free is for health reasons. Resolution of entrenched gut issues such as bloating and reflux (among other symptoms) commonly requires the temporary restriction of grain-based foods. All sweeteners except for honey, date sugar and fruit are excluded as well.
The GAPS, Autoimmune Paleo, and the Specific Carbohydrate (SCD) diet are three protocols that advocate for the exclusion of grains to facilitate digestive healing.
Grain-Free Shrimp and Grits
Whatever your reasons might be for eating grain-free, this classic recipe for shrimp and grits can help make dinnertime a bit easier. The grits are replaced with cauliflower mash, which has a texture very similar to grits.
Thank you to Paula Jager CSCS of Crossfit Jaguar for sharing this recipe!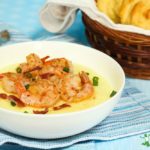 Shrimp and Grits Recipe (Paleo style)
Paleo style recipe for the Southern classic dish shrimp and grits. All the satisfaction and none of the carbs.
Instructions
Cook the bacon and crumble into small pieces.

While the bacon is cooking, chop the cauliflower, onion, green onion, mushrooms and garlic.

In the pan with the bacon grease leftover from cooking the bacon, lightly saute the garlic, onion and mushrooms.

Pour in the shrimp stock and crumbled bacon to mix with the veggies and let simmer for about 15 minutes to reduce the sauce and naturally thicken.

While the sauce is simmering, steam the cauliflower until soft. Mash it coarsely with butter and set aside.

When the sauce has finished simmering for 15 minutes, add the shrimp, green onion, cayenne pepper and sea salt. Cook for 3 minutes.

Remove shrimp and sauce from heat and stir in cream to thicken.

Serve immediately over the cauliflower grits.

Cool and refrigerate leftovers.
Recipe Notes
Substitute coconut cream for the dairy cream if desired.