Table of Contents

[Hide]

[Show]
Easy and fast green bean casserole that uses only whole food ingredients for a healthy dish with the same creamy taste and more nutrition.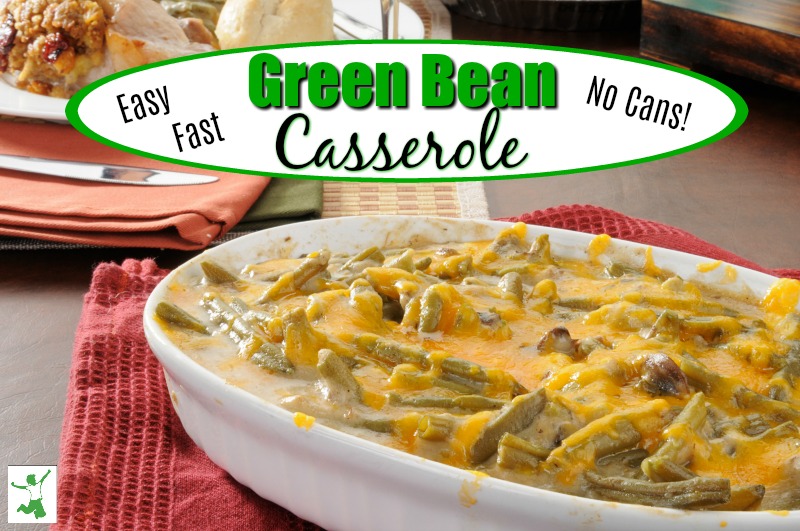 One of my favorite potluck-style dishes is green bean casserole. Sadly, I never eat it at these events! Invariably, it is made conventionally with canned or tetra-pack brands of mushroom soup, which are spiked with MSG and leached chemicals from the toxic packaging.
The great news is that it is super easy to transform this dish into a healthy version with no compromise on taste or creaminess. Even people that use the canned food approach will love it!
And no, you don't have to make a pot of homemade mushroom soup to substitute for the canned. Although, if you wish, this approach is a totally awesome way to go.
Check out my go-to recipe below, which is just as fast as the cheap and nasty canned soup approach to making green bean casserole. However, this method eliminates the toxin risks and MSG headache potential while adding lots of nutrition from authentic bone broth.
Buying Healthy Green Beans
Beware! Green beans are one of the most highly sprayed crops. Hence, it is imperative to insist on organic for this recipe.
Green beans don't make the Dirty Dozen list every year. But, they do sometimes and are clearly not a "Clean 15" crop. (1)
Frozen or fresh organic green beans are fine. Locally grown, low to no spray green beans that are not certified work wonderfully well too.
Avoid canned organic brands because the packaging is toxic even so-called "BPA free" cans.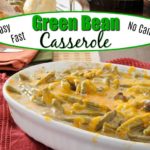 Healthy Green Bean Casserole
Healthy and easy green bean casserole using only whole food ingredients with the same creamy flavor as conventional recipes using canned soup.
Instructions
If using frozen green beans, thaw them out by putting the bag in a bowl of warm water in the sink. Do not use the microwave to defrost. If using fresh green beans, skip this step.

Preheat oven to 350 °F/ 177 °C

Boil green beans uncovered on the stovetop in a pot of filtered water until bright green and just crisp, about 3-5 minutes.

Thinly slice or shred the cheddar cheese. I don't recommend pre-shredded cheese due to the additives used to keep it from clumping.

Mix milk, sea salt, pepper, tamari, and mushroom soup in a bowl.

Evenly place optional cheddar slices over the top of the green beans mixture

Bake for 30 minutes or until bubbly on top.

Remove from the oven, stir and serve immediately.

Refrigerate fully cooled leftovers. They will last about 4 days refrigerated.
Recipe Notes
If you wish to use non-dairy milk in place of the whole milk, I recommend unsweetened almond milk from this brand (which uses nontoxic packaging and no-heat processing).
If you like to top your green bean casserole with crispy onions, I recommend making them yourself as even the organic brands I've examined do not fry the onion pieces in a healthy fat.
Do not substitute canned or tetra-pak soups for the frozen Real Food soup brand linked in the ingredients above.
Nutrition Facts
Healthy Green Bean Casserole
Amount Per Serving (0.5 cup)
Calories 80
Calories from Fat 36
% Daily Value*
Fat 4g6%
Cholesterol 12.9mg4%
Sodium 365mg15%
Potassium 211mg6%
Carbohydrates 6g2%
Protein 5g10%
Vitamin A 100IU2%
Vitamin C 9mg11%
Calcium 100mg10%
* Percent Daily Values are based on a 2000 calorie diet.