Old fashioned, from scratch recipe for butterscotch pudding made with whole food ingredients that you can feel good about serving your family.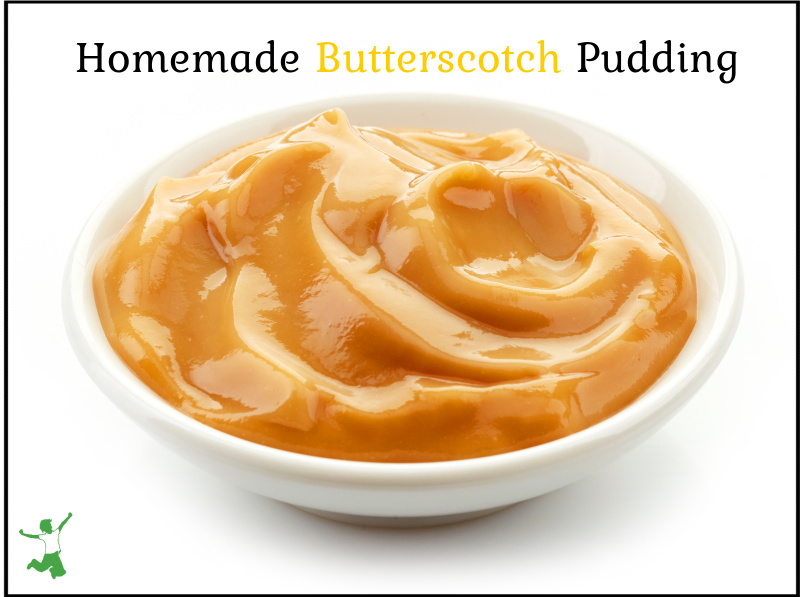 Pudding is the ultimate comfort food to me. As a matter of fact, when I was young, the very first dish I ever made was egg custard pudding.
I have over a dozen healthy pudding recipes on this site attesting to its importance in my life over the years ?
That said, making pudding takes a bit of time…a minimum of 10-15 minutes to make a bowl from scratch.
Not everyone has this amount of time to spare to make a dish that is for pure enjoyment. When you do have some room in your cooking schedule, the effort is worth it!
Butterscotch pudding takes even longer because you have to make the sauce first.
Unfortunately, there are simply no acceptable brands of butterscotch out there. They all contain undesirable ingredients such as "natural flavors".
If the manufacturer won't list an ingredient with its specific name, suffice it to say that they don't want you to know what it is or where it comes from.
So if you want to enjoy the old-fashioned flavor of butterscotch in a warm bowl of pudding, you are going to have to make it yourself.
The wonderful news is that butterscotch is simple to make. In the pudding recipe below, I cook it the traditional way using organic, unprocessed cane sugar.
You can also use this fruit-sweetened butterscotch recipe if you prefer. Personally, I think the flavor of the pudding turns out better using butterscotch made with sucanat (unprocessed cane sugar). Healthy brands to consider are listed under sweeteners in my Shopping Guide.
If you live in a part of the world that doesn't have sucanat available, organic brown sugar works too. Note that brown sugar is a bit more processed than sucanat.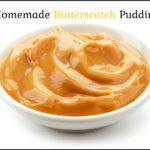 Homemade Butterscotch Pudding (from scratch)
Healthy, from scratch butterscotch pudding recipe made with whole food, unprocessed ingredients.
Instructions
In a small saucepan over medium heat, add the butter. When butter is melted, stir in the sugar and whisk for a minute or so until well blended

Whisk in half of the cream. Bring to a low boil and then turn down the heat to medium-low and cook for 3-4 minutes. The mixture should be stirred frequently with a whisk, and you will probably notice that the texture will change slightly as the mixture cooks with the butterscotch starting to pull slightly away from the sides of the pan.

Turn off heat and remove the pot from the stove. Stir in the remaining cream, vanilla extract, and sea salt. Set butterscotch sauce aside.

Mix the flour and about a half cup of the milk in a small bowl and whisk until very smooth with no lumps.

In a large saucepan, combine the flour/milk mixture and the rest of the milk. Cook and stir with a whisk over medium heat until the mixture starts to slightly bubble. Cook for 2 minutes more and remove saucepan from the heat.

In a glass bowl, beat egg yolks and then gradually stir in about 1-2 cups of the cooked flour/milk mixture while whisking. This gradually heats up the eggs so they don't cook too fast.

Pour egg/milk mixture in the bowl back into the saucepan with the rest of the cooked flour/milk and return to medium heat. Cook/stir until slightly bubbly. Reduce heat to low and cook/stir for 2 more minutes.

Remove pan from heat and let cool for 5 minutes. Stir in butterscotch sauce until thoroughly blended. If a stronger flavor is desired, add optional butterscotch stevia drops to taste.

Serve warm and enjoy. Yummy!

Refrigerate unused portion and use for pudding cups for your children's lunches or for quick at-home snacks. Store leftover butterscotch sauce in a small jar in the refrigerator for drizzling on ice cream!
Recipe Video
Recipe Notes
Organic cornstarch may be substituted for the flour. I don't recommend arrowroot powder in this particular dish as the cooking of the pudding tends to reduce its thickening properties.
Nutrition Facts
Homemade Butterscotch Pudding (from scratch)
Amount Per Serving (0.5 cup)
Calories 185
Calories from Fat 117
% Daily Value*
Fat 13g20%
Carbohydrates 13g4%
Protein 4g8%
* Percent Daily Values are based on a 2000 calorie diet.