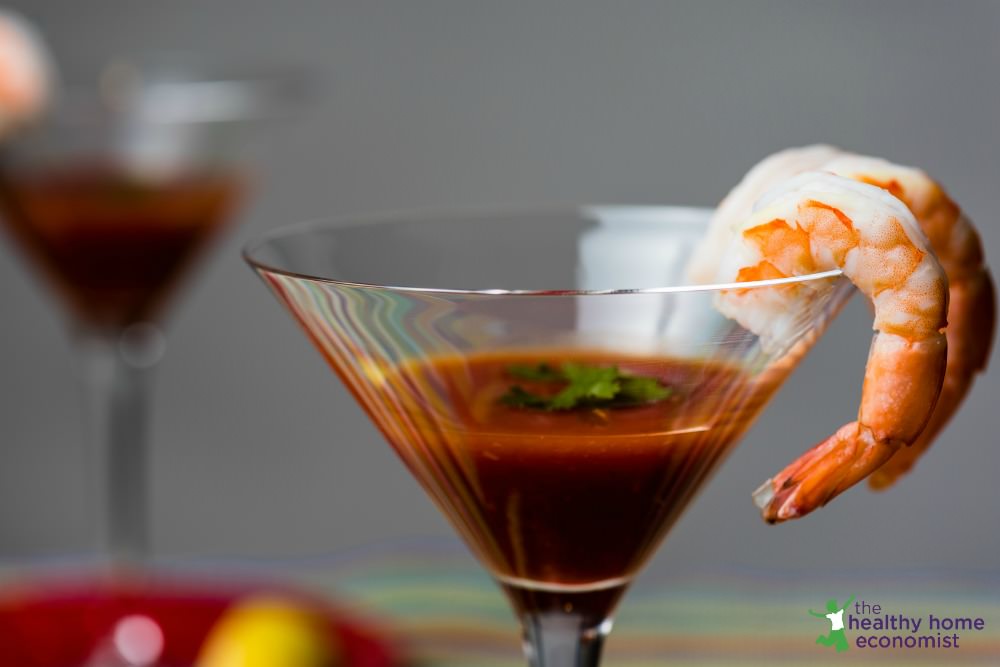 Whether you order a shrimp appetizer at an upscale restaurant or a run-of-the-mill chain like Red Lobster or Shells, you are likely going to be served the cocktail sauce on the side.
Combining seafood with a spicy sauce is an ancient practice. However, this uniquely American condiment did not become widely popularized until the Prohibition years of the 1920s and early 1930s. 
This period saw the trend of "cocktail appetizers" come into vogue. These starter dishes represented a creative way to use stemware that legally could not hold wine, liquor or beer.
American cookbooks from this era feature forerunners of modern cocktail sauce served with shellfish appetizers. The seafood was frequently raw, so perhaps the spicy sauce provided protection from the threat of parasites or food-borne illness.
A typical recipe consisted of a tomato-based sauce blended with varying combinations of horseradish, Tabasco sauce, and cayenne pepper. (1) Notice that these favored spices are some of the best natural anti-microbials, possessing antibiotic, antiviral and anti-parasitic properties when fresh, unprocessed ingredients are used.
The hugely popular shrimp cocktail we enjoy today is the most enduring appetizer from this legendary period in American history.
Traditional vs Modern Cocktail Sauce
Let's get back to the cocktail sauces served at restaurants…
Chances are, the chefs at pricey restaurants whip up the shrimp cocktail sauce with fresh ingredients every day. The sauce at chain restaurants, however, is almost certainly scooped out of a large plastic tub containing undesirable ingredients like acne and canker sore inducing high fructose corn syrup (GMO), soybean oil (GMO), and "natural flavors", a mystery additive where the food industry hides substances it doesn't want you to know about (with the FDA's blessing).
When you serve shrimp or other types of seafood at home that go well with cocktail sauce, wouldn't you like to enjoy the fresh flavor that you experience at an expensive restaurant?
Good quality seafood is expensive! Why pare it with a cheap, industrially produced cocktail sauce that bears little resemblance to the enzyme rich, protective, and digestive enhancing sauces from a century ago?
It's not that hard to make cocktail sauce, as it turns out. There is certainly no reason to ever buy it!
Next time you serve shrimp cocktail, fish fingers, or another seafood dish to your family, make the cocktail sauce yourself. Here's an easy recipe to try that is adjustable based on whether you want the sauce mild, medium, or spicy.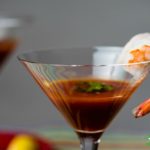 Classic Cocktail Sauce Recipe
Classic recipe for cocktail sauce using only 6 whole food ingredients. Easily adjustable for mild, medium, or spicy palates. Perfect for any seafood appetizer.
Instructions
Mix all ingredients in a small glass bowl.

Serve immediately with seafood cocktail of choice.

Refrigerate leftover sauce in a small glass container with a tight sealing lid.
Recipe Notes
This cocktail sauce is best made with homemade ketchup. If you use organic ketchup from the store instead, the optional cayenne pepper is recommended if you want a spicy sauce.
Use 1 tsp of horseradish for mild cocktail sauce, 2 tsp for medium, and 3 tsp for spicy.
Nutrition Facts
Classic Cocktail Sauce Recipe
Amount Per Serving (1 cup)
Calories 275
Calories from Fat 9
% Daily Value*
Fat 1g2%
Carbohydrates 63g21%
Protein 4g8%
* Percent Daily Values are based on a 2000 calorie diet.