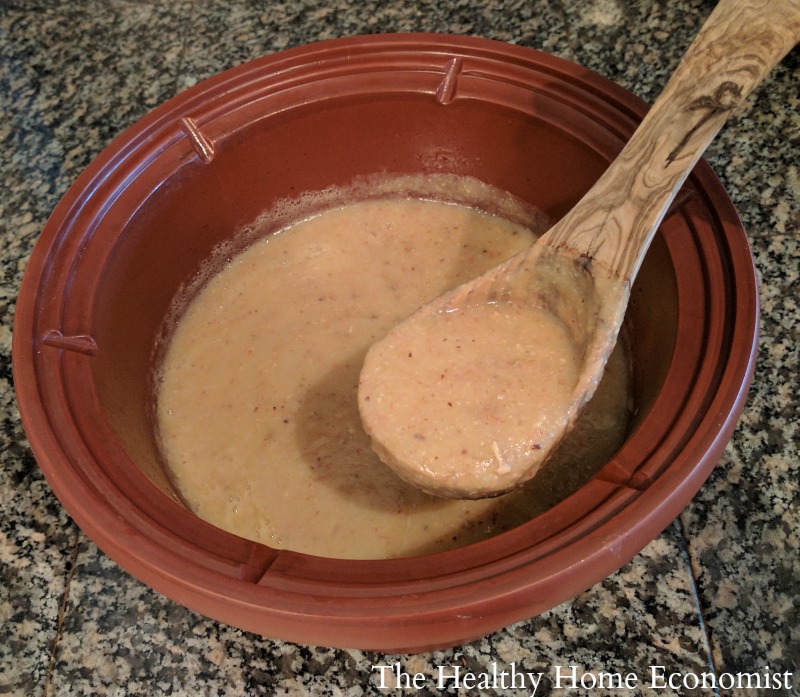 When I make this hearty potato soup made with chicken bone broth for dinner, my family is very excited. It is one of their absolute favorites, particularly when I add LOTS of bacon! I mean, baked potatoes are fantastic with bacon bits on top, right? So why not add it to potato soup too? It makes perfect sense, especially to your tastebuds!
Usually, I serve some garlic bread on the side or a few tomato-basil almond flour crackers.
That's it!
Make as much as you like as this soup freezes extremely well.
Potato Soup Recipe: Tips and Suggestions
Since potatoes are nightshade vegetables, it is very important to prepare them properly. Green or sprouted potatoes can cause gastric distress or even pain issues.
Solanine is an anti-nutrient found in potatoes. It defends the plant against insects, diseases, and animals. Exposure to light increases solanine production as this helps prevent a potato that is out of the ground from being eaten. This process is what turns the potato green under the skin. Be sure to only use potatoes that are not green under the skin when you peel or cut them up. Also, avoid using potatoes that have sprouted. If your potato only has a few small sprouts, be sure to cut them off as you are chopping them up to make potato soup or any other dish. If the potatoes have lots of sprouts, it is best to discard them as they are likely too high in solanine for safe consumption.
Also, never store potatoes in the refrigerator. The cold temperatures negatively affect their taste. Store them in a dry, dark pantry. This will reduce the potential for sprouting as well as maintain their flavor.
If you haven't noticed already, organic potatoes taste so much better than conventionally grown potatoes. If you can only afford to buy one organic vegetable for this recipe, make it the potatoes! Yukon Gold potatoes taste the best in this potato soup recipe, although any type works fine.
Don't Forget the Bacon Grease!
I would strongly recommend adding the bacon grease from frying up the bacon to the soup. Most people don't realize it, but bacon fat is healthy! It doesn't make the soup greasy and improves the flavor and nutrition (especially vitamin D) tremendously! If you have any symptoms of vitamin D deficiency, pastured bacon fat can be your friend.
If you prefer to use the fully cooked bacon that they have now in shelf-stable packages, you can add a bit of pure or leaf lard instead. This article has a recipe plus video for how to render lard yourself if you wish to make it ultra-budget friendly.
Feel free to substitute turkey bacon if you prefer, but you will lose the vitamin D advantage by doing so.
If you enjoy hearty soups that include bacon and would like another variation, this bean and bacon soup recipe is yummy too!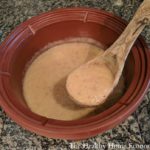 Potato Soup Recipe
Hearty and nourishing potato soup that is thick and satisfying as the main meal
Cook Time
1
hour
15
minutes
Total Time
1
hour
25
minutes
Instructions
Chop onions and celery and saute in butter until soft.

While onions and celery are cooking, chop potatoes and add to chicken stock in a large pot. I use a large Vita-Clay.

Add onions and celery to the pot with the potatoes and chicken stock. Cook on low for 1 hour or until the potatoes are soft.


While the veggies are simmering in the broth, cook up the bacon.

Add chopped bacon and bacon grease to the pot with the cooked veggies.

Blend well with a handheld blender.

Taste and add sea salt as desired. If you added the bacon grease to the soup, you probably won't need any additional salt.

Serve immediately and refrigerate leftovers after they have thoroughly cooled.
Recipe Notes
Adding the bacon grease to the soup adds extra nutrition and incredible flavor. Don't leave it out thinking it's unhealthy!
You may substitute Russet or red potatoes instead of the Yukon Gold if desired. Using organic Yukon Gold potatoes result in the most flavorful potato soup.
If you are admiring the gorgeous olive wood ladle in the picture, my son gave it to me as a very special Christmas present!
If you need to buy bone broth instead of make it, my shopping guide page contains suggested brands vetted for authenticity and healthy packaging.