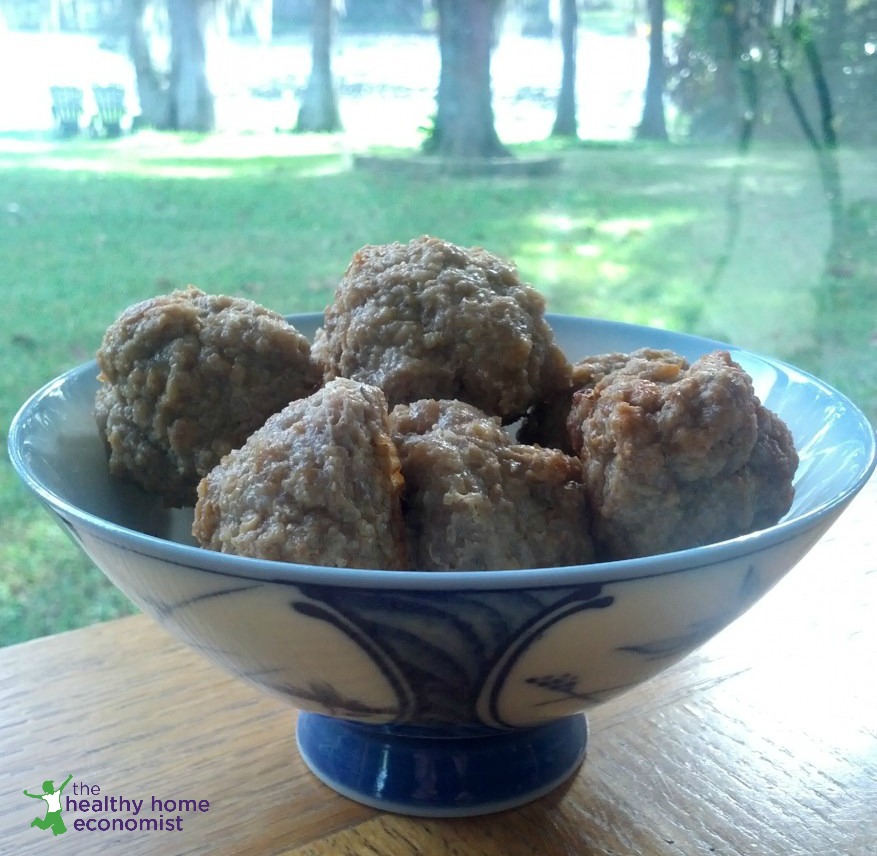 My kids are in love with the pork meatballs I make with quality pastured meat I obtain from a local farm. This tasty, nutrient dense meat comes from happy pigs that are free to run around outside in the sunshine. Pastured pigs that are exposed to UVB rays produce lots of vitamin D which is stored in the lard. 
These happy hogs compare with the unfortunate and miserable animals from huge hog confinement operations known as CAFOs (Concentrated Animal Feeding Operations). Believe it or not, a single CAFO building housing confined pigs might hold 1,000 or more sows or 10,000 or more market hogs! These poor animals don't even have enough room to turn around in most cases!
Do you want your pork to come from these animals?  I sure don't!
There's no way I want one red cent of my food dollars to go to the companies that treat animals this way not to mention that this type of industrialized farm is detrimental to the environment and the food produced from it will not compare with the nutrition from hogs living outside in the fresh air and sunlight.
Marinated Pastured Pork Meatballs
When you make the effort to obtain truly pastured meat from happy hogs to make pork meatballs, you will be delighted to discover very little seasoning is required as the taste is fabulous and rich all on its own.
These pastured pork meatballs can be served alone with veggies cooked in butter (my usual way) or can be used for that occasional bowl of spaghetti and meatballs if you desire.  Another idea is to slice them in half, add a homemade pizza sauce, melt some cheese on top and serve on sourdough buns.
Leftover pork meatballs are great to pack in lunchboxes the next day too. My problem is that most of the pork meatballs are gone so fast I don't have hardly any leftovers.  I had to practically arm wrestle my teenager to snap the picture above before all the meatballs were gone from the baking pan!
Enjoy this ground pork recipe? Try this recipe for breakfast sausage too.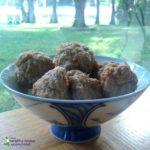 Marinated Pork Meatballs Recipe
This recipe for pastured pork meatballs is marinated for optimum digestibility as practiced by traditional cultures.
Total Time
1
hour
40
minutes
Instructions
Marinate ground pork in lemon juice/liquid whey mixture in a glass bowl uncovered in the refrigerator for 1 hour. Dry the meat thoroughly with paper towels or a clean dishcloth.

Place dried out bread crusts in a food processor and pulse until you have evenly sized breadcrumbs.


Place marinated ground pork in a bowl and mix in bread crumbs and egg with your hands. Add sea salt, pepper and soy sauce and mix again.

Form meatballs with your hands slightly smaller than the size of a ping pong ball. Place meatballs on a stainless steel baking pan or a glass baking dish and bake on 350 F/177 C until browned and thoroughly cooked (about 40 minutes).

Refrigerate leftovers and reheat as desired.
Sarah, The Healthy Home Economist