Cooking sugar-free bacon can be tricky, but these hacks will ensure your strips turn out perfectly crisp and evenly cooked every time! Works for both turkey and pork.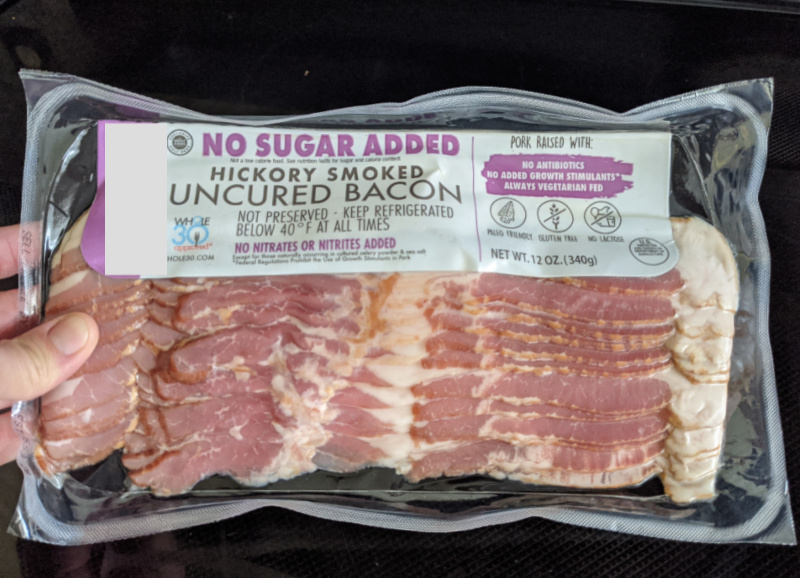 Most people have no idea that virtually all bacon contains sugar! This is the case whether you prefer strips made of pork or turkey.
While those who eat a standard, sugar-loaded Western diet likely don't care, if you are on a gut-healing diet or otherwise watching your carbs, this revelation is definitely problematic.
Why is There Sugar in Bacon?
Why on earth would food companies add sugar to bacon? When I first noticed this years ago, it seems completely crazy!
However, if you are a food producer, sugared-up bacon increases sales. Here's how…
First, sugar keeps the bacon strips from sticking to the pan. Thus, it is easier to cook and achieves better, more consistent results for the customer.
Secondly, sugar in bacon browns and crisps up the strips better. Thus, the visual appearance of the cooked bacon is more appealing.
While this might not seem like much, consistency and visual appeal can make the difference between choosing one brand over another.
Where to Find Bacon with No Added Sugar
Note that simply switching to organic bacon does not ensure a sugar-free product.
Even if bacon is antibiotic and nitrate free, it still contains sugar in most cases!
Shockingly, even local pastured farms that make bacon sometimes add sugar. And, unless the product is certified organic, it might be GMO sugar too.
If you don't have any in your area, this is a good source for small farms with a sugar-free product that offer free shipping.
At the store, the few big brands that make sugarless bacon usually emblazon it on the packaging, as you can see in the photo above. It might also say "Paleo Bacon", which is another term for bacon without added sugar.
If you don't see the words "Sugar-Free" in large letters on the package, be sure to read the fine print in the ingredients section before buying. Plan to pay a bit more for bacon that is sugar-free too. This type of product is made in smaller batches, and with less demand typically comes a higher price.
Cooking Paleo Bacon Perfectly Every Time!
Once you've identified a good source, you need to understand that this type of bacon isn't going to cook the same as the sugared versions you've fried up in the past.
The first few times I tried to fry up bacon made without any sugar it turned out shockingly bad! The strips were a mutilated mess from my attempts to turn them without little pieces pulling off every which way.
Do Not Broil in the Oven!
I tried broiling it in the oven too. While this method works great as a time saver for regular bacon, not so for sugar-free style.
The strips curled up and cooked very unevenly. I ended up spending more time trying to salvage the situation than if I had just cooked a few at a time in a pan on the stovetop.
Since presentation is important where family acceptance is concerned, my kids weren't too thrilled about eating mangled bits of bacon. It didn't look "normal".
Even though the ugly strips tasted fine, the optics on a plate were unappetizing.
Fortunately, I did eventually learn how to cook paleo-style bacon well, but it took a number of failed attempts.
If you'd like to avoid the frustration I experienced, here are my two tips for cooking it up perfectly every time.
Cut Strips in Half
My first tip for cooking up sugar-free bacon is to cut the strips in half before cooking them.
This goes a long way to preventing the tendency for the strips to curl up on the ends.
Shorter strips that stay flat help ensure that the bacon is cooked evenly.
Turn Strips Quickly to Avoid Sticking
My second suggestion for cooking sugar-free bacon is to turn the strips twice when first adding to the frying pan.
This goes a long way to prevent sticking, which causes little pieces to break off the strips and a mutilated appearance to the end result.
The way I suggest to do this is to turn the strips about 30 seconds after adding to a hot pan.
Then, flip the strips back to the original side after another 30 seconds.
In short, you want to strive to thoroughly heat both sides of the strips within one minute of adding to the pan.
After that, you can turn the strips until cooked in the same way as commercial sugared bacon.
Have you ever tried sugar-free bacon before? What hacks have you developed to cook it so that it turns out nicely brown, evenly cooked, and crisp?